Okay, to some of you, dirty rice smacks of disgust–picturing rice you scooped up off the floor and used again, right? And what the heck are field peas, anyway? I mean, how generic can a pea be, right?
But in south Louisiana, dirty rice gets its name from the fact that it is "dirtied" with chopped giblets, which also gives the rice a dark hue. This dish has another name–rice dressing.
Years ago, in search of something quick, easy, and different to feed the family, I came across this Cajun Dirty Rice made by Oak Grove Smokehouse in Prairieville, LA (where reader Steffi lives) southeast of Baton Rouge. Go ahead and read the interesting history behind why they started making and selling mixes for people who lived outside Cajun country to help them cook Cajun foods.
Well, this dish only takes about 30-45 minutes. It's a one-pot item. And after it is done, we eat it under some kind of legume, Houma Indian style. Today, I used field peas
, but you can use beans like baby limas, speckled butter beans, black-eyed peas, etc. These are basically legumes that make a little bit of "sauce" when cooked properly.
You will need:
There are several food plants in Louisiana that do a great job of cooking beans. Heck, I could do a whole post just about those companies one day. Any brand of canned will do, and I just doctor them up to make them more like my own. The way I do that is to put the peas/beans in a heavy pot, add about 1/2 cup of water and about one T bacon grease. I put the heat on low so I can cook the beans even more. I add some salt (if needed) and pepper. After about 10 minutes, using the back of a big spoon, I smash some of the peas to make a thick "pot liquor". That is why I added extra water in the beginning. If they are too thick, add a little water. Too thin? Smash more peas!
To make the dirty rice, just follow the directions on the dirty rice mix package, which are quite simple: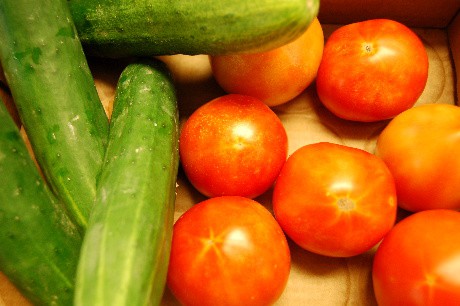 Cucumbers and tomatoes are abundant right now, so I'm buying them regularly from road-side stands and markets. They make a wonderfully light side salad, garnished only with salt and pepper.
Their light flavors go well with the savoriness of the dirty rice and peas.
I somehow failed to get a picture of the just the dirty rice mix alone so you could see how it looks. I guess it's because everyone was so hungry, they started serving up before I had the time. I use a light pepper sauce (pictured in background) on top of my peas to add a little zing to the dish.
Ingredients
1

packet Oak Grove Smoke House Cajun Dirty Rice Mix

2 1/2

Cups

Liquid.

I used 1 can beef broth and 1/2 C water.

1

Pound

bulk breakfast sausage or other ground meat. I used Jimmy Dean Breakfast Sausage

Regular flavor.

1

Can of your favorite field peas or other legume
Instructions
Mix can be prepared with 1 pound of any ground meat or combination of ground meat, giblets, or sausage.

Pre-cook meat and drain off fat. Giblets will need to be finely chopped.

Measure 2 1/2 cups of meat stock or water into heavy skillet or other suitable container. Bring liquid to a boil, stir in the rice mix and meat.

Return mixture to a boil.

Reduce heat, stir, and cover.

Simmer slowly for 25 minutes or bake in pre-heated oven at 400F for 35-50 minutes.

Before serving, fluff mixture with a fork.

For extra flavor, stir in 2 Tbsp chopped green onions.

For ease in preparation, brown meat, combine all ingredients, and cook in an electric rice cooker. (And of course there is a microwave method.)
Bon apetit,
BW