Les bines blanc is bayou speak for the white beans. Any bayou cook worth her salt can cook up a pot of savory white beans to go along with just about any main item.
These are not just any white beans, though. These are the kind my mother-in-law makes and I have yet to find anyone–Native American, Cajun, French, or otherwise–whose white beans stand up to hers.
SIDEBAR: She is now 93 and still cooks them better than I!
Because bayou families are typically large, the meals are budget stretchers and tummy fillers and just downright basically delicious. Over the years, I've created a few shortcuts and updated her recipe a little; and I will tell you blow by blow where I have taken those liberties and why.
Hang on to your spoons, because here we go with the boiling of les bines blancs . . .
You have a choice of fats in this recipe: olive oil, vegetable oil, or the oh-so-flavorful-and-artery-clogging bacon grease that you will brown your onions in. Along with learning how to cook bayou style, you will learn our cooking terms, too. We do not saute–we brown.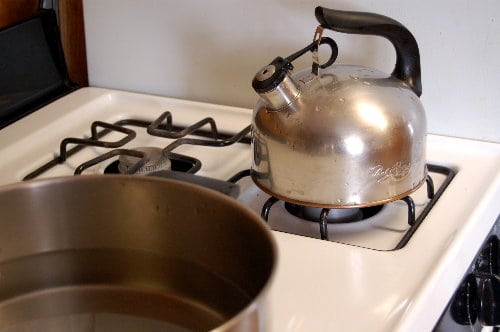 Gee, wonder what the kettle is for? Every good bayou cook keeps one on the stove at all times. Both the kettle and the 6-quart stainless pot are coming to a boil . 
I use Camellia brand great northern beans, but any brand will do.
While your water is coming to a boil, you are at the sink sorting out the ugly beans and the little rocks and pieces of dirt that somehow escaped the culler's sharp eye and giving them their final rinse.
Chop your two onions. But don't chop the green onions. I just threw them in this photo because I forgot them in the original ingredients photos. Sorry.
By this time, the kettle is boiling, so turn it off and move it to a back burner. It will stay hot for a while. Pour your clean beans into the boiling water, leaving the fire on medium-high. You want the beans to boil again.
In your favorite browning skillet, add a dollop of the fat of your choice. I choose bacon grease. This is one of the recipe changes I was telling you about. My mother-in-law uses salt pork, which she boils and browns before adding to the bean pot. This gives the beans a distinctive flavor, and some folks like to eat the salt pork. Because I am so health conscious (not), I use the bacon grease to give my beans pork flavor without all the work, I mean pork. Okay, so it's a shortcut choice and not necessarily a health choice!
OPTIONAL STEP:  I can't believe I forgot to list this step–probably because I didn't photograph it.  After the beans come to a boil for the first time, my MIL pours out what she calls "the first water".  She says that's where all the gas is.  Seriously!  It reduces the amount of gas-causing agents in the beans.  Hey, who am I to question the best cook on the bayou?  Return the beans to the pot, and pour the hot water from the kettle over them, and bring them to a boil again.  You may skip this step if you prefer musical beans!   (Remember to refill the kettle and boil it again for later.)
Here's where we are. The onions are browning while the beans are boiling. Go ahead and stir them. You know you want to!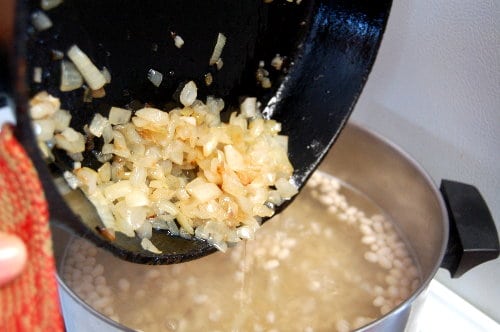 Add the browned onions to the bean pot and stir again. (Notice the nifty knitted potholder my oh-so-nimble-fingered sister made for me? I have 2 now, and I LOVE them. I hope she makes a post with pix about them soon so I can link to it–hint hint–and maybe pull out the needles and make me 2 green ones for Christmas?)
Let the beans continue to boil on medium heat, stirring often. While they cook, go ahead and chop your green onion tails. That's right. I said tails, because that is the literal translation of the local word for those green tops. We call them les tcheues d'oignon or "tails of the onion".
When the water cooks out about this much . . .
grab that kettle of hot water and add some more. The beans have been boiling about 45 minutes at this point but are not cooked soft enough yet. A good bayou cook always adds hot water to the recipe to keep things hot as you go. Also, I've been told that adding cold water to the beans at this point causes them to break or fall apart. You don't want that to happen. Lower the fire to medium/low, and of course, stir to your little heart's content.
You know they are about 2/3 of the way done, when the water looks milky like this and the beans are getting soft. Now, turn the fire to low and . . .
add the green onion tails, 2 t. salt, 1 t. pepper, and 1 t. Cajun seasoning (or use all seasonings to taste). The more you taste, the better the beans!
(At this point, if the liquid seems too thick and the beans are not yet soft, please add more hot water and cook on low until soft.)
Now, I am about to reveal to you the secret of why my MIL's beans are better than all others—-the sauce.
When the beans are fully cooked (and they are intact and not in pieces, because we used hot water) she uses the back of her spoon and smashes the beans making the liquid very creamy.

Stir these scrumptious beauties a couple more times, and then serve them on a bed of your favorite rice (which, by the way, the bayou people know forms a complete protein) and garnish with a delectable side like, oh I don't know, maybe fresh-from-the-shell fried oysters? Allons manger! Let's eat!
It's been great sharing this very old bayou recipe for les bines blancs with you today. We might eat this same dish for the next three days–or until the fresh oysters run out!!
Les bines blanc - The White Beans
Ingredients
Water for boiling pot and tea kettle

White Northern Beans

2

onions

chopped

Tbsp

oil or bacon grease

about 2

green onions

sliced

2

tsp

salt

1

tsp

pepper

1

tsp

Cajun Seasoning
Instructions
Bring the pot of water and kettle to a boil.

Sort through beans for any little rocks. Rinse.

Add the beans to the pot, bring to a boil again on medium-high.

Drain beans and using water from the kettle, refill bean pot and bring to a boil again.

Refill kettle with water and bring to boil to use later.

Add your grease to a skillet and brown the chopped onions.

Add the onions to the beans and continue to boil on medium heat, stirring often for about 45 minutes.

Some of the water should have boiled out, so add some hot water from the kettle.

Lower fire to medium-low and stir occasionally.

When the water looks milky and the beans are getting soft, lower the heat to low.

Add the green onions and seasonings.

If the liquid seems too thick and the beans are not yet soft, add more hot water and cook on low until soft.

When the beans are fully cooked use the back of a spoon and smash some of the beans, making the liquid very creamy.

Serve over rice.