Vivian Foret Billiot, 1916-2016
When I first met this original bayou woman, it was 1979, and I was working as a dispatcher for ODECO. She answered the old black telephone in her native tongue, her words lost on me. I had called her house to ask if her son, the crew boat captain, happened to be home. His boat was next up to take a trip out to the Gulf to deliver emergency equipment, and as night dispatcher, it was my job to find him. Hoping she could understand me, I continued in English, "He has to go on a run right now." She understood me well enough to relate to me in broken English where she thought he might have been.
Two women, different races, different languages, had one thing in common: The Captain. Little did we know at the time of that first phone call just how involved we would one day be in each other's lives. She, now my mother-in-law and I, now mother to five of her grand children. Isn't life funny like that?
As I've spelled out in a previous post about how I came to be here, I became very intrigued with the people, the way of life and the language after I had worked down in Dulac for a few months. Even though I grew up in Louisiana, I'd never known that the Houma Indians existed, and now not only was I working with them, but they were inviting me into their homes.
Meeting an Original Bayou Woman
I couldn't wait to meet this woman who had a tone of voice and inflection like I'd never before encountered. There was no pretense or telephone manners when she answered the phone, and to this day she still squawks out an "Eh?" as she puts the receiver to her ear. She never wastes her breath on long good-byes; instead, she just hangs up when the conversation is over. My children say I do the same thing to them now. Isn't life funny like that?
Every space in her house is occupied by knickknacks, dolls, and myriad things she has collected over the years. Oddly enough, a couple years ago she started giving me things whenever I went to visit. For a woman who collects everything, letting go of her treasures was an indication to me that she was letting go of this world, despite the fact that she appeared absolutely fine.
But now, a mere two years later, dementia has taken up residence and is crowding out many of her memories, causing me to reflect on just how much she has taught me over the past 34 years. I was overcome with the need to put those things in writing while she is still here. Even though she probably doesn't even know what the Internet is, much less a blog, writing my memories of her and posting them here seemed like the best way to honor her.
An Original Bayou Woman "Cooks"
So, where should I begin? I'll start with the basics, food! Any time I wanted to learn to cook something that The Captain liked to eat, I had to wait until the day she cooked it and go observe. Nothing she cooked was from a recipe because she didn't know how to read or write–that's because Houma Indians weren't allowed to go to school. Instead, she cut sugarcane on Ashland Plantation as a young girl, making her a hard worker early on. Her family lived in a shack that sat on the land belonging to the sugarcane farmer.
She never measured anything either–not even for her yeast bread, sweet bread, or galette dough. So, there was no way she could "tell me" how to cook anything. I simply had to go watch. She laughed at me as I tried to guess and write down a measurement for her dash of this, pinch of that, spoonful of this and handful of that. In her eyes, I was that educated girl that didn't know how to cook.
Well, that's not entirely true. Yes, I was educated AND I knew how to cook, but it was "north Louisiana" style foods. And if you think the food from north Louisiana to south Louisiana couldn't really be so different, think again. In the home in which I grew up, the only fried shrimp we ate came in a box from the frozen food isle of the grocery store. A whole new culinary world opened up to me when I married into the Billiot tribe.
In north Louisiana, roast was something we cooked in the oven, and chicken was something we battered and deep fried–not "pot smothered" on top of the stove. And pork roast? I never knew something so flavorful and tender could be cooked on top of the stove instead of in the oven until I tasted hers. Up north, rice was something we ate with gravy, not under green beans, red beans, or white beans, like bayou folk.
I still recall the first time I tried to cook white beans and the resulting tiny white rocks in a gummy paste. You know why? Not only had I never cooked them before, I had never eaten them and was too proud to ask my mother-in-law how she cooked them. However, after I married into the family, she shared her secrets of cooking those creamy, tender beans with me that just weren't listed on the package.
But she was a true bayou woman. Her arms were strong for her tasks for many years. Just this year, the family members tending to her decided she could no longer cook, make her coffee, or wash clothes. Those were the mainstays of her life, things she has probably done since the age of ten. What is there to do now but to sit in the rocker and drift away? I recently drifted away with her by recalling things she's told me over the years and memories of my own about her. In doing so, I hope to recount at least a little of her rich life and bayou heritage.
Life of an Original Bayou Woman
As a young married woman, she lived on a camp boat with Mr. David out in the marsh during winter trapping season. After he skinned the nutria, muskrat, and otter, she washed the furs before putting them on a stretcher boards. Later she would hand wash their clothes in a wash tub, hand ring them, and lay them out to dry.
Until recently, she grew sugar cane in her backyard so she could cut a fresh stalk in the fall and "chew the cane", which is a way of sucking the juice from little cube-shaped pieces after the bark has been stripped off. Also in the fall, she picked up pecans from the trees at the back of the property and made pecan candy. It was at her house that I ate my first Satsuma.
Hers was the kitchen in which I first encountered "bigorneaux" (pronounced BIG-uh-no), which is a mollusk better known as a periwinkle. They were boiled in salty water, the fleshy part dug out of the shell with a fork tine.
An Original Bayou Woman Remembered
For years, she picked figs in the heat of the summer, and then slaved over the steaming pot of "fig confiture" that was eaten hot on sliced white bread. An attic fan served as the only air conditioning she needed. A window unit air conditioner has been a luxury for her for the past 30 years, but I think if given a choice, she would choose not to have it.
She made the best galette on the bayou, the best shrimp-okra gumbo, the best filé gumbo, the best brown shrimp jambalaya, the creamiest white beans, and fried oysters that would melt in your mouth. Oh, and let's not forget the chicken stew, the shrimp stew, the crab stew, and the shrimp fricassée! She taught me how to clean soft-shell crabs, which is not a pleasant feat, and how to pan fry them to perfection.
Prior to Hurricane Andrew in 1992, she only drank rainwater from the cistern. After those flood waters inundated her house, everything was hauled out, the house then gutted, repaired, updated, and elevated. Part of the update was retiring the old cypress cistern, which had supplied the entire family and quite a few neighbors with tasty rainwater. She was then forced to buy bottled water because she refused to drink the poison that comes out of the faucet. And all the folks who had come for years with their empty plastic milk jugs to fill at the spout of the sweet-sky water were forced to do the same. Acid rain? Not in her vernacular.
At the same time she lost her cistern, she gained an indoor bathroom. Prior to that, the toilet was an outhouse, and the only way to bathe was with a wash basin filled with hot water from the kettle that had been heated on the gas stove in the kitchen. Before she had a water heater, even the dishes were washed in a dish pan in the sink using hot water from the kettle, and rinsed the same way. Now, she has a tub with shower, a toilet, a lavatory and linen closet. What luxuries after raising eight children in a two-bedroom house with no bathroom or running hot water.
For years, the washing machine sat outside on the porch, which she filled using a water hose. She listened for the cycles to change so that she could go spray the water into the machine at just the right time to rinse the clothes before the spin cycle. Then she hung the fresh clothes on the line to dry. In later years, one of her sons installed a gas clothes dryer in the kitchen. During the update, the kitchen was enlarged, after which both the dryer and the washer then made it into the kitchen.
While her elderly mother stayed home with the children, Mrs. Vivian worked in the shrimp factory in the wee hours of the morning peeling shrimp. A company vehicle came around and picked up the women to go to work, since most of them didn't drive, and very few families owned vehicles. In later years, she took in her mother after suffering a broken hip and nursed her until she passed away.
Truly Mrs. Vivian has witnessed plenty of change in the world around her, but those changes were very slow in making their way down the bayou and into her home. Not once did I ever hear her complain about having to do things the hard way, because she knew no other way. Until her batteries started running down, she could literally work circles around me, which, in my opinion, has contributed to her longevity.
She set an example of what it's like to choose to be at home and yet have no choice to be elsewhere at the same time. She never looked beyond home and family to those things that might satisfy her. Instead, she was satisfied with the life she faced each day when she awoke, which was the same for over 80 years, until she was recently banned from her kitchen.
Most mornings she slept in until about 9:00 to make up for "all the sleep I lost when I worked at the shrimp factory"–a statement that still makes me smile when I think about it. Then, she would put the rainwater on to boil for the dark roast coffee she brewed in her old drip pot. While the water boiled, she placed the filter (made from a flour sack, hand stitched around a hoop made of coat hanger wire) on the rim of the pot. Then, she added heaping tablespoonfuls of aromatic dark ground coffee.
It was a ritual she performed every morning. Once the water had boiled, she slowly poured the water over the grounds, patiently, allowing the water to drip through on its own power before adding more water to the grounds. When the coffee was ready, she added a little sugar to the pot and always used Pet milk as cream in her mug. Then she spread a thin layer of Jif Peanut Butter on a soft white slice of Evangeline bread, and that was her breakfast.
After breakfast, she cooked a huge pot of rice, surprisingly enough, in an electric rice cooker. She must have gone through a dozen of those things through the years. She taught me how to cook rice perfectly in one, again, without measuring a thing. She also taught me how to cook rice in a pot on the stove the same way, with only one small adjustment to the amount of water.
She might not have even known what she would cook that day, but you could rest assured it was something that was going over rice. Rice was, indeed, a staple food of the bayou, and it's a good thing it was in plentiful supply in bayou country. She bought it by the huge sackfuls and stored it in plastic bins. Her house was the first place I ever ate fried fish over plain rice–fried black mullet from the Gulf to be exact, and it was delicious.
If you walked into her house, and there was food on the stove, she would say, "You wanna eat?" And if your answer was anything other than yes, she would ask, "What's the matter? You don't eat that?", which was then followed by, "Go ahead. Eat. You can eat." In other words, she would not take no for an answer. She knew her food was good, and it didn't matter to her that you had already eaten. By golly, you needed to eat her food. And she was right.
None of her dishes matched, and her silverware and glassware were all mismatched, too. There was never a big table at which to sit and eat; instead, we ate in the living room, balancing our plates on laps. But it didn't matter. What mattered was that she cooked for her family (and anyone else who walked in the door), the food was good, and there was plenty of it.
Twice in her adult life, she took in two other children to raise, in addition to her own eight. She never argued or spouted platitudes. She never wanted for anything and probably still has gifts in the original boxes stashed away under the bed.
As I think about knowing Mrs. Vivian for the past 34 years, what really impresses me most is the simplicity of her life and the fact that she was so content with her situation, no matter what it was. She is unique in that she has never been prone to gossip about folks and only shared news that she knew was fact. She is a noble woman to be respected and honored in her golden years.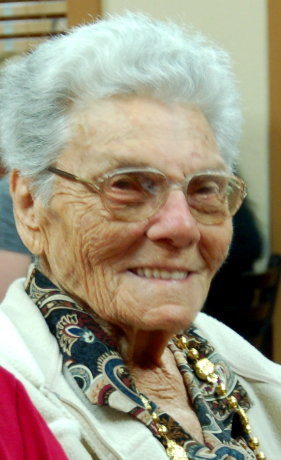 My mother-in-law will be remembered as the best cook on the bayou and for teaching me how to cook all the delicious local cuisine that we enjoy. I will remember her as being hard working and content. I will remember her for her resiliency and for her green thumb with all the flowers in her yard and the sugar cane. I will remember her for the masking tape she used instead of Band Aids on her cuts. I will remember her for the shopping trips to St. Vincent de Paul second-hand store and for reminding me of the value of reusing and recycling.
Mrs. Vivian Foret Billiot, the first true Bayou Woman I ever met. She's never used a computer or a cell phone, nor did she ever have a driver's license, because she didn't need those things to be fulfilled in this life. How many of us can say the same? She taught us well, and I can only hope I can pass on her heritage to those who come after me.
Thank you, Mrs. Vivian, for being the best Bayou Woman ever.
With great love and respect,
Ta Belle-fille
Epilogue: (This tribute was originally posted in 2013.) This past March, her family gave her a 100th birthday party at the local KC Hall, complete with bayou home cooking and a local band. She even rose from her chair and danced a little jig with her daughter, Mae. Surrounded by family and friends, Mrs. Vivian passed away this morning around 2 a.m. at 100 years old. She leaves behind seven children and multiple grand and great-grandchildren. She will be greatly missed by everyone who walked through her kitchen door.