With Camp Dularge getting busier and busier, my time to enjoy bayou life is growing shorter and shorter it seems.  Okay, I'm not complaining, just saying, that's all.
Today was a typical Tuesday, except for this little surprise . . .
in the bayou in front of the house.  Termite thinks this gator has been watching him and his retriever, Butch, practicing in the bayou.
"Can I shoot it, Mom?  Please let me shoot it because it's big enough to eat Butch!"
"No, son, it's illegal."
"Please, Mom!?  We can't train with that gator lurking out there!"
"No, son, it's illegal."
"Well, then, can I throw rocks at it?"
"Yes, son, and there's some really big ones right over there."
And this evening, I cooked up something scrump-dilly-bayou-licious . . .
using leftovers from this past weekend.
The weekend held a little R&R after the Trash Bash, which looked something like this . . .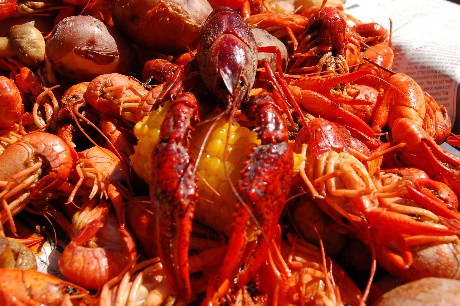 at BigSis's house.  My nephew did the boiling honors, and he did a great job!
The Crawfish Stew Recipe is just like shrimp stew with a couple differences.  The basic roux and veggies are the same.  Depending on what you boil with your crawfish, you will have more things to add to your stew.
We had whole garlic pods, whole mushrooms, onions, corn, and potatoes.
I added the garlic with the veggies to saute`.  I sliced the mushrooms and onions and added after the crawfish.  Then I sliced the corn off the cobb and added it.  Lastly, after I added the fresh green onions, I diced the potatoes and added them before serving.  (They are quite cooked and don't need to cook more as they will fall apart and further thicken your stew).
Because these additives have previously soaked up all that good seafood spice in the boiling pot, there is not much need to add any extra seasoning.  Taste before adding anything.  Serve over cooked rice and move out the way, because the stampede is coming, cher!
So, when y'all comin' down?
BW