This is your fearless captain reporting to you from the runway, just before take-off  . . .
in this 13-foot flat-bottom boat commonly called an airboat.  Does it fly?  You bet it does!  After pushing this baby off the boat trailer, and making sure all systems are GO . . .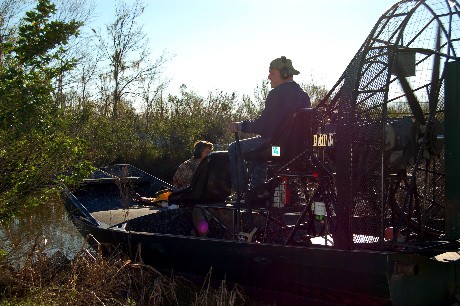 D.R. skims us gently across the deep marsh grass toward a trainasse (small canal) where the bow dips down toward the water . . .
and plop!  swoosh!  just like that we're in the water face to face with the skeletal remains of a once-thriving cypress swamp.  Dead now due to what, class?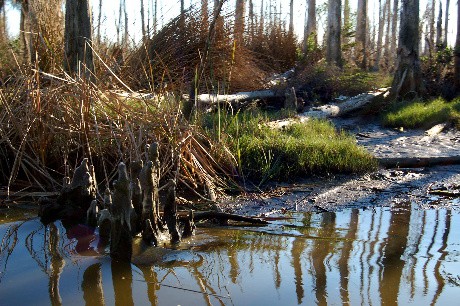 We idle past cypress knees, which once served as aerial roots and intricate anchoring systems for these once-living trees.  Dead now due to what, class?
Once beyond the ruins . . .
D. puts the pedal to the metal, and we fly across the surface of the shallow water, barely making a ripple.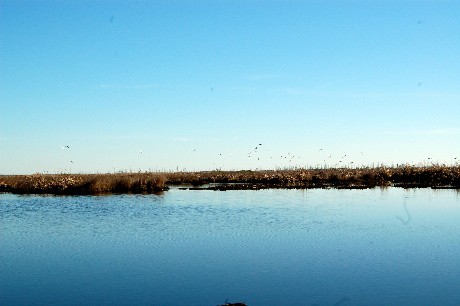 The water and airways teem with wood ducks, mallards, Summer French, gallinules, poole d'eau (water hens), white pelicans, plus the usual wading birds.
As the water below us turns to mud, D. assures me we could continue without getting stuck.  But with the sun getting low in the sky, and the temperature dropping to around 30 tonight, I just can't fathom even the slightest possibility of spending the night out here.
So we turn around, and in no time at all, we are back where we started.
D. eases the bow onto the bank and hollers, "HANG ON!" right before he guns it putting us safely on terra firma.
"Wow, Mom, that was awesome!"
And then somebody got a lesson in driving an airboat!
And somebody else got very jealous . . .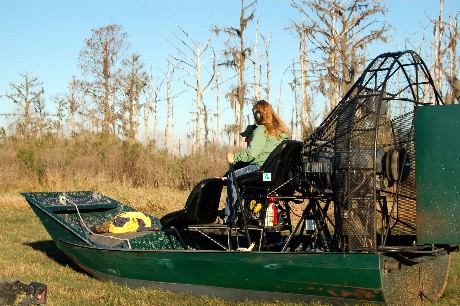 until she got a lesson of her own, that is!
And then up,
up,
up she went onto the trailer and back to the camp.
Great caution is exercised in operating these vessels.  They are steered by those two big rudders you see in the rear, and this one is powered by a 260 HP aircraft engine and a huge propeller.  And the headphones protect us from the loud noise of that high-powered engine.  A Teflon plate covers the bottom, making it glide across water, mud, even thick marsh grass!
What a great thrill riding in an airboat.  The only greater thrill is DRIVING  one!
Wind in my hair,
BW
PS