Alaska Day 2 Kustatan River Flyout for Silver Salmon
This seaplane (or bush plane) flyout marks my second day of fishing in Alaska.  The morning fog delayed our trip by about an hour or so, but after locating hip waders that fit, we made our way from the Talon Air office down to the seaplane docked and ready for our trip. (The guy on the steps was unenthusiastically cleaning the windshield!)
Seemed like we had quite a lot of gear, but all of it and 11 humans piled into the aircraft and taxied across a small lake before making liftoff, headed west for the beautiful Kustatan River.  (See previous post for map and more details!)
You know what?  Words really can't describe the things I saw from the plane, so I'm breaking all the blogging rules and going with my old format of using photos to tell the story, with a little more detail from me when necessary.  
Once we landed, the pilot taxied us up against the bank near where multiple boats were either returning from a early-morning trip or getting ready to leave on a trip.  We grabbed our gear and walked along the pontoons of the plane and jumped to land while our guide and captain, Ralph Crystal prepared the boat for our departure.  
The Yamaha engine was tilted up out of the water, and man, I thought it looked really strange. Well, yeah it looked strange because it had no propeller!  It's what they call a Yamaha Jet Drive.  This type of outboard engine is necessary becase the water in some places is very shallow but the bottom is very rocky and would present a problem for even the most shallow-draft surface drive engine, to which we are accustomed down here.  If you know anything about outboard engines, it looks strange, doesn't it?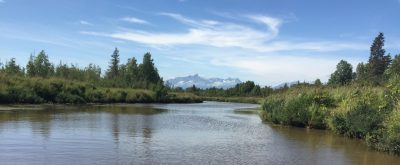 Don, Martha, Chris and I piled into the boat with Ralph and motored through what they call a slough that looked very much like a bayou to me!  The scenery was so beautiful with the mountains in the background and the plants along the banks.
It didn't seem to take long before we arrived at the sandbar.  We piled out of the boat while Ralph got his "baiting" table set up and the poles rigged for us to get started.  The spinning reels were spooled with braid, (I think) and weighted with a diamond weight.  The terminal tackle was a treble hook, which Ralph insisted on baiting himself.  He donned latex gloves for the task because the salmon roe we used for bait stains the fingers red! 
Sorry I didn't get a photo of the actual rigs we used.  And I don't think any photos of me actually fishing or landing a fish exist, so I'll just tell you about it and use other's photos.
                                                                                                     
The river was running as the salmon swam upstream against the current.  In this method of fishing, we cast across the river toward the other bank just as far as
we possibly could.  Robert Gaspard fished to the right of me, and he definitely had the knack of how to catch these beauties.  Me, not so much.  He explained that there was a sandbar close to the opposite bank, and if I could cast to it and then reel a couple times until I felt the weight hit the bottom, then I would then be in the fishes' swim zone.  Well, he was right, because the salmon don't swim up the middle, but closer to the edges.  
Ralph said Cajuns are too quick on the draw, meaning we have itchy trigger fingers and try to set the hook way too fast and way too hard.  And some of us, like me, had trouble setting the hook at all!
But once you successfully "hook" the salmon, the fight is on.  They jump out of the water, but the goal is to keep the fish facing upstream while reeling it in so that it doesn't either spit out or get off the hook.  Then, Ralph nets the fish, and before removing it from the net, he bonks it on the head with a small bat.  The intention is not to kill the fish but to stun it so that the heart keeps beating, thereby keeping the flesh fresh.  Then, part of the gills is pulled out to "bleed the fish" making the flesh better tasting.   
The limit of silver salmon was three per person, and I must admit I was the very last person to catch her limit of three.  I will also admit that it took me a long time to master the "feel" of a salmon nibbling on my bait.  It was like fishing on the bottom with cracked crab.  Much to Ralph's dismay, he was having to re-bait my hook what seemed like every 15 minutes!  Once I landed my final salmon, hoots and hollers went up among the Cajuns for me.  I'm not sure if they were happy for me or just happy that I was finally finished so we could leave!
No matter, because while I was struggling to catch my third salmon, Ralph cleaned fish and filleted a big salmon right there on the sandbar and grilled it up for us.  He said he had a secret seasoning on the fish.  Come to find out, as the Cajuns say, it was a popular south Louisiana seasoning blend sold in grocery stores everywhere; evidently, even in Alaska!
And then it was time for more photos before Ralph and Dick cleaned all our fish for the trip back via boat, then seaplane, and car back to the lodge where Jecca would vacuum seal and label them for us and put them in the deep freezer to add to our bounty to bring home.
If you've made it this far, you might enjoy this little video.  I hope you do!
Also, this week Bayou Wild TV is airing their episode covering this fishing trip, and here is the segment about our trip.  It's about six minutes, so enjoy!
As I was putting the finishing touches on the previous "teaser" for this post, south Louisiana fishing legend and all-around good guy, Theophile Bourgeois lost his life while piloting his seaplane upon return from a charter in the Chandeleur Islands.  While I was editing photos for this post, before I had heard this sad news, I had asked myself, "Why have you never done a seaplane flyout charter with Capt. Theophile?  I don't know.  Then, that is something you are going to do in the near future.  Okay, then."  And a day later, he was no longer with us.  He touched many lives, and everyone who knew him loved and respected him.  Rest in peace, Toe.  This post is in your honor and memory.
Until next post,
BW