La Toussaint, along with Le Jour des Morte, or All Souls Day, are not traditions with which I was familiar when I moved to bayou country back in 1978.  Even now, because I'm not Catholic, I had to ask my Catholic friends questions about their origin and meaning.
If one does extensive internet research about All Saints Day or All Souls Day, one will eventually find a distinct connection to All Hallow's Eve, or what America has nick-named Halloween.  And if you delve too deeply into that history to discover what ghosts and goblins have to do with saints, then be forewarned: it's history you might not want to know, especially if you are Catholic.
To get personal for a moment, Halloween has been a holiday that I've never much cared for.  Not having been desensitized to scary things, I am to this day easily disturbed by frightening images.  My children weren't allowed to go trick or treating, and I didn't allow them to watch horror movies while growing up.
Today's obsession with all things vampire and zombie is quite disconcerting to me.  Our young people have a weird and strange attraction to the macabre, making me wonder what history will say about this generation?  What weird traditions are they ushering in?
But let's get back to the present.  The Catholic observation of  November 1, or All Saints Day, is also called the Holy Day of Obligation–the day parishioners must attend mass and pray for all the saints.   November 2 is then All Souls Day–on which members are encouraged to pray for all the dead, not just the saints.
Historically, the evening before these two Holy days became known as All Hallows Eve, and through the years, across an ocean to America, this night eventually came to be known as Halloween.
In preparation for a blessing from the priest on all Saints Day, many families visit the cemetery where they whitewash the family tombs.
In past years, families would place a pot of colorful fall mums at the grave, if they could afford them.  If they couldn't, they might have put cut flowers from the yard in an old vase, coffee can, or Mason jar.
Nowadays, most of the fresh flowers have been replaced by longer-lasting silk or plastic flower arrangements.  Notice how bright and white the tombs are.
My walk through St. Eloi Cemetery on the morning of October 31st was a peaceful one.  I've not spent any time there before, and I observed some very old tombs, some so old that the names weren't legible, and they had sunken so far into the ground that they sat tilted at odd angles to one another.
This has nothing to do with holy days, but I happened to notice a long row of shorter tombs and realized this row must have been reserved for infants of families who didn't own a family plot.
And through the lens, a tiny gray object on top of a tomb caught my attention and drew me in.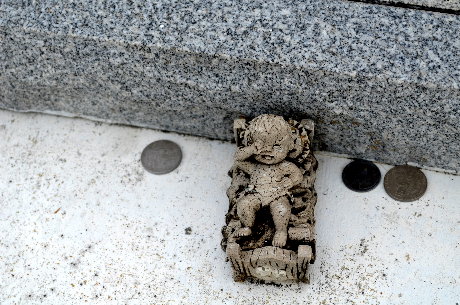 What a quaint little statuette of an infant in bed, sleepily rubbing her eyes.  Then I noticed two nickels and a penny. At first I thought the number 11, but the tomb is way too small for this child to have been 11 years old.  Maybe she was 11 days old or maybe she died on the 11th day of life.  Regardless, this little object stirred so much emotion in me, that I left without even reading the inscription.  But now I know I will go back.
When I thought about writing this post, I had no idea which direction it would take, but I started by taking photos in the cemetery.  What I learned there is that I'm intrigued by the oldest of the tombs, the unmarked graves, and the many years of history that lie buried with these bodies.
Strange?  Yes.  Odd?  Maybe.  Weird?  You decide.  Even if I don't share the cemetery photos with you in the future, I have a strong feeling that I will be visiting the older cemeteries of the bayous, and I have a feeling they will lead me to some very interesting tales of bayou people who went before us.
I'm sure you'll want to read some of those, right?
No trick, all treat!
BW