Come on in and do some holiday baking with me. This is what's going on the BW Holiday Kitchen today!  These are kid-friendly and provide something to do together once school is out and it's too cold or nasty to go outdoors and play.  Place in festive holiday tins, and you've got a great gift idea!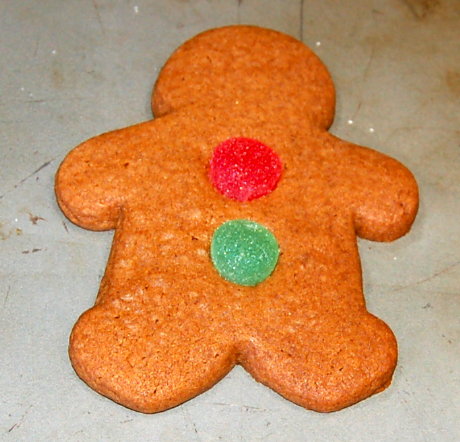 This has become a favorite family recipe, and one of my sons consistently asks for this as his Christmas gift from me, so they must be yummy!
Gingerbread Cookies
Print Recipe
Delicious gingerbread cookies, easy to make, and make great holiday gifts.
Ingredients
2

cups

and 1/2 flour

1/2

teaspoon

ground cloves

1/2

cup

sugar

1/2

teaspoon

nutmeg

1/2

cup

shortening

1/2

teaspoon

ginger

1

egg

1

teaspoon

and 1/2 cinnamon

1/2

cup

molasses

1

teaspoon

baking powder

1/2

teaspoon

baking soda
Instructions
Preheat oven to 350 degrees.

Mix slowly until all ingredients are combined well.

Be sure and scrape the sides of the bowl before the final mix on medium speed.

Cover with plastic wrap and refrigerate for one hour.

Prepare the optional "button gum drops" by cutting them in half and placing in a bowl on the table.

Place the dough ball on a floured surface.

Flip it over, making sure all edges have a little flour dust on them.

Roll the dough to between 1/4 and 1/8 inch thickness.

Press the floured cookie cutters all the way through the dough, over and over until the dough is totally covered in cutouts.

Place them on the baking sheet about an inch apart.

Put two spice drops on each cutout for buttons.

Bake for 8 minutes.

Prepare the next batch while these are cooking.

Once done, let cookies cool on sheet for a couple of minutes and then remove CAREFULLY with spatula to a cooling rack.
Notes
Remember to keep your rolling surface, dough, and cookie cutters dusted with flour to keep things from sticking.
Trick for keeping soft:
If your cookies get hard in the container, place a slice of bread in the container. Cookies will absorb moisture and be soft the next day. Discard bread and repeat if necessary.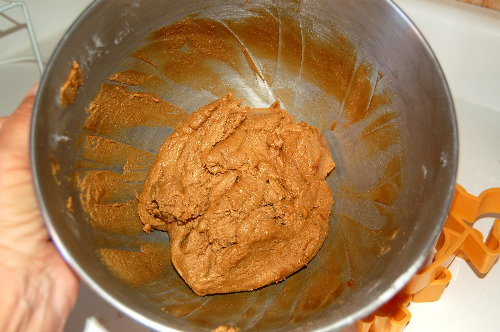 Meanwhile, get your "rolling table" ready. I don't have a stainless or granite counter top on which to roll my dough, so I use a sheet dedicated strictly for use in my baking and spread it on the table.
Next, I place everything on the table, and I spread flour out on the spot where I'm going to roll out the dough. I make a little pile of flour to the side, which I use to spread flour on the rolling pin or to dust the dough ball with AND to dust the cutters in. As you know. this keeps the dough from sticking to the roller or from being too sticky. Another reason I wait for a very cold day to do my baking is the humidity here makes the dough really sticky and harder to work with.
Preheat oven to 350 degrees.  After the hour is up, remove dough from fridge.
First, place the dough ball on the floured cloth. Then I flip it over, making sure all edges have a little flour dust on them. This keeps the dough from sticking to the pin. Notice how small my pin is? This one belonged to my dainty Great Grandmother Addie; but before you get all sappy, I don't ever remember baking anything with her. I'm just a dope for sentimental stuff. Ok, now you know one more weird thing about me. Moving on!
So I'm OCD about rolling out dough. Even though it's not a pie, I automatically roll the dough in a perfect circle. HINT: If the dough gets sticky while doing this, flip it over to the floury side! Or add a dusting of flour to the top and continue. The final thickness should be that magical number somewhere between 1/8 in and 1/4 inch. Thinner makes a crispier cookie, thicker makes a softer cookie. Take your pick.
HINT: Be sure and rub your cutters on the floured cloth first. This helps the cutter release the dough more easily. We sometimes still lose an arm or head, but nobody cares! Place your cutters as closely together as you can, and then press. Or if you use only one, press it all the way through, over and over until the dough is totally covered in cutouts.
At this point, either remove the scraps from around the cutouts or lift the cutouts from the dough one by one and place them on the baking sheet about an inch apart. (I sprayed this sheet with oil, but I don't think it's really necessary with shortening in the recipe.) Place two spice drops on each cutout for buttons. Pop the sheet in the oven, set the timer on 8 minutes and . . .
go back to the baking tables, press the scraps into a ball, and roll the dough out again for your next batch of cookies.
With the final little bit of dough, we use the Gingerbread Bayou Baby cutters. Aren't they cute? These make bite size bayou people for the little ones.
After cookies are FULLY cool, place them "gingerly" in your favorite holiday tin.
And there you have it, friends. The simplicity of making some holiday baking art. The recipe is simple, basic, and except for the hour in the frig, baking one batch doesn't take long. This recipe makes about 2 dozen large cookies, or about 3 dozen smaller ones.
TIP: If the cookies start to get hard in the tin, place a fresh slice of bread in the tin overnight, and the cookies will suck the moisture right out of that bread!!!!!
Happy Holiday Baking!
BW
(Previously posted 12/2007, 12/10/2008, 12/13/2011, 12/15/2013, 12/9/2015.)