Bayou Woman's Adventure with Vibrio Vulnificus
You've probably been wondering where I've been, haven't you?  I know, you've been thinking, "Hm, I bet the awesome fishing trip with those retired Assorted Nuts wore her out!"  And those Assorted Nuts have been thinking, "Poor BW.  She just can't hang!" Well, you're all wrong, because the trip was fantastic and invigorating and left me with memories that will go way beyond the Assorted Nuts and the fish they caught.
While those memories will crack me up for a while to come, it's what came afterward that has kept me from posting over the past week.  Even though they didn't wear me out as such, the Assorted Nuts kept me so busy cracking bait crab and baiting their hooks that I never had time to wet a line! Can you imagine that?  They fished for about five hours, and I must have cracked a couple dozen crabs for them.
Meet Vibrio Vulnificus
The crabs worked quite well for the ladies, and the fish loved them.  However, there was more to these crabs than meets the eye.  They apparently had a symbiotic relationship with the bacteria, Vibrio Vulnificus*. While not unheard of in these parts, I have only known one other fishing guide to have contracted an infection from Vibrio. And even then, he wasn't fishing with crab, he was putting a live crab into the boiling pot when a crab pinched him, infecting his finger.
It's not unusual for my fingers and hands to get pricked by fins, scales, or hooks during every fishing trip.  That is why I keep an industrial strength hand sanitizer on board and even used it on this very fishing trip.  Several such pricks had occurred on my left hand during this trip and seemed fine the next morning.  However, there were two little bumps on my right middle finger that were inflamed and painful.  The bigger of the two was the size of an ant bite but hurt way worse.
Thinking if I could just open the little sore up and drain out the puss, it would feel much better and heal quickly.  So, I pricked it with a needle and pressed; but nothing came out of it, and it seemed to get a little bigger.  After doctoring it with antiobiotic ointment and covering it with a Band-Aid, I went on my way, not thinking much else about it.
The next day was Saturday, and Dotter and I planned to spend some time together.  She's such a natural care giver, that I asked her to take a look at my finger and see if she might treat it for me again.  Sterilizing a new needle, she performed the same mini-surgery I had the day before, except now the little bump was at least triple in size and hurt about as many times more.  She offered to take me to the urgent care center, but I didn't think that would be necessary.  Besides, we had more important things to do, like enjoying our pedicures!
On Sunday, when I removed the bandage, the little wound was looking like nothing I had ever seen before.  While I'm not really an alarmist, I must admit I was getting a little concerned, mainly because of the color and the pain.  Both LilSis and Dotter must have Googled the bacteria that I suspected was the culprit, because they both tried to get me to go to the ER.  They settled for a promise from me that I would see a doctor on Monday.
Monday morning found me waiting outside our family doctor clinic when they unlocked the doors.  After pleading my case at the receptionist's window and scaring her with the sight of my now clearly inflamed finger, she agreed to work me in.  Evidently, the beautiful hue of the grotesque lesion on my finger impressed her, because they called my name shortly thereafter.
Diagnosis of Vibrio Vulnificus
Without culturing the wound, the young female doctor diagnosed Vibrio Vulnificus saying that she had no injection form of antibiotic with which to treat it.  Instead, she gave me a prescription for two oral antibiotics, one of which certainly would treat Vibrio–Doxycycline–the other for a shotgun affect, I presume, and one for pain.  I filled the scripts and began taking the antibiotics right away, but opting not to take the pain medication.  Who needs pain killers?  Not BW.
By Monday afternoon, I was eating those words AND a pain killer.  While lying in bed, waves of pain-induced nausea flowed through my body while the lesion spread and my finger felt like it would explode from the swelling.  By that time, the sore had doubled in size and was so sensitive that the pressure of the bed sheet was unbearable.  Even though both Dotter and LilSis encouraged me to go back to the doctor, it wasn't until my fishing charter friend, who had already experienced this bacteria, called me that I could no longer swim in the Sea of Denial.  (Well, that AND the pain!)
Saying that he wasn't trying to scare me, my fishing-guide friend suggested I really should go to the ER.  After hearing the whole story of his hand eventually turning black, even after seven days on oral antibiotics, and the infection having to be surgically cut out, down to the bone, I couldn't hang up fast enough to jump in the shower and wash my hair in case the hospital decided to keep me.  Furthermore, he remained in the hospital on IV antibiotics for nine days.  It was past time to take this very seriously.
It was close to 7 p.m. when Termite took me to the ER and stayed with me until Muzic Man and Dotter arrived.
Treatment of Vibrio Vulnificus
Based on what I told them and how the wound looked, the ER doctors guessed that the infection was Vibrio and treated it accordingly.  But just in case it might have been something else, they ordered two IV antibiotics and warned me that I might be in the hospital for a week or longer.
And then it happened.
I cried.
Yep.  The big bad BW broke down right there and cried.  There's just no way I could afford to be laid up in a hospital bed for that long.  While I hid my tear-stained face in shame, young Dr. Lacking Bedside Manner said, "Well, this could be Necrotizing Fasciitis*.  You could lose your finger, your hand, or your life, so suck it up.  You're not going anywhere."
Sometime after that, the nurse came in to start the IV.  She pulled what seemed like pints of blood from the IV port before slipping me a milligram of Dilaudid without first warning me.  Hey, when it comes to drugs, BW is a lightweight.  Heck, I don't even take anything for a headache if I don't have to.  That narcotic heated up my heart first, and from there it went straight to my brain and then to my extremities.  Welcome to La La Land, and I didn't really like the place.
Little did I know that pain killer would be necessary for what was to come later between bouts of vomiting–the lancing and draining of the pockets of nasty fluid that were swelling the skin and causing all the pain.  By that time, the Dilaudid had worked so well, I couldn't even tell you if I had a hand, much less tell you what they were doing to it.
After more general ER torture, Dotter and I were left in a pitch black ER examine room to catch forty winks if we could.  By this time, it was the wee hours of Tuesday morning, and they got me into a room around 2 p.m. later that day.  When I finally woke from the Dilaudid, there beside my bed was my new friend, Mr. I.V. Pole.  Standing faithfully, he showered me with attention, Vancomycin and Zosyn, was a great listener, and never left my side the entire stay.
Recovery from Vibrio Vulnificus
The wound continually showed improvement, and by Wednesday, I could almost straighten the finger out completely and could bend it about halfway.  All this time, they were still watching to see if the culture would grow anything down in the Lab.  On Thursday, after realizing the first dose of antibiotic ruined any chances of growing a positive culture, and upon much improvement in the lesion, the docs decided to let me go home.
Since they did not have a positive culture ID on this bacteria, they felt obligated to send me home on enough antibiotics to cover everything possible, (including their butts).  So I'm now taking three antibiotics, round the clock for seven days.  To counter the side-affects, I'm also consuming mass quantities of Greek yogurt, drinking lots of water, and taking pro-biotic capsules.
Vibrio Vulnificus Education
While Vibrio Vulnificus is nothing to play around with, this post is intended to educate you about its existence, not to scare you or keep you from coming here to fish.  Please remember, that all the years I've been fishing and have had open cuts from fishing, I've never gotten an infection.  It happened this time because this bacteria is more abundant in crab that come from closer to the coast. Chances are, if I had caught my own bait crab right here in the brackish water of the bayou, the bacteria would not have been present.  But because I was in a hurry and needed so many for this trip, I purchased them from a crab buyer/seller who fishes saltier waters.
What I have learned from this little Bayou Woman Adventure is to be very cautious in the warm months when handling coastal shellfish, including blue crab, shrimp, and oysters.  This adventure has shown me how healthy my immune system is, how fortunate we are to live in a country where the needed medicines are readily available, and to catch my own bait crab from now on, especially in September.
What YOU can take away from this adventure is this:
1) Let your charter guide crack the crab and bait your hook.
2)If you must handle/crack the crab, wear waterproof gloves.
3)Keep either a strong hand sanitizer or bleach/water solution on the boat and USE IT!
4)At the first sign of a sore that starts like a very painful, tiny blister and looks like any of these photos, seek medical attention immediately.
5)Make sure the medical team cultures the wound BEFORE any antibiotics enter your system.
6)Thank God we live in America and keep on fishing!
The photos below show the progression of the infection starting with Sunday morning, three days after handling the bait crabs: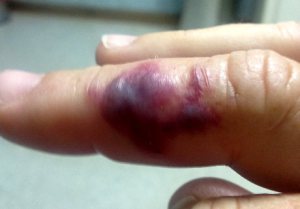 The photo above shows the purple line a resident drew around the wound to show future spreading.
NOTE:  There are no photos from Tuesday, Day 5 of infection, because I was too busy sleeping off the Dilaudid!!
(After looking at and editing all these photos, I realize I should have gotten a manicure, too!)
Never in a million years did I think I would ever contract this flesh-eating bacteria, but I'm sitting here today, thanking the good Lord for folks in my life who care enough about me to scare me into seeking the treatment necessary to arrest the infection, save my finger, my hand, and my life.  To each of you, I again offer my heartfelt thanks.  Without you, I wouldn't be typing this post.
Healing and happy to have all three,
BW
*Vibrio Vulnificus is commonly called "Flesh-eating bacteria" because it can cause Necrotizing Fasciitis if gone untreated, leading to loss of limb and eventually loss of life.