During a busy weekend like this one, you have to start calling a day in advance to find nice crawfish, and then hope they will reserve you a couple sacks. That's about 70 pounds. This isn't the weekend the price will be low, either. Remember, it's still during Lent, and the price won't really go down until after Easter Sunday.
First thing we do when we get those delicacies home is purge them by soaking them in an ice chest of fresh water.
Really, I think all we're doing is sort of rinsing off the residual mud, but it makes us feel better about eating mudbugs, or so I think it does! Keep your eye on that big fellow in the middle.
That's Crawdaddy, the star of the show, and you will see him again later.
Here are the ingredients we will use in our crawfish boil.
Starting at the top with the smoked sausage and going from left to right by rows:
Smoked sausage, mini ears of corn, powdered crab boil, small red potatoes, cauliflower, onion, liquid crab boil (optional), mushrooms, garlic, and lemons.
The large boiling pot is being filled with water, while the butane tank sits at a safe distance. When the pot is about half full, turn the fire on medium/high in order to bring the water to a boil.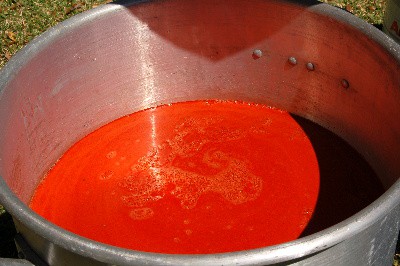 Then add the whole jar of powdered crab boil and say, "Man, that stuff is spicy!"
Now, add the onions and garlic to the boiling basket and lower it into the water.
Next, squeeze the lemon juice into the pot and drop the lemons in there, too. The water is getting really hot now.
Once the water begins to boil, it's time to add the potatoes. Since potatoes take the longest to cook, we add them first and let them cook for about five minutes. Boiling crawfish is not an exact culinary accomplishment. Everyone has their own way, their own order, and their own time chart. This is just how we do it, and even then it may vary from one time to the next. It's really difficult to mess up boiled crawfish.
Next it's time to pour in a sack of crawfish and things are smelling really good right about now! And if you have neighbors, they know you're boiling crawfish, too! Give everything a good stir with your crawfish paddle.
Cover and let all that steam about five more minutes and then add the sausage.
Stir and add the mushrooms . . .
and then the corn and cauliflower. Cover and cook a while longer.
This is how things should be looking right about now.
While everyone else is doing this, you get to open the pot and taste one to see if they are just about ready! Now, turn off the fire, put the lid back on, and let them sit just a little bit longer.
It's time to get the table ready, and old newspaper does a great job of soaking up the juices.
And if you have one of these handy gadgets, you can drain the excess water from the pot before you take it to the table . . .
like this before spreading the feast on the table . . .
(Pinterest link)
And there he is again–the star of the show, Crawdaddy!
Since I'm so full of crawfish and all the side items, I just can't make myself blog any more tonight. This will be the first in the Crawdaddy Series. There are two more installments, which I will hopefully have for you Tuesday and Wednesday. Believe me, you will enjoy them! Here's a little hint of what you can expect!
Until then, I'm your crawfish-stuffed BW !!!