Bream, by any other name, would still taste the same!
Whether you call them bream, bluegill, sunfish, or patassa (pah-tah-sah*) these hand-sized gifts from the freshwater pond would be well served upon any plate.
Fishing around Bayou Dularge, Louisiana is unique.  Motor your boat up the bayou, and you're fishing freshwater species like bream, crappie, and freshwater cats.  Right in the middle, you might catch red drum and large-mouth bass in the same brackish pond.  Head down the bayou, and saltwater species abound; such as black drum, sheepshead, flounder, and speckled trout.
Even though this fishing smorgasbord exists, these ladies had their sights set on one fish, and one fish alone.  J.G. called and invited me to go "perch jerking", which I had not done in a long time.
Some of you seasoned fisherfolks are already going technical on me at this point.  I know that a bream is not a perch.  However, I'm sure if we had jerked a perch or two out of that honey hole, none of us would have minded.  Regardless, the target species was bream.
It was the first calm morning after months of an unseasonably and excessively windy spring.  The Ides of March had continued to intrude right on into May days, but with the breezes below 10 miles per hour, we had our gear in the boat and the boat out of the slip before you could say patassa.
J.G. and I agreed on our destination, and fifteen minutes later, we were trolling the bank and trying our luck.  Our third fisherlady, whom I lovingly call The Princess, was the first to catch a hand-sized beauty.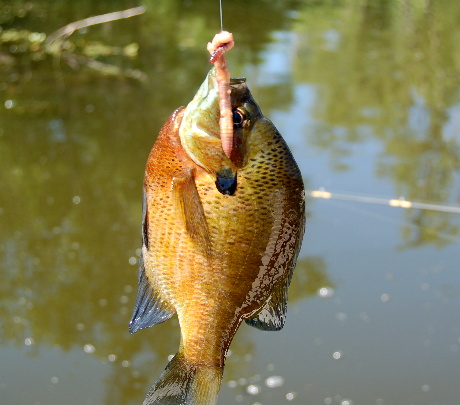 Although she complained about how much she hates touching worms, her manicure held up and her efforts paid off quickly, while J.G. and I didn't have a bite.   After she jerked in a couple more, J.G. and I removed the  1/16 oz. jigheads, replacing them with No. 6 hooks and those squiggly night crawlers.
Our first stop was our last, as we sat anchored in the shade, steadily catching fish.  The pace was just right for a relaxed morning on the water.  While we fished and chatted, wonderful childhood memories of fishing bream with my family on Toledo Bend flowed across my mind like ripples on this little pond.
After a couple dozen of these, the bite slowed to a halt.  As the bream moved to the deeper recesses of the shadowy waters, we pulled up the Cajun anchor and headed for our own respite from the sun.
Later in the afternoon, after the fish were scaled and cleaned,
The Princess lightly coated the fish in Louisiana Fish Fry and dropped them three-at-a-time into the boiling hot oil, where they fried quickly and were removed after only about five minutes.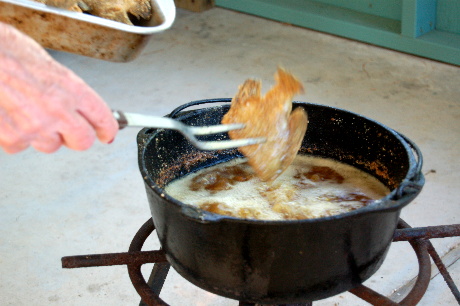 As the fish fried, the aroma floated out over the bayou, beckoning to those within smelling distance, even this begger . . .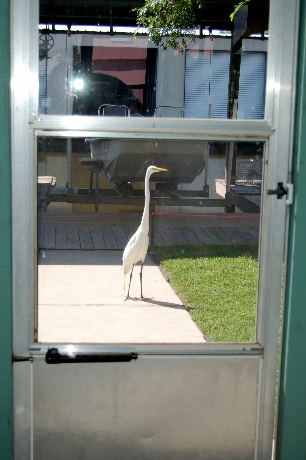 This great egret, called Legs, hangs around J.G.'s dock any time fish are being cleaned.  And now it seems he might want to try the cooked fish, as well!
But the fish and the fries were ready and waiting.  Legs would just have to come back later to see if there would be any leftovers.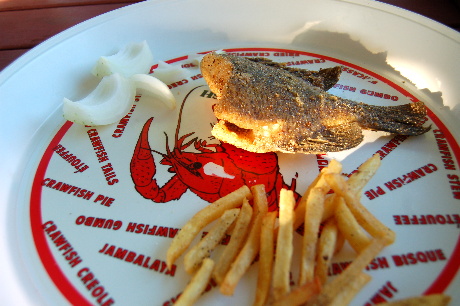 The only thing missing was the coleslaw, which we debated about at great length.  For all its advantages, living down the bayou does have one major drawback–no store with fresh produce.  Once J.G. sliced some onion, which made us feel a little better about this rich meal of fried delicacies, the debate was over and the feast was on!
The Princess took the first bite, and as any seasoned bream eater would do–she bit off the crunchy tail with a "mmmmm".  J.G. and I quickly followed suite.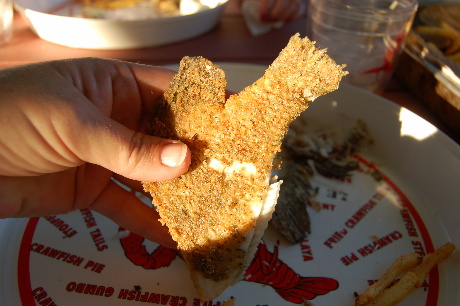 The purists eat the fins, too, but these were a little too tough for me, so I opted to remove them.
After removing the fins, the sweet, white flesh can be removed from either side of the backbone, and eaten with caution–watch out for those rib bones.
One side down–one side to go. There was no way we could eat two dozen of these freshwater jewels, so I took the rest of the cleaned fish to a widow lady up the bayou.  She was so happy to have them and assured me she would cook them for her dinner right away.
It's been years since I've eaten whole, fresh-caught-fresh-fried bream, although it has not been that long since I've thought about those childhood fishing trips.  Those trips with Mom and Dad were where I learned to catch fish, clean fish, and most of all, eat them.  And even though many years have passed since those summer trips, one thing remains the same:
A bream, by any other name, would still taste the same:  D E L E C T A B L E !
In memory of Momma,
BW
*Local French word for bream.