Camp Dularge Renovations Continue
You older readers are up to speed on all this, but to quickly recap for our newcomers.  Camp Dularge is an 80-year-old cypress house I purchased at a very good price last February,  (can you believe it's been a year veterans?) with the big idea of renting it out as a fishing camp.
I set about renovating it with the help of others, and things were going well until Hurricanes Gustave and Ike came along.  Gustave tore down the laundry room and Ike flooded the whole house.  It turned out to be a blessing, though, as this second flood qualified the house for some ICC funding to help elevate it above the flood plain.  That job was recently done, but all the renovations to the renovations are not yet complete.
I have been overwhelmed with overseeing the elevation crew, which I've called back twice and I'm still not satisfied.  And then the work crews who are doing the sewage treatment plant and drain field, the carpentry, electrical, water pipes and gas pipes.  Man, what a job supervising all this has gotten to be.  I must confess, I'm just not quite up to the mental task of it all.  And then there's just the absolute mess of mud and crud everywhere.
But we're making progress.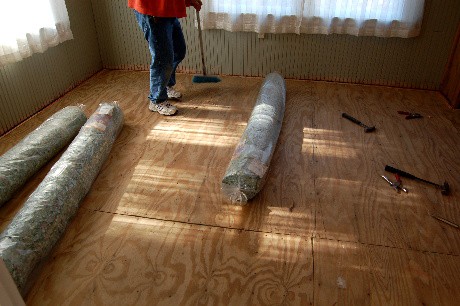 The back bedroom had new carpet before the flood, which was not salvageable, so it was back to bare floor again.
And this week, the floor got a makeover — again!  That's Jose` from Minnesota and his helper.  It only took them one hour to do this!
A little different style carpet than before, but I like it just as much!
The old sliding closet doors were losing their veneer, so they hit the trash pile.  We will leave the closet open . . . and once I get the baseboards back in and the bunk beds in place, this room will be ready for occupancy again!
I'll try to post some more pics tomorrow.  How about a little (a lot of) encouragement?  LOL!
Barely hanging in there,
BW