Catherine, Sharon, and Big Sky Ranch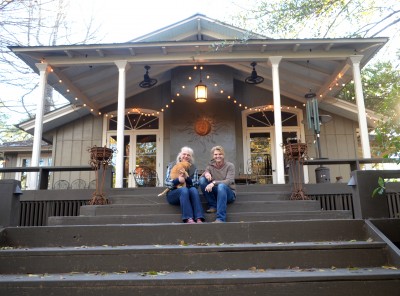 Deep in the piney woods of Folsom, Louisiana, at the end of a well-worn dirt road, lies a ten-acre animal rescue sanctuary called Big Sky Ranch.  Off in the distance stands the iconic big red barn, offering shelter to resident horses and donkeys, while cats of all colors and sizes play chase among the brush or stretch in patches of dappled sunlight.  Two red Adirondack chairs face a pond that ducks glide across without a care in the world.  The trees, grounds, and creatures of Big Sky Ranch seem to wrap their arms around visitors, enveloping them in safety and serenity.   
The beautiful home at the top of the rustic driveway exudes a powerful sense of seclusion and privacy, but one need only walk behind the house to view an entirely different scene.  Amidst turkey gobbles, rooster crows, and clucking hens, Dr. Catherine Wilbert and her partner, Sharon Schluter, can be found leading a tour, giving directions to volunteers, or receiving donations from generous patrons.  They seem to have endless amounts of time and energy for the folks who drop by looking to adopt a cat or for sick kittens in need of attention.
Wilbert has always wanted to help stray animals, even as a young child. After graduating from Loyola University with a degree in Broadcast Communications, she lived in Algiers Point.  There, she became known as the "cat lady" because of her willingness to take in stray cats and get them spayed or neutered before returning them to the neighborhood.  "It was crazy, but I even had a crack dealer bringing me stray cats!" said Wilbert. 
That same cat lady eventually established a full-service advertising, publishing, and video production company while pursuing her own healthy lifestyle. She published a fitness magazine called Sports Life and advised clients on nutrition, including several bodybuilders who needed diets to prepare them for competition.  One of those clients challenged her to enter a bodybuilding contest—she did and won first place.  That national qualifier led her down the path of serious competitive bodybuilding, which resulted in her winning many contests, including three national championships. In the following years, Wilbert found herself wearing more hats than would fit on a haberdasher's shelves by earning doctorates in Naturopathic Medicine and Holistic Nutrition and operating successful coffee shops and smoothie bars.  
Behind that entrepreneurial spirit and successful business dynamo still resided the little girl who wanted to stop animals from being killed in shelters.  To that end she served on the board of St. Tammany Humane Society for ten years, and on the boards of St. Francis Animal Sanctuary and Clearwater Wildlife Sanctuary.  By the time she was asked to consider becoming the executive director of the parish Humane Society, she had realized that no matter how much money poured into the animal shelters, this was not the long-term solution to responsible animal control.  "If we could only make animal shelters understand that supporting a discounted spay/neuter program costs less in the long run than paying staff to go capture an animal, feed it for three days, and then kill it."  Her arguments fell on deaf ears.
Enter a one-acre plot in Mandeville where Wilbert and Schluter lived and shared their space with rescue dogs, cats, chickens, and a parrot.  Their idea was to start small and save an animal here and there as they could while continuing to advocate for no-kill shelters.  Then they received a call about a horse named Scout that had been beaten by his owner for eight years.  They rescued Scout, but since there was no room for him on their one-acre property, they had to stable him in Bush, Louisiana.  One day, after buying feed and hay in Folsom to take to Scout in Bush, a downpour forced them to take shelter at a nearby friend's place.  As good fortune would have it, they passed a property for sale near their friend's place and ended up getting a very good deal on what is now the current location of Big Sky Ranch—and Scout got a new home.
The goals at Big Sky Ranch may be challenging and visionary, but their mission is simple.  "Ideally," said Wilbert, "our mission is to raise consciousness of the well being of
people, animals, and planet, through seminars, retreats and events."  The proceeds from those events will sustain the goals of the ranch, which include educating people about the need to spay/neuter their pets and changing local pet ordinances. "Our parish has a leash law for cats, which nobody follows," said Wilbert, "but if your neighbor calls Animal Control, the cat will be picked up.  Even if you feed a stray cat that you don't technically own, then you need to take responsibility to get it fixed.  It's especially important regarding cats, since two female cats can easily become 200 cats in just one year.  They can just call us and we'll help them get the animal fixed."  
In 2015, they started a 501(c)(3) non-profit, CATNIP Foundation, which stands for Care, Advocacy, and Treatment of Neglected and Indigent Pets.  TNR (trap, neuter, return) is a big part of this program: once a week they capture indigent cats from local communities, transport them to be spayed/neutered at low or no cost, and then return the cats to their environments.  However, this is just one step toward the bigger goal of making St. Tammany a no-kill parish by changing policies and attitudes toward the indigent animal population.  
Today, there are about 150 cats housed on the grounds of the ranch.  The majority of these cats came from rescue efforts Wilbert and Schluter performed in Livingston Parish after the August 2016 flooding and Hurricane Harvey in Texas last year.  Of the several hundred cats rescued or relinquished into their care after the floods, only one was already "fixed."  However, all the rescue cats have since been fixed, and many have been adopted or returned.  
It's not just cats that reside at Big Sky Ranch: approximately 200 other animals have come to live there, including donkeys, ducks, turkeys, chickens, dogs, doves, and rabbits.  Because this is an organic ranch, all the animals are fed organic feed, which gets expensive.  In order to be self-sustaining, the ranch opens their arms to those who want to volunteer their services.  Whether it's carpentry, plumbing, animal care, or office work, all volunteer help is welcomed.  
For the general public, the ranch offers women's retreats, children's camps, drum circles, and yoga sessions. Or how about a catered wedding in the big red barn?  Long-term plans include a cabin for overnight stays for nature and animal lovers looking for peace and solitude, plus an all-natural organic café.  Schluter and Wilbert see a general store in their future, where they will sell their organic and vegan foods, catered items, and organic eggs.  
If you love animals and want to do your part to increase awareness regarding the responsibility of spaying/neutering pets or advocating for no-kill shelters, then Big Sky Ranch offers several opportunities for the general public to come out and show their support.  This Easter Sunday, they are offering "Brunch on the Veranda," featuring guest chefs from the New Orleans area; unlimited non-GMO, organic mimosas; and a cash donation Bloody Mary bar.  Guests will have the option of a vegan, gluten-free, or regular meal.  Also to raise funds to continue their efforts, a George Rodrigue Blue Dog print will be offered at a silent auction.  After brunch, the venue will open to the public for a good old-fashioned egg hunt for families with young children.  Additionally, at other times during the spring and fall, they offer "Breakfast on the Veranda."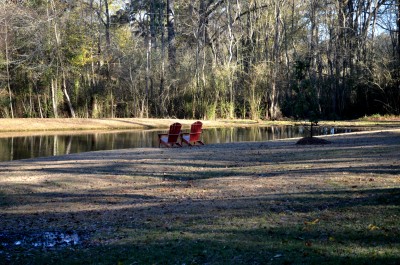 Wilbert's career path has forked many times over the years, but there is no doubt that together she and Sharon will leverage all their hard work and dedication at Big Sky Ranch to effect long-term positive change for the animals in St. Tammany Parish.  
~~~~~~~~~~~~~~~~~~~~~~~~~~~~~~~~~~~~~~~~~~~~~~~~~~~~~~~~~~~~~~~~~~~~~~~~~~~~
The above article was first published in the March issue of Country Roads Magazine, and it received  First Place in the Louisiana Outdoor Writers Association annual Excellence in Crafts Awards "Magazine Regular Feature" category.  In August, yours truly was also elected President of the La. Outdoor Writers Association–second female to be elected in its 73-year history!  Plus, I have some big shoes to fill!
Fall is just around the corner!
Until next time, I'm still your Bayou Woman!
BW