Cement work is boring . . .
if you're the one watching and waiting.  There's just no other way to say it.
However, it's back breaking if you're the one manning the shovel.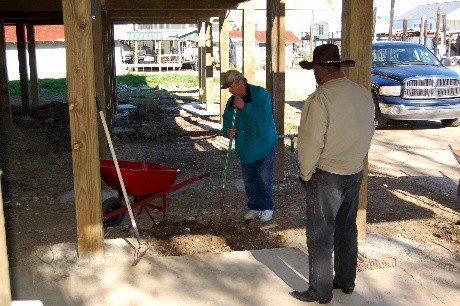 The contractor in the black hat got the two men lined out on January 30th, and they've been shoveling dirt eight hours a day ever since.
First they dug a "footing" all around the perimeter of the future slab.  Then they dug out the high spots under the house and piled the wheelbarrows of dirt on the drain field (not sure that's a good idea).
Then they ran a level string all the way around the perimeter.
Then they take one section at a time and run these level lines and proceed to go back and get the dirt they dug out and put it back in to make the whole thing level.  They are just now finished with the leveling.
Next there is the plastic sheeting laid down to keep dirt clods from migrating upward and making blemishes in the concrete.  Contractor Sam says it does happen.  River sand serves the same purpose.  Plastic is quicker to obtain and cheaper.  Also serves as a moisture barrier.
Now they are setting the forms using boards that will shape the edges of the concrete mix and hold it in.
And while I was driving to Lafayette to meet LilSis, the heavy equipment sneaked in and tore up this part of the driveway and yard in order to make one new solid drive and cut down on the muddy potholes we've been experiencing every time a wheel slips off into the yard.  They also leveled the front yard somewhat.
Now, there's a big mound of dirt in the back yard that came from the driveway.  Oh, and notice my plants on the landing?
I had to go into town and pay for the concrete which will be delivered tomorrow morning.  While I was there, I asked tons of annoying questions, which will result in a very informative post for you coming tonight.
Here's a sneak peak!
Daboo and his friend Derrick finished cleaning up the rest of the storm debris from the back yard.  Thanks a bunch, guys!
See the boards in the back of my truck?  I'm off to cut them into slats for the new bunk beds!!!!  Photos later!
Now, back to work!
BW
PS Who will finish the catwalk and front steps?