2004 was a pivotal year for me. My youngest (of five) was turning eight, and the two oldest were out on their own. With three children left at home and thoughts turning toward what I would do when they were all gone, my focus broadened from entirely on being a keeper at home. That is the year I wrote the book about wetland loss, completed captain's school, received my U.S. Coast Guard captain's license, and bought my first tour boat. By the end of that year, I was ready to embark on book readings, wetland presentations, and developing my educational Eco-Wetland tours. With my 13-year-old-special-needs son attending the public middle school, the youngest would be able to accompany me on all my day trips.
So, off we ventured into the bayous, marshes, lakes, and swamps that surrounded our home on lower Bayou Dularge. The youngest son and I had some great times learning our way around, for back at that time, I had no GPS on my boat. However, when I saved up enough to add that piece of equipment, it literally set us free from fear of ever getting lost and not finding our way back home. We travelled, we fished, took photographs, charted a tour route, and I bought field guides to teach me all the new plants and birds we would encounter. It was a great learning experience for both of us.
We were going great guns in 2005, working toward developing just the right length of wetland tour, encompassing as much diversity of wetlands and examples of wetland loss I could show my future customers in a two-hour tour. And then that fateful September day came when the firetruck idled down the bayou road, a voice squawking over the loudspeaker that a storm was in the Gulf and we must evacuate. That storm was Hurricane Rita, and in some ways, it would change our lives forever.
We were displaced to a small apartment in Thibodaux, thankful that the landlord was willing to give us an open-ended lease–just until we could get our home down the bayou repaired and livable. So much infrastructure in our parish was damaged and the water so high that no one knew how long it would be before we could go back home. While The Captain was out mastering a grocery vessel in the Gulf of Mexico, Lil Sis and I were trying to clean out the house, sanitize it, and put things back together. Without electricity in that humid heat, those tasks were beyond challenging.
It was during that time, I could no longer ignore the Captain's memory lapses. One day while removing baseboards from the den and hauling them outside to paint, The Captain asked, "Where are those baseboards?" To which I responded, "You mean the ones we just put outside to paint?" It was an eye-opening moment, and I made him an appointment with his primary physician. His doctor put him through some pretty easy memory quizzes, the results of which prompted him to send The Captain to a neuro-psychologist for further testing. They gave him every kind of blood test, chemical test, and scan searching for any possible cause of short-term memory loss. The results of all those tests were not what we wanted to hear–early onset Alzheimer's. He was 56 years old and began taking medication immediately, which helped.
After six weeks of being displaced, we were finally able to move back home; but things just weren't the same. The lack of flooring and the ever-present hint of the smell of mold and mildew were daily reminders that our lives had been altered. We were happy to have a home at all, to be quite honest with you, and we kept our humble home clean and tidy and made the best of the situation that we could in spite of the odor. Meanwhile, The Captain was still able to function at work, keeping his promise to the doctor that if at anytime he ever felt lost or confused, he would quit his job. He was able to function well at his job for four more years.
During that time, I realized that Providence had planted those desires in me in 2004 to expand my focus to ways that I could contribute to the family income. So I continued in my traveling wetland presentations and book readings, and started a business to officially offer wetland tours. Getting the word out would take a while, even via the internet, but I plugged on believing I would be successful, making the best of making a living right here where I lived, not willing to give up my dreams to a day job in town.
Then in 2007, Lil Sis convinced me to start this blog as Bayou Woman, because by that time, I had made my place in the world as a wetland educator, fisher woman, bayou blogger, and was living the bayou life, through and through. This blog has never been monetized, and has been a labor of love, from which I've never earned a penny; but it has been a great source of pleasure for me and an outlet for sharing my thoughts, bayou life, and my photographs.
Additionally, although the book sales were very good, people in the book business want to see a new book every year or at least every other year. That is a pace I could not keep up with, given all my other responsibilities. In 2008 I purchased a little old house for a great price with the idea to rent it out as a nightly fishing camp. No sooner had I finished the renovations, than Hurricane Ike came along in the fall of 2008, flooding all my handiwork at the "camp" and our home.
By the time we were able to get back home again from that flood, fixed the camp again, elevated and started renting it, things were going along well with the rentals for the first four months when the dreaded affliction forced The Captain out of his profession; the summer of 2009. He was angry for the next year while trying to find employment at some kind of job on land. Rejection after rejection caused him great mental anxiety, and I found myself wondering how in the world I would make ends meet. One month after he lost his job, I enrolled my youngest free spirit, my deckhand and fishing buddy, into the public school system because I didn't know how The Captain's being home 24/7 without a job would impact the family dynamics Plus, his home education might suffer because I would have to do more to support the family.
I started taking little part-time jobs and writing freelance for magazines and websites. The pay wasn't all that great, and I was always having to weigh whether working away from home for a guaranteed little paycheck was worth abandoning my business of wetland tours, fishing charters for women, renting the camp, my hopes and dreams. How in the world could I balance it all, while watching my husband sink deeper and deeper into the depression that resulted from not being able to get a job and feeling worthless?
Staying busy was the only thing I knew to do, having grown up with a work ethic that you did what you had to do to get by. So, it seemed I did just about anything and everything I could to help out without taking a full-time job in town. Looking back, although things were tight, I made the right choice, because my spirit was all I had left, and doing so would have killed my spirit for sure, leaving me no hope at all.
We all know the day is coming when The Captain will require more care than I alone can give him at home. We also know the day is coming, unless God says otherwise, that he may be in a care facility, which will require all his social security income. That day is also the day that I must be completely able to financially provide for my son with Down's Syndrome and myself.
In 2011 I added a part-time outdoor radio show co-host of "Hunt Fish Talk" to my list of odd jobs. The show has done so well that I have been asked to do the show once a week next year rather than once a month. The only catch is I have to find 3 major sponsors within the next month, for that is how I will get paid. Granted, it will be a dependable source of income, and I see it as God's provision for us. So far, I have locked down one of the three needed sponsors.
In June of 2012, I launched my first Bayou Woman Adventure, wherein I could use all my resources to entrench small groups of weekend over several days in bayou life. We had a great time, and I really hoped those would take off and become my main source of income. Such was not the case, sadly.
In January of 2013 I started a part-time job as Executive Director for Keep Terrebonne Beautiful. That brings me to my confession: I have no health insurance; haven't had since the end of The Captain's career in 2009. Yes, it's been a worry, but I just don't earn enough money to pay the outrageous premiums for a self-employed person. However, another opportunity presented itself to me about six months ago–running for School Board in my district. With the position comes a monthly stipend, and combined with the radio show, Exec. Dir. job, and my businesses, I can finally stop worrying about having to take a regular day job in town, (which would require a sitter for The Captain, by the way, and very counter productive financially). But the real clincher and icing on the cake is that group health insurance comes along with the School Board position.
It was a no-brainer, although I did think it through. I qualified to run for the school board seat in September and have been working on the campaign ever since. Between writing articles, taking care of The Captain, the camp, running the occasional wetland tour, and running a campaign, I have not had time to be out on the water recreating, taking photos, and writing appealing stories for you, my dear reader friends. And now you know why.
The election is November 4th, and it can't come soon enough for me. I do believe that if this is God's provision for me, that I will win, and I can stop worrying about how I will make ends meet. The position requires two nightly meetings a month, and I can get back to doing more tours and charters and blog writing–the things I love most.
While most of my friends are retiring, I am embarking on two new career opportunities. I'm looking forward to doing the radio show weekly; and I ask for your prayers for those last two sponsors to come on board. I also ask for your prayers as I walk down this path of running for office. I definitely need all the support I can get, and I'm grateful for the supportive friendships formed here.
I'm sorry it's been a while since I've been able to put together a great story for y'all, and I look forward to reading your comments in my spare time—your reactions–your advice–your thoughts.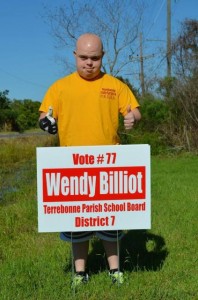 So, does anyone believe in lucky numbers? Because I am . . . .
#77 on the ballot for District 7 School Board seat!
BW