Coastal Restoration: Beating a Dead Horse?
When writing a blog, if you make good use of available search-engine tools, web surfers from around the world will find you just by typing in a few key words.  In a time of crisis in coastal Louisiana, aka bayou country, a blog called "Bayou Woman: Life in the Louisiana Wetland" can quickly become a target for journalists looking for an inroads.
In the spring of 2010, my email box was inundated with writers looking for the softer side of the story of the Deepwater Horizon explosion and following oil spill disaster.  These seekers of a different angle flocked to Bayou DuLarge to interview my shrimping neighbors.  As a wetland advocate, I wondered how I could use this man-made disaster as a platform to further the cause of education and awareness.
It became clear to me early on that most of the journalists who arrived at my door really had no clue about our culture and way of life.  So, if they wanted a story about how the oil spill had impacted us, then they must humor me and allow me to educate them about this vanishing ecosystem and its people.
What these well-meaning journalists needed first was a foundational perspective from the standpoint of a population of coastal communities who were suffering yet one more blow to their way of life.  As a woman who lives, works, and fishes here, I could give them that perspective, which was simply this:
This oil spill was not an isolated disaster for the people of coastal Louisiana.  It was like being kicked when we were already down.  And here's why.
In 2005, Hurricane Katrina hit New Orleans, and folks across the country are tired of hearing about it.  However, what the media did not focus on was the second hurricane that came about a month later–Hurricane Rita– that seriously flooded coastal communities to the west of New Orleans, causing substantial destruction of homes and businesses (mine included).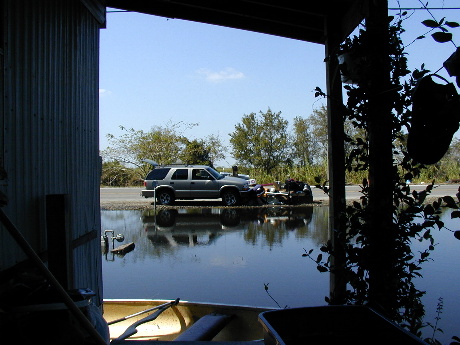 After the flood waters receded, I sat on my porch, begging for a breeze—the only sound was the steady humming of the generator powering box fans I had placed in one room at a time in an attempt to dry out the floors.  I was both amazed and appalled as a sport fisherman blew past my house, headed down to launch his boat and go fishing.  I remember thinking I wished that was all I had to do.
I couldn't blame him, though, because any angler worth his salt knows that the coastal waters are rich with nutrients after a hurricane storm surge.  As the flood waters recede, they carry a phytoplankton feast for estuary inhabitants and fishing is fantastic.
The red tape of hurricane disaster recovery made a tedious process even more difficult.  So much so that when two more hurricanes struck in 2008, many of us were still not settled in our homes. Hurricane Gustav struck Grand Isle first, then a month later, Hurricane Ike made landfall at Galveston, Texas pushing storm surges that once again flooded communities across the coast of Louisiana just after the paint had dried.
With Ike, though, the flood waters moved further inland than Hurricane Rita, due to the tremendous loss of coastline caused by the 2005 storms.  Hurricanes Katrina and Rita combined caused about 217 square miles of wetland loss in 2005.  Hurricanes Gustave and Ike caused about 250 square miles of coastal land loss—losses we could not afford.
At this point, you should be reminded why the marshlands between our homes and the Gulf are so significant.  For every 2.7 miles of healthy marsh, storm surge is reduced by one foot as it passes over that marsh, providing a natural barrier.  Just let that soak in for a while. In reality, there is very little healthy marsh left to provide the natural protection.  That is why coastal restoration is so vital to our existence here.
Fast forward to April 20, 2010—when natural gas from the Macondo well in the Gulf of Mexico came rushing up through cracks in the casing and KABOOM! Oil Hell broke loose from the depths of the earth.  Crude oil leaked out by the millions of barrels–at a time when many of the coastal dwellers had still not recovered mentally, emotionally, and financially from all the past hurricane damage. An already-crippled coast is now being inundated with oil.
And here's that perspective again that I drove home to those journalists:  This oil spill could not be treated as an isolated incident.  It had to be seen as strike three in a ballgame of disasters: 2005 hurricanes, 2008 hurricanes, and now the 2010 oil spill.
It was the largest man-made catastrophe in the history of drilling, and it was messing with our livelihoods.  Shrimpers on every bayou had been getting their boats ready for the "May season", the first shrimp haul of the season. But as the oil spread from the well, the Gulf of Mexico waters were closed to all fishing activity.  No one was allowed to fish—commercially or for sport.  No shrimp season.
What those journalists needed to know before I took them to interview my neighbors was that ordinarily, these are very tenacious people for the simple reason that they stay, storm after storm and continue to make their living off the water and wetland. And they do it because their families have been commercial fishermen for generations.  But not just the commercial fishermen were affected this time.
Sport fishing tournaments (called rodeos) were canceled.  My businesses suffered great losses due to the water closures.  Sport fishermen complained just as loudly about the fact that they couldn't fish as the commercial fishermen did.
Now we were all in the same proverbial boat.
I believe the writers got more than they came for.  One of them was brought to tears by stories told by strong men with hands like leather who did not know how they would pay their bills. But it was important to me that their readers know that we aren't a bunch of whining sissies down here.  With flood waters, we don our boots, grab a mop and get after it, but the oil spill was a disaster we didn't know how to handle.  Tenacious people don't do helpless very well.
The visiting journalists wrote articles for newspaper, magazines, and e-zines.  A couple of groups got video footage for documentaries. One man wrote a book, a copy of which arrived in my mailbox on the one-year anniversary of the infamous explosion.
The 2011 May shrimp season is quickly approaching–the first since the spill.  We're holding our collective breath to see whether or not the larval shrimp were negatively affected by the oil and the dispersant that was used to sink the oil.
While the shrimpers hold their breath, sport fishermen are reporting record catches, with trout bigger than they've ever seen this time of year.  They're also reporting a serious lack of school trout being caught. Because of the oil?  Because of the dispersant?  Who knows.
Louisiana, it seems, through all the canal-digging, inland drilling, turning our heads away, and not biting the (oily) hand that feeds, has ignored her own wounds for far too long.  She has allowed others–outsiders and insiders–to take and take and not give back.  She has let us use her and abuse her, continually giving generously from her inland and offshore bounties.
From the title, I guess you expected this story to be about coastal restoration; but after banging the gong for so long about the dire need for and the importance of restoring the coast of Louisiana to a 1950's landscape, this oil spill has made me wonder if I've just been beating a dead horse all along.
I'm not so sure coastal restoration would change any of that, but I can't give up.  So I leave you with food for thought.  What would it take for ALL users of the coastal zone to come together and advocate for restoration?  Has this ever been done?  Can it be done?
Ah, I hear the Wheels of Hope turning once again.