Come take a Louisiana Wetland Tour!
My wetland tour business has existed for several years now.  Are folks beating down my door?  No.  Why?  Because the majority of folks in the northern part of this state and the rest of the nation and world have no idea the spectrum of wildlife and marine life and botanicals and insects that can be experienced here.
So I had an idea about taking you on a virtual tour.  That idea is still ripening.  It will come to fruition.  Until then, I thought I would share with you some of the things I saw recently on a little boat excursion.  It started out as a fishing trip, but since they weren't biting, it turned into a photo shoot just for you.
Grab your camera and hop on board!
Interesting and amazing is that this area is only a short boat ride from the landing, is only accessible by water, and covers only about a 100 yard stretch.  I hope you enjoy the trip!
After weeks of daily summer thunderstorms, the daybreak is heavy again with warning:  "Red sky at morning–sailors take warning!"  First off, we aren't sailing, and secondly, the sky is pink and not red!  So relax.
(Besides, Termite has been cooped up for too many days, and he is determined to get "me" out of the house by setting up this whole jaunt.  It is our first fall-like morning of the year and unseasonably cool.  The earth, my friends, has tilted.)
This is what confronts us upon our arrival at the gate to our lease in the marsh.  With only a 9.9 HP engine to grind this stuff up, we aren't going anywhere fast.  This is a two-foot thick mat of giant salvinia--a non-native species of water fern from South America. Grab a paddle, everyone!
Close up, it really is an interesting plant–tiny succulent ferns–that cause quite a problem in small bottle-neck waterways.  We struggle through it, somehow.
As you glide slowly through the black waters, you must have your camera ready in order to catch images like the one above.  In the tree!  There!  Do you see it?  Hurry, snap a picture!  It won't sit there long!  Anyone care to pull out your bird field guide and identify this shy tree duck for us?
Before you even have a chance to look to see if you got a good shot of that bird, you hear a big SPLASH that almost makes you jump out of the boat.  You can't see what it was, because it's in the water now, but this was it's resting place.
What catches your attention next, just a few yards away on the same bank, is this burrow.  Could it be a gator hole?  Maybe so.  Maybe not.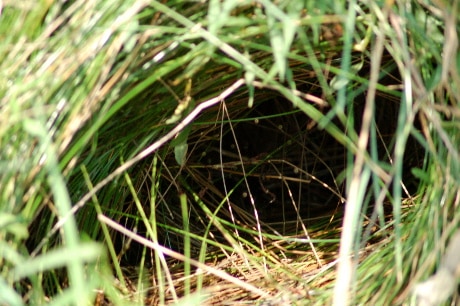 And if you're brave enough, you get a closer look and possibly disturb whatever is hiding inside.   Hello? Anybody home?  Nope, not today.
Keep that lens out there, because this place abounds with photo ops, like this blue dragon fly sitting atop a lily pad.
Look!  Shhh!  Quiet!!  Don't put that camera down because right there on the bank is a young gator digesting his breakfast.  How can I tell?  Because he's smiling!  Seriously, though.  After gators eat, they must lie in the sun and heat their bodies up in order to digest their food.  On this cool morning, he is so busy digesting, he sits there while we snap off about 25 photos.
Look out!  Always keep your eyes scanning the water for predators.  Nearby, this gator is out looking for its first meal of the day.  Though no gator has ever jumped into my boat, they have the ability to do so.  Using their powerful tails, gators can propel their bodies out of the water about half  their length.  Yep, you heard me.  So, we do like to keep a safe distance and our hand on the throttle!  (Remember, Termite was my tour guide–I was the excited tourist snapping pics for the poor saps back home.)
Had enough?  Well, there's much more to this trip, but the real work-a-day world calls, and because no one is ringing my phone to take a tour this morning, I'm off to my "job"!
BW
Stay tuned!  More tour to come . . . .
CONGRATULATIONS TO JULIE S.  THE WINNER OF THE "WHAT WAS DIANE DOING?" CONTEST.  SHE WAS THE FIRST TO GUESS, SHE GUESSED RIGHT, AND TERMITE PICKED HER FROM A RANDOM DRAWING.  SHE WINS HER CHOICE OF A TRAVEL MUG!  DIANE WAS RIDING THE FOUR WHEELER, PULLING A UTILITY TRAILER, PICKING UP EVERYONE'S TRASH FROM THEM.  I WAS SITTING BEHIND HER, TAKING PHOTOS AND HANDING OUT EXTRA TRASH BAGS.  THE WATER WAS SELF-SERVE FROM AN ICE CHEST THAT WAS RIDING ON THE TRAILER.  IT WAS A GREAT SYSTEM, A WONDERFUL DAY, AND A REWARDING JOB!!!
bw