Creole Soul Potatoes (and a giveaway)
Okay, ladies and gents, it's time for an easy new dish AND time to give away a little prize!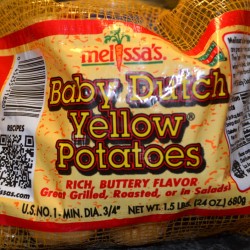 Have you ever stopped to ponder just how marvelous is a potato?  I mean, they come in all colors, shapes, and sizes.  And in the old days, they could be kept for months in a dark shed, root cellar, or basement.  Of course, with today's refrigerators, it's easy enough to stick them in there to prolong their lives, but I don't recommend it, because the starches too quickly turn to sugar that way and change the flavor of the potato.  You might argue that point.  It's okay.  You may.
Potatoes are just so versatile.  They can be cooked so many ways as their own side dish, as in today's recipe, or they can be added to soups and stews to make them thick and hardy.  What's not to like about a potato?
Recently, a resourceful lady named Shermona contacted me through my blog about her Creole Soul seasoning mix.  She shared with me how she grew up in Baton Rouge, moved to Pennsylvania, and just might make her way back to Louisiana.  Well, I'd like to give her a big bayou welcome by sharing one of her potato recipes with you today.  I cooked it for supper tonight, and they family LOVED it.  So please offer her a warm bayou welcome below.  And I offer her a big thanks for contacting me and sending me the seasonings.  She has more recipes on YouTube, so please check her out!
Also, she's giving away a packet of her Creole Soul Seasoning to one lucky reader who leaves a comment below.  So, please bring on those comments, and in a few days, I will do a random drawing.
Creole Soul Potatoes
Print Recipe
This recipe was developed by the creator of Creole Soul Seasoning
Ingredients
12

small

Potatoes

1/4

cup

Creole Soul Seasoning

2

tbsp

Olive Oil

2

tbsp

Butter

1/4

cup

Parsley - fresh, chopped

1/4

cup

Rosemary - fresh chopped

(I didn't have any, but it was great without)
Instructions
Boil and salt pot of water

Cut potatoes in half and add to boiling water


Boil until fork tender (about 15-20 minutes)

Pour into strainer and return pot to medium heat, adding butter and oil

Place potatoes sliced side down in the oil and butter to brown

After they're brown, add all seasoning and herbs and toss in pot

Serve with ANYTHING!!! We ate them with pork tenderloin, salad, and baked beans. And they were delightful.
Notes
Quick, easy, and delicious!
After you win the packet of Creole Soul Seasoning, you must make these potatoes and come back to let us know how you liked them.  If you don't win, then hop over to her site and order you some!
I remain your
BW