Spider lilies and Southern dewberries
That "the marsh is prettier on the other side of the bayou" isn't always true. I'm ashamed that I've spent so much time out in the marsh, with all the wild things, that I've forgotten the treasures that I might find awaiting me in my own backyard. Something urged me to take a walk, and here are just a couple things I found.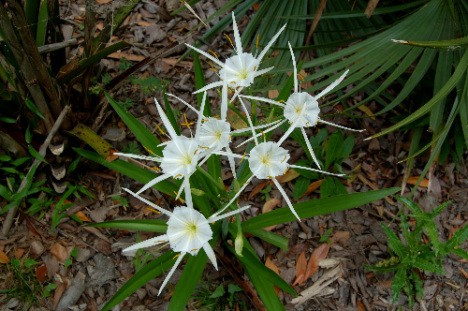 Spider Lilies. Several clumps of these spider lilies have appeared out of nowhere. The appearance of these beauties just blows me away. I don't know. Maybe something good did come with the tidal surge of Hurricane Rita after all.
How about a little closer look?
And then there are the dewberry vines that literally carpet the ground. Before the flood waters, they were much farther back on the property. Something has caused them to spread more toward the house than toward the woods; and I plan to leave them just as they are. The primocanes are much more plentiful than the floricanes, so there's not much fruit. I don't care. I love these indigenous plants.
But when the berries ripen, we'll pick what we can and make a dewberry cobbler. Mmmmmm. I think that might make a good Bayou Woman Cooks addition.
And then there's the berry bush, which I can't exactly identify–even using my favorite Louisiana Wildflower book.
From the descriptions in my book, this is neither an American Holly nor a Deciduous Holly (Possum-haw). If anyone has a positive identity and a link, please let me know.