Dewberry and Blackberry Cobbler Recipe
BERRY FILLING: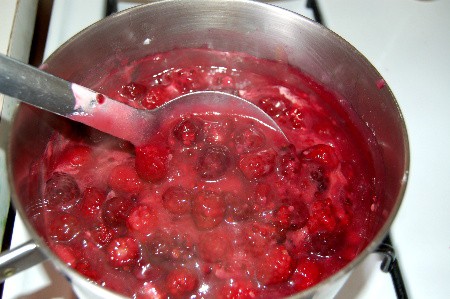 In saucepan, heat 1 QT ripe berries, 1 Cup water, I cup sugar, 2 T butter or margarine. Then add 2 T flour to thicken. Simmer on low heat, until desired thickness. Do not scorch.
SELF CRUSTING COBBLER:
Sift together in large mixing bowl, 1 C flour and 2 tsp. baking powder. Add 3/4 Cup sugar, 3/4 Cup milk. Mix well and pour into 9×13 baking dish that has 2 T butter or margarine melted in it. Pour Berry Filling gently over the entire surface, DO NOT STIR.
Bake at 350 degrees for about half an hour, until crust on top is golden brown.


Serve warm with vanilla ice cream or whipped topping and garnish with fresh berries. This is a delicious spring dessert that does justice to these wonderfully tart berries. Enjoy!
PS:  April 26th–my blog stats tell me that quite a few people are looking a for dewberry cobbler recipe.  If you use this recipe and like it, please come back and let me know.  I'd love to hear from you!  Thanks!
BW