Reader Paulette visited her old bayou home over Thanksgiving and emailed me this photo of her better half in a duck blind somewhere around Bayou Dularge.  It's a beautiful early-morning photo, taken from her I-phone, and I wanted to share it with you.
Below is the end result for this Bayou Dularge duck hunt for her son.  This was his first duck hunt and what a lucky duck he was!!  He bagged two beautiful wood ducks on his maiden hunt–almost unheard of!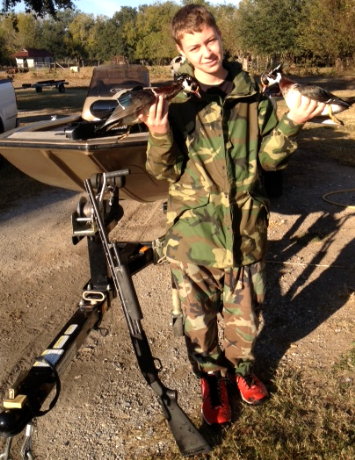 ~~~~~~~~~~~~~~~~~~~~~~~~~~~~~~~~
Migratory Waterfowl Hunting Season, commonly called "Duck Season" opened November 10th and ran through last weekend. Since opening day, and mostly on the weekends, it's been hard to sleep past daylight with all the "pow-boom-boom-pow" echoing off the marsh surrounding our home.
It's all good, as they say, because it means delicious things like the duck gumbo we enjoyed a couple weeks ago, and ducks smothered down in onion gravy on the stove top, served with brown rice and French bread slathered in butter, like we enjoyed during a recent Sunday afternoon Saints game.
My second-oldest son had the opportunity to check out the shooting skills that his kid brother, Termite, has developed over the past couple of years.  They hunted two weekends in a row with almost everyone in the hunting group limiting out, which means 6 ducks per man.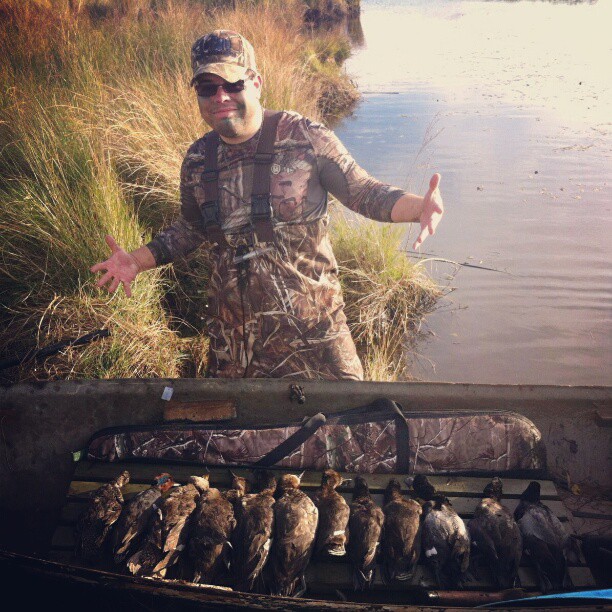 Termite took the above photo with an I-phone and called it Dularge Dynasty, a spin off of the now-famous A&E show called Duck Dynasty.  Let me tell you something about Termite–he's been "et up" with the duck hunting since he was a little boy and would sit for hours in front of the computer screen watching videos of the now-famous Duck Dynasty patriarch–Phil Robertson calling ducks and hunting BEFORE Duck Dynasty was a twinkle in any TV producer's eye.  That is how he learned to call ducks so very, very well.  Those of you who are new here and don't remember the story of his first Youth Hunt at the age of twelve should backtrack and do so!
Duck Dynasty has become one of my favorite relaxation shows. What entertains me most about the show is feeling a little connection to the cast and knowing a little background about Phil Robertso, the patriarch and founder of Duck Commander.  When I was working at a paint brush manufacturing company up in Farmerville, LA, fresh out of college in 1977, there was a manager who walked around the plant blowing a duck call.  His name was Harold Robertson.  Turns out, Harold and Phil are brothers, and I guess Harold was trying out calls for his now-famous brother.
Another tidbit of information that helps me appreciate and enjoy the show is knowing that Phil and his sons are educated rednecks, who just happen to have beards like Z.Z. Top and hair about as long.  Phil was a senior at Louisiana Tech (my alma mater) when, as star quarterback, he walked off the football field into the flooded timber for duck season, leaving the second-string quarterback to step up and fill his shoes.  Guess who that was?  None other than Terry Bradshaw.  Just imagine.  If Phil hadn't been so "et up" with duck hunting, Terry Bradshaw might not be the football legend he is today.  Phil went on to get his Masters of Education and was an English teacher.  Just keep that fact in mind as you watch the show, and don't be fooled:  Rednecks in this case doesn't mean "uneducated", although they do some pretty outrageously dumb things on the show!
~~~~~~~~~~~~~~~~~~~~~~~~~~~~~~
The mornings are quiet now, as we are in what is called the break between the two "splits" of duck hunting season.  I guess it gives the ducks a rest before the next go round.  Termite has had some struggles of late, as you read in a previous post, so he hasn't gotten to hunt every weekend.  However, he did get to go this past Sunday morning, and his four-man crew took down their six-duck limit with ease.  Hopefully, his focus will return to studying while dreaming about when the season opens again and producing the grades to allow him the privilege.
~~~~~~~~~~~~~~~~~~~~~~~~~~~~~~~
And now for the winner of an original BW color 8/10 photo.  There were 54 comments from a total of 17 people (not counting me).  So, I let the random integer selector pick a number between 1 and 17, and that number is . . . .
Random Integer Generator
Here are your random numbers:
3
Timestamp: 2012-12-04 16:09:40 UTC
And I do believe that is Louise Blakely!  (Louise – please email me and we will go from there on selecting a photo.)
Coming soon – Introduction to another Bayou Artist.
BW