Since I've been down with the creeping crud, I've asked my sister to do a guest post for me.  You all know her here as LilSis, but she does actually have a name!  Heather is going to share a recipe with you that I actually sent her in 1999, and had forgotten about.  So without further ado…
Hi Everyone!
Thanks to Wendy for letting me crash her blog.  As we were talking about the upcoming Mardi Gras season, I suggested that she post about the "queen" cake recipe that she used to make when her kids were little (you'll have to ask her why she didn't call it a king cake :-)).  She drew a blank, didn't remember a thing about it, until I sent her the photo above.  Having refreshed her memory, she thought it would be a good idea, then she promptly started feeling a little under the weather and asked if I would fill in with a guest blog post.  I'm happy to!
Easy King Cake
Print Recipe
Ingredients
8

oz

. cream cheese

softened

1/3

cup

powdered sugar

1

egg

separated

1/2

tsp

vanilla

2

packages crescent rolls

each 8 count, chilled

1

cup

pie filling

your favorite flavor

Glaze:

1/4

cup

powdered sugar

1

Tbsp

milk or juice or water
Instructions
Preheat oven to 350 degrees.

Mix the cream cheese, sugar, vanilla, and the egg yolk on medium speed until smooth.

Separate the crescent rolls into rectangles. Be sure to press the seams until sealed completely.

On a round baking pan, lay the rectangles out like numbers on a clock with corners touching. Lay 3, 6, 9, and 12 o'clock first. Then lay 2, 4, 8, and 10 o'clock on top of those, still with their corners touching. You should have an opening in the center and the edges of each rectangle hanging off the edge of the pan.

Spoon the cream cheese mixture evenly around the circle (don't spread it out), then top with pie filling.

Bring the outer edges of each rectangle into the center. Be sure to press all seams together so the filling won't run out.

Beat the egg white and brush onto the cake. Bake for 25-30 minutes.

Mix the glaze ingredients until smooth.

Let the cake cool slightly. Then brush with glaze. Sprinkle with yellow, green, and purple sugar.
The hardest part of this recipe is explaining how to lay out and fold the dough.  I do it a little differently than the original recipe – just an easier way for me to do it.  Follow along – 
Separate the crescent rolls into 8 rectangles.  I keep the dough in the fridge until I get to this step.  It's easier to handle if it's chilled.  Lay the rectangles out like your baking pan is a clock.  I use a pizza pan, but if you have a baking stone that's great.  Even a plain old cookie sheet will work.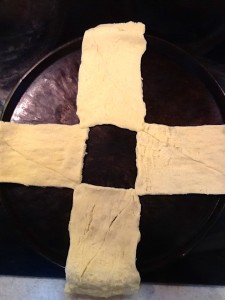 The first layer is on 12, 3, 6, and 9 o'clock with corners touching which leaves the center open.
Next, put another layer at 2, 4, 8, and 10 o'clock.  Again with corners touching and center open.  It's important that you make sure all the seams are closed, so the filling won't run out.
Now spoon the cream cheese filling around the dough.  Then spoon the pie filling on top of that.
 Not real pretty, but you get the idea.  Look closely and you can see the cream cheese mixture on bottom.  Because I'm somewhat of a rebel, and also a cheap frugal person, I didn't use pie filling. With so much homemade jam on hand, I couldn't bring myself to buy it.
Now begins the folding process.  This should go pretty smoothly if the seams are sealed well.
 Simply pull the dough from the outer edge of the pan to the center circle.  Press the center circle seams together as you go along.  Once you've folded all the dough over, press any other seams together that aren't completely closed.
As you can see, I had a little leakage problem, so I just pinched a piece of dough from a thicker section and plugged the hole.  Now take the beaten egg white and brush the top and edges of the cake.  It's ready for the oven.  After about 25 minutes, it looks like this.
 Some of my seams came open and filling ran out, but not enough to affect anything.  Let the cake cool slightly, then glaze.  While the glaze is still wet, sprinkle colored sugar on the cake. Traditional Mardi Gras colors are yellow (representing Power), green (representing Faith), and purple (representing Justice).
I made my own colored sugar using liquid food dye.  I just couldn't get a purple that I really liked.  Next time, I'll buy sugar already colored at a cake decorating shop.
 I used dewberry preserves for this cake, and I sprinkled the sugar around the cake rather than in stripes.  I told you I'm a rebel!
Here's one I made last week using mock peach preserves made with figs.  It was delish!
This is a pretty simple way to make a king cake that I think is every bit as good as those you can buy at just about any bakery around here during this season.  If you live in an area where Mardi Gras isn't a big deal, and king cakes are hard to come by, I hope you try this out.  You can pin it here.
LiLSis