Egrets & Otters & Books, Oh My!
[su_quote cite="'Regret The Egret', by Capt. Wendy Wilson Billiot" url="http://www.lulu.com/spotlight/bayouwoman"]Once upon a time, there was an egret family that nested high in a willow tree along the bayou banks in south Louisiana. Across the bayou, nearby cattle pastures were like an all-you-can-eat buffet for birds; especially birds like Regret, the cattle egret…[/su_quote]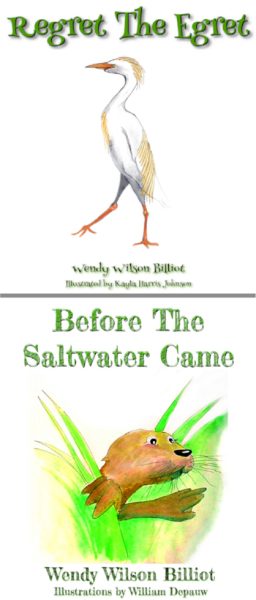 It's finally here…my second Children's Picture Book!
With lovely illustrations by Kayla Harris Johnson, we meet another local character, finding his way in the pastures and wetlands of Louisiana.
While these books are available in both Print & eBook format through all the usual channels (Amazon, Barnes & Noble, Indigo, etc.), I encourage you to "support the Author" by purchasing it through Lulu (the direct publisher link included here) and passing on the word to others. The big distributors, while presumably presenting to a larger audience, also take the largest share of profit; leaving little for independent authors. Lulu, however, as publisher, affords a much better share to the Author – even permitting me to pass those savings along to you, dear readers!
It's been a long time coming, and you know I can't let this announcement go without a little back story.  I actually wrote this story BEFORE I wrote Before the Saltwater Came, which was published first, in February 2005.  The manuscript for Regret the Egret was rejected by a Louisiana publisher way back in 2004, so here we are some 12 years later, breathing life into the first of a series, hopefully, of what I'm calling "Bayou Bird Fables".
About this time last year, I took auditions by potential artists to find just the right illustrator for the book.  Kayla's submission truly won me over.  This is her first experience with illustrating a book, although you wouldn't know it to work with her. She did a great job and was such a jewel to work with.  Hopefully you'll see another book from the two of us this time next year!
I hope you will purchase Regret the Egret for all you young 'uns, be they children, grands, or great-grands, nieces, nephews, cousin, neighbors.  We're plenty early for Christmas, so no excuses.  I'll stop just short of begging you, but please purchase online as I have no immediate plans to travel the state with this book.  However, if you would like to set up a book signing, let me know and I will do my best to work it into my schedule!
Letting you all know about this book makes me very, very happy!
BW
PS:  Please leave a comment to be entered for a chance to win a free autographed copy of either book, your choice!  Feel free to share this blog post on Facebook, letting your friends know about the contest.  Thank you!
PPS:  Today is a big day in bayou country–first day of the May Brown Shrimp Season.  Maybe I'll be able to post something interesting about that next week.  Bring on those fresh shrimp!