Experience the Atchafalaya Basin
The Louisiana Outdoor Writers Association kicked off their annual conference in Lafayette, Louisiana this past Friday morning with a boat tour into the Henderson Swamp near Breaux Bridge, Louisiana, part of the Atchafalaya Basin.
Just a short ride from our hotel via Interstate 10, and we were ready to hop on board the heavy-duty covered tour boat.  (Later, that cover would prove very handy.)  The Atchafalaya Experience is owned by Coerte Voohries, Jr. and operated by him, his son, and his grandson.
What a stark contrast between the water-marked concrete pilings of the interstate and what I like to call the twilight zone of the swamp, where not even the hurry and scurry of I-10 could disrupt the every-day goings on there.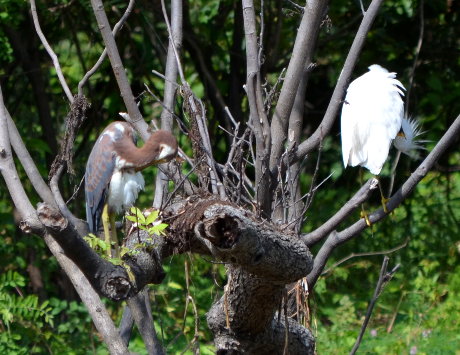 Within minutes of passing out from under the twin spans, we were met with wading birds of all kinds, grooming unashamedly among the branches of willow, button bush, and cypress.
By definition, a swamp is a seasonally flooded forest, but in this case, this swamp was in dire need of some flooding.  In the spring, high-water stages on the Red and Mississippi Rivers raise the levels of the Atchaflaya River, which in turn backs up into this basin swamp, thereby raising the water levels.  However, the reverse is also true–when the rivers are low, the swamp is also low, which was the state of things on Friday morning.
As seen by the watermarks on the cypress tree below, the swamp was at a very low level.  Coerte, our tour guide, told us that he has seen times when the water levels are 20 feet higher than they were on this day.  He loves doing tours during high-flood stages because then he never has to worry about hitting stumps!
Down here, we've never seen what lies below the "cypress knees", or aerial roots of the cypress trees.  Seeing the way the cypress knees curve down into the water, and then reach even deeper into the mud, as illustrated below, was quite amazing to me.
Just to clarify for you, and because the educator in me can't help it, below is what the cypress knees look like on a typical day in swamp on my tour route.
More than once we nearly bottomed out on sub-surface stumps, but the trusty outboard powered that heavy-hulled boat through the shallow swamp unscathed. However, we soon learned that there was more to worry about under the surface than just the occasional stump!
Once in a while, there was the occasional loud and shocking "BAM–SPLASH" followed by excited shouts of "Saw that one?"  "Wow, that one almost got me!" and "Did you get a shot of it?" coming from all three boats, running single-file along the tour.
Those big splashes were compliments of the Asian Silver carp that seemed to be quite disturbed with our presence, making their annoyance known by flying out of the water at break-neck speeds, hitting anything in their path.
Luckily (and thankfully) no LOWA members were injured in the photographing of these aerial acrobats  However, I can't say the same for the flying fish. Often, the impact of striking the boats is strong enough to deal a deadly blow, as indicated by carp carcasses floating belly up on the surface of the warm swamp water.
At this point, I'm not sure just how many of these top-notch outdoor journalists were able to capture the fish mid-air, but there were several taking video, which should be fun to watch.
Wading birds abounded along the shallow banks.  Among those we saw were green, great blue, little blue, and night herons, white ibis, great and snowy egrets, roseate spoonbills, anhinga, osprey and more. Even though we see most of the same species of wading birds down here in southern Terrebonne Parish, there was one bird that I had never had the blessing of seeing before–the American Wood Stork, as seen landing atop a cypress tree in the photo below.
With wingspans up to 66 inches, these birds are quite impressive and majestic in flight.  These magnificent birds are making a comeback in this state, and I am very glad to hear that.
And of course, along the way, there was the occasional alligator who was brave enough to come out of the shade and check us out.  This particular gator had a really good reason for coming out to greet us.
She was protecting the eggs she has hidden away on a nest on the bank of the bayou.
The nest pictured above is about three feet high and about eight feet across, made of grass and then covered with sticks.  The heat generated by the rotting vegetation incubates the eggs. If the nest temperature rises above 86 degrees, the hatchlings will all be male.  If nest temps remain below 86 degrees, all the babies will be female. Having been laid some time in July and with a 60-day incubation period, the eggs should hatch any day now, at which time mamma gator will become even more protective.
With the flying carp, the wood storks, and an abundance of green herons flitting along the low shoreline, this trip held quite a number of firsts for me.  Even though wetland tours are something I do on a regular basis, seeing the flora and fauna in other parts of the Louisiana Wetlands still intrigues me.
Including The Atchafalaya Experience, this brings the total number of swamp tours I've visited in our great state to 25.  You know what that means?  I wouldn't ever recommend a tour to you that I haven't taken myself first. However, this is one tour I can truly recommend, but you might want to wait until there's a little more water and cooler temperatures!  Oh, and be sure and ride in the boat with the cover on it.  If not, you better bring a trash-can lid to use as a shield against those amazing flying fish!
BW
Time for a T-SHIRT GIVEAWAY!!!
RULES: LEAVE A COMMENT to be entered into the random drawing for a unique t-shirt from The Cajun American clothing.  If you are a Facebook user, please go LIKE The Cajun American page.  If you are not a Facebook user, please visit The Cajun American web page and check out their unique t-shirts.  We will be giving away one of their t-shirts to a lucky commenter chosen by Random Integer Generator in a couple of days.  Good luck!
PS:  Would you like to see a few more photos?  Okay, then.  If you insist!