So, when you live in South Louisiana and you want to eat something other than regional cuisine and you don't have the pesos to dine out, what do you do?
If you're as fortunate as I am, you have a lovely Dotter who offers to cook a meal that you just might pay good money to go out and eat.  In this case, we decided on Mexican.
And Dotter proclaimed this Mother's Day celebration as the Fiesta of the Mother of Five!  Isn't she just the greatest?
But first, I must back up to Saturday, the day before.  I did mechanic work on the Honda engine on the back of the old pontoon boat all afternoon Saturday.  After locating a blown fuse, thanks to Handy Friend and my Honda manual, and replacing it, I was able to get the engine running again.
While I was doing that, Termite (the last of the cinco) was down the bayou beating the boats for fresh shrimp . . .
to prepare for a surprise supper for us.
He did a great job boiling these shrimp and making a special dip to go with them.  They were delicious!
And then, on the morning of Mother's Day, my little future chef got up early and cooked French toast for breakfast.  I'm liking this Mother's Day stuff!
Sunday evening, Dotter and MuzicMan prepared the Feast of the Mother of Five.
Everything was homemade, including her delicious salsa and MuzicMan's guacamole dip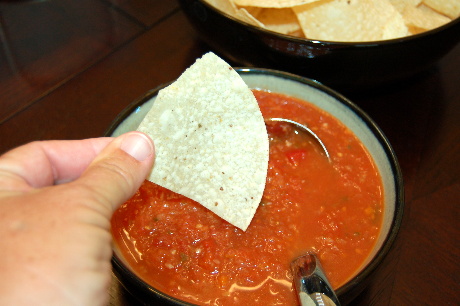 Except for the chips, which are some really thin ones that Dotter found at Wal Mart.  I won't ever buy any other kind if I can find these again.
Just as good as restaurant chips, maybe even better than some!
Along with our beans and homemade Spanish rice, we had a trio of enchiladas.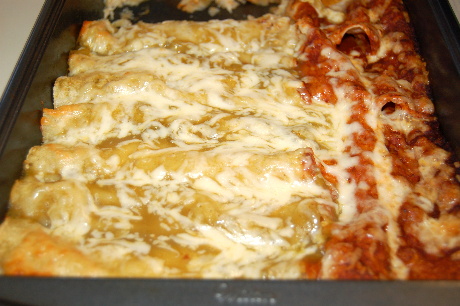 Chicken enchiladas with green sauce.
And then some with beef and some with just cheese with red chili sauce.  They were all very, very good!  I stuffed myself.
And then there was this tangy stuff to drink!
After watching the recorded episode of "Swamp People", we had for dessert . . .
a lovely carrot cake with homemade cream cheese frosting.  Mmmmm.  It was delicious, too.
Years ago, Dotter wrote me a Mother's Day letter, which has become a tradition.  I now look forward to her letter more than I do the gift.  Her words are an encouraging and reassuring balm to me.
But the gifts aren't too shabby, either.  Here is the back side of this one.
Dotter says it's a new color called "greige" that goes with either brown or black.  She bought a handbag that she really loved in hopes that I would not like it and then she would pretend to return it but would keep it for herself!!!  But, I love it and can't wait to step up to the modern world of baggy handbags!
My two adult sons were both working on their tugboats somewhere and did not get to join us.  I miss them and hope I get to see them both again really soon.
So to all my family:  Thank you all so very much for making being a mom such a wonderful job.  I love you bunches!
Now, it's your turn to tell me what you did yesterday.  I hope all of you who are mother's got to have even an ounce of the joy I had yesterday, and your cup would have been running over.
Next post, a very positive fishing report, I hope!
BW