Fish on the Half-Shell and Fried Flounder
I don't know if it's the passing of the old year, the beginning of the new, or this dreary weather, but my creative juices took a nap and haven't woken up yet.
Hence, the boring title above, although I toyed with "Black fish, red fish, flat fish, cooked fish; and a couple others even less creative.
No matter what the title of this cooking post, however, the fish were very creatively cooked and tasted way less than boring.
LilSis and husband, RenRed came down to spend some of his vacation time with us on the bayou.  He hunted for deer (zero) and ducks (zero) and fished for reds (zero).  On Wednesday night, though, I received a text from Choup (who posts here) saying that the boardwalk at his camp was infested with red drum and flounder.
So, next day, off we went, Hubig pies and empty ice chest in tow, through the saltwater marsh down to  Choup's camp.  He and his guests were already busy fishing, but he graciously stopped long enough to show us the technique:
Let out about six feet of line, drop the jig head and plastic bait down to the bottom, walk along the boardwalk, slowing jigging the bait up and down.  Sounded easy enough.
In no time, I flopped a flounder onto the boardwalk.  Soon after, RenRed landed an edible black drum using the same jigging method.  Choup landed a few more flounder, and we both snagged a red fish.
After the bite slowed, Choup generously and quickly cleaned all the fish and sent us home with the black drum, a red drum, and two flounder for our supper.
And here is what we did with them:
Grilled red fish & black drum fillets on the half shell
and pan fried whole flounder
The red drum and black drum are related, so we were anxious to taste them side by side, cooked the exact same way.
First, we seasoned the drum fillets with Louisiana Cajun Seasoning and Blackened Fish Seasoning.  Next, we made a marinade using the juice of fresh-squeezed Meyer lemons, from my friend J.G.'s tree.  We placed the seasoned fillets in a big  zip seal bag and poured the lemon juice in and let them soak in the frig about half an hour.
Meanwhile . . .
the whole flounder were scored on the top surface, salted and peppered and placed in the frig to await the frying pan.
RenRed placed the fillets, scale side down, on medium heat on the gas grill, basting them with melted butter.  The fish were NEVER turned, and near the end, he poured the rest of the marinade over them.  The fillets take only about fifteen minutes to become fork flaky.  They were then removed from heat, covered with foil, and rested for a few minutes.
While the red and black drum were grilling, the flounder were dropped into a zipper seal bag of seasoned Louisiana Fish Fry, before diving into a pan of leftover "turkey frying" peanut oil.
I placed the flounder in the hot oil, scored side down first.  Each side cooked for about two and a half minutes, and the result was fish that flaked off the bones with a fork.
Weren't the flounder beautiful?  Even the fins and tail tasted good!
Since there is no grocery store on the bayou that sells any kind of fresh fruits or veggies, we had to make do with what we had on hand.
So we heated up sweet potatoes leftover from the mini pies LilSis and I made two days before.  The French bread was leftover from the family meal of chicken and andouille gumbo the night before.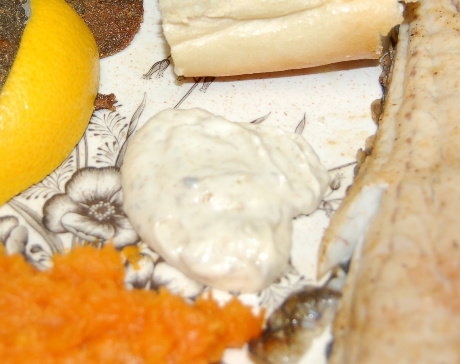 If you look right in the middle of the plate, you will see a dab of sauce.  That, my friends, is not just any sauce–but a homemade tartar sauce made from a product that is not yet on the market.
That's right.  We were testing a brand new product that is about to come out soon, which I will have the honor of launching on this blog, with some of you out-of-state folks winning a jar (since it won't be in your state yet) so that you can taste this divine concoction.
Sorry to tease you like that, but all I'm allowed to do right now is whet your appetite for some good fresh, cooked fish and some fresh tartar sauce to go with it.
I'm sure today you are too full of smothered cabbage and black-eyed peas and cornbread to be tempted by this post, but one day you will hopefully be inspired to grill up some fillets or fry some whole fish, the old-fashioned pan-fried way.
Happy New Year, my dear readers!
BW