From the fishing photo archives . . . indulge me!
These photos make me warm and happy. They don't have the best composition, balance, or lighting. But that doesn't matter, because they remind me how boys need to be outdoors, and they need to bond with other boys. They would, of course, never admit it. So, from the archives . . .
Dano teaching Termite to bank fish when he was just past tadpole stage.
Termite, giving it a whirl on his own, without big brother number two at his side.
Termite and Daboo, his number 1 big brother, fishing in the little bateau many miles from home. He did wear his life jacket while the boat was underway, and he should have had it on while fishing, but Daboo gave him a little break from it, which did not happen again. We must follow all safety rules on the water.
What? No dimples for your first redfish ever? What a little man!
There they are! Look at those "proud" dimples. I could just fall right in 'em and be swim around for a while! He caught this speckled trout off our dock, in the bayou in front of the house. This is quite a catch for a little boy, all by himself!!!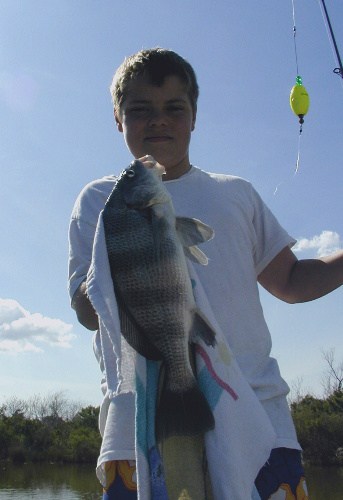 This is called a black drum. These last 3 photos are from a day last February. Don't you wish you could fish in a t-shirt and shorts in February? I remember this being a spectacular day for him as a fisherman.
This is a nice red drum.
This is a smaller red fish. Do you notice something in common in all but one of these pics?
These photos remind me of happy times that take my mind off the events of yesterday, Wednesday, which ended up at the doctor's. I am now faithfully taking medication.
For those of you keeping track, the root canal did not take place today because of frightening headache episode I had yesterday. I will be undergoing 2 more tests to make sure I'm okay (don't worry, I know I am) Then Tuesday, the infamous root canal will finally (hopefully) take place. Performed by the specialist in my nearest town, NOT NEW ORLEANS, thank God!
I hope to be here writing again on Wednesday afternoon, because if all goes well with root canal Tuesday, I will be taking 6 inquisitive teens on a wetland tour Wednesday morning, which I do not want to miss. Their minds are still so curious, eager to learn–malleable.
Maybe when it's all over, I'll feel more like writing about what I went through. Right now? I'm under doctor's orders to rest and relax. And to not strain the brain too much!!!!
For your thoughts, prayers, well wishes, and rubbing of lucky rabbits' feet I thank you.
BW