Well, it's about that time.  The time when the pumpkins that you picked up for that Jack-O-Lantern that never materialized are starting to look like they might not make it to Thanksgiving.  It's the time when open-air markets and grocery stores are bathed in seas of orange and inundated with the bland-tasting gourds.
Fear not!  Because if you have a cool snap (like we did recently) and the dropping temps make you frisky and feeling like you want to do something to get into the post-Halloween-pre-Thanksgiving spirit, I have just the thing for you . . .
. . . Pumpkin Pie!   Made from your very own pumpkin.
Or maybe, like me, you have a young mother of five living next door who comes to visit and says something like, "I would really like to learn how to make pumpkin pie from these real pumpkins we have leftover from Halloween."  Well, she hit BW on the right day, because on my trip to town that afternoon, I picked up the couple of items I didn't have on hand to embark on this new adventure with my neighbor, Tab, and her twelve-year-old daughter.
Bayou Woman must confess right here and now to all the world wide web, that she has never in her whole wide life ever made a pumpkin pie from scratch.
Oh no no no, dear friends.  We're not talking about scratch from a can of adulterated pumpkin.  We're talking about going from pumpkin to pie right here in the Bayou Woman Kitchen.  It happened on a recent  fall day, and how about I share the experience with you?   And THEN you can share yours with us, because I just know y'all have done this before!
Of course, everyone knows all good cooks looking for a recipe now go to the Internet.  Gone are the days that we dig around and find Great Grandmother's old hand-scrawled recipe notebook.  Give me credit, though, because I did first consult my old go-to cookbook, The Good Housekeeping Cookbook, which I've had for about forty years.  I also wanted to know how to prepare and freeze pumpkin for future pies.
So, let's get started, shall we?  First you need a pumpkin.  Recipes will tell you that you need a certain kind of small pumpkin that are better for pie making than the large ones.  Remember, though, we already had the large pumpkins–the kind you decorate your front porch with–that became the start of this pie-making experiment.
Preparing the Pumpkin
After we washed the outside, we cut that baby in half, scooped out the strings and seeds, and using an old metal ice-cream scoop, scraped the rest of the innards away from the flesh.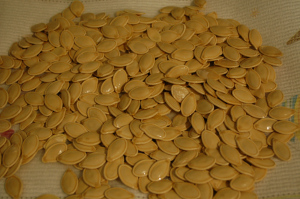 Next, I rinsed the seeds in a strainer to get all the stringy stuff off.  These are much larger in life than they look in the photo.  Maybe all pumpkin seeds are this large, and you will probably wonder if I toasted them for snacking.  No, alas, I did not.  My neighbor wanted them for his garden, so that is where they went.
Now, the recipes tell you that you can cook pumpkin several ways:  Bake it in the oven or steam it on the stove top or in the microwave.  Well, since we had so MUCH pumpkin, I cut the pumpkin into manageable hunks and used my huge roasting pan and another dutch oven on the stove top.  I also used a glass dish and put in the microwave.  Be sure and add about an inch of water in the bottom of your pans to do the steaming.  All told, it took about 30 minutes to steam the pumpkin to the desired softness.
Remove the pumpkin from the cooking pot and place on a cutting surface like this cookie sheet.  Let them cool for a few minutes, and then carefully remove the skin with a knife.  With some types of pumpkin, the skin will just pull right off, but not with this one.  After cutting the pumpkin into smaller chunks, I put them in the strainer to let the excess water drip off.
Now, if you have a food processor, you could do this in one step.  However, since my ancient one bit the dust last year, we had to do a two-step process.  First, we let the Kitchen Aid hack the chunks into smaller pieces, which we then put into my blender to puree`.  Look at that beautiful yellow color!  Who ever knew that processed pumpkin wasn't orange-brown?
I opted to put each batch of puree` into a fine-mesh strainer to again remove some of the water from the pumpkin.  But I didn't have time to let it sit very long, which was fine.
The Crust…
Now, it's time to put all the players together to make a pumpkin pie.  Oh wait, we need a pie crust.  Would it surprise you to know that making pie crust is something I never mastered?  Well, I might have made maybe one regular Crisco-flour based pie crust in my life.  So, from example, I learned to do pie crust the hard way – by looking in the freezer section at the grocery store and deciding which brand to choose.  Oh my, there are just so many.  What a chore.  Just choose a deep-dish version for this recipe, and make sure there are two in the package, because you will need them both.
The Recipe
Fresh Pumpkin to Pie
Print Recipe
Ingredients
3

cups

fresh pumpkin puree

1.5

teaspoon

ground cinnamon

1

teaspoon

ground cloves

1

teaspoon

ground allspice

1/2

teaspoon

ground ginger

teaspoon

Optional: 1/2 mace

which I could not find at my store

1/2

teaspoon

of vanilla extract

also optional, but I did use it

1/2

teaspoon

salt

optional, but I did use it

4

large eggs –

you can get away with using Egg Beaters

1.5

oz

cans of evaporated milk

a total of about 18 .

1

Cup

sugar

OR 1 Cup brown sugar. OR 1/3 Cup Stevia. OR 1.25 Cups Splenda
Instructions
Pre-heat oven to 425 degrees.

Thaw pre-made pie crusts for 30 minutes.

Mix all the ingredients well with an electric mixer.

Place the two pie crusts in the pre-heated oven BEFORE you fill them. Then, fill them almost full.

Bake at 425 degrees for 15 minutes to "set" the filling.

Reduce oven temp to 350 and bake another 45-60 minutes, checking every five minutes are the 45-minutes have passed.

Check by sticking a butter knife into the center of the pie. When it's done, the knife comes out clean.

Place on cooling rack and cool at least 15 minutes before slicing.
To make this easy on yourself, place the  crusts on the oven rack BEFORE you fill them.  Then, fill them almost full.
Our pies took the entire 60 minutes to bake through.
 Serve plain, with whipped cream, or maybe even vanilla ice cream!
And there you have it straight from the BW kitchen.  And yes, this pie was delicious.  We had enough puree` left to make four more pies, so we each kept one batch of puree` for the freezer and for making that special Thanksgiving Day pie.  Except that, my family wanted more pie, so ours is gone already.  Since the entire process took about four hours, I might not process another whole huge pumpkin at once.  I might just process enough to have 3 cups of pumpkin pie filling to make two pies for that special day.
Now it's time for you to share your comments, like, "Just buy a pie at the grocery store.  It's much easier!"  Or, you can share your pie-making tips and encourage us to do more of these down-the-bayou-sharing-the-work kitchen experiences.  We had three generations in my kitchen working on these pies, and it really felt good–made me think this might happen one day in the future with my own granddaughter.  One can dream, right?
Happy pre-holidays,
BW