You might recall that last Friday, with ice on the boat seats and temps in the high 30's, five diehard trout fishermen hit Lake Decade in search of the illusive yellow mouths with apparent lockjaw–a very, very difficult species to catch with hook and plastic!
The main purpose of that trip was to film a segment for Ascension Outdoors to be aired January 1, 2009.  However, being the enterprising outdoors person he is, Lyle Johnson combined the fishing trip with gathering information for a magazine article he wanted to write.
Evidently, he was so busy fishing and filming last Friday that he failed to get the still photos that he needed to go along with the article.  Now, any magazine editor worth his salt demands good photos, right?
Woe was Lyle. What must he do?  He must go out of his way and make a trip back down to Lake Decade to get the proper photos . . . and while he's there, how about a little fishing trip?  Would that be any trouble?
Not a bit.
One week later, after a week of foggy mornings, we got a little morning break from the fog and headed out once again in search of the bait suckers.  We did so even though the conditions were less than ideal for catching,
but look what a gorgeous morning it was for being on the water.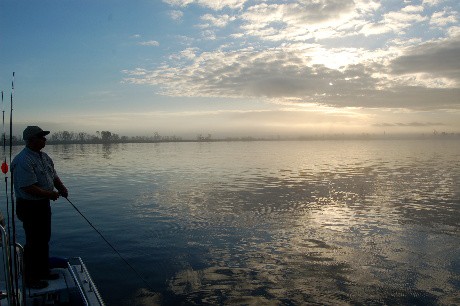 The conditions might not have been prime for catching, but they sure were conducive to a whole lot of fishing!
We picked around at the speckled trout for a while, boxing some nice ones, but finally gave up the beauty of the lake to the other 40 boats surrounding us so Lyle could go in search of freshwater green trout.
Turns out my guest was a green trout fisherman from way back and had a nice one in no time at all–
a well-mastered feat he performed over and over with great skill.
The green trout loved that crawfish bait he was using, which he switched back to after no strikes on a white spinner bait.
The clock approached noon way too soon, but Lyle went home happy with a mess of fish—both freshwater and saltwater species caught within a short boat ride of each other.
Folks, a half-day fishing just doesn't get much better than that.
If you don't believe me, just ask Lyle!