From Batavia to Niagara Falls
We're not in Louisiana any more, Heather.
By the time we landed, got our rental car, checked into the hotel and rode around Batavia, NY looking for an appealing place to eat, it was dark, and I could not get any decent snow photos.  But first thing Friday, with a rare sun-shiny day, came my chance for a photo op.
Only problem was that all the snow was old.  It had been piled up and sitting for weeks and was not the fluffy dry stuff that movies and snowmen are made of.  No matter, I still found one white spot along the sidewalk up to the Falls and couldn't resist the urge to take the above photo.
Along the way from Batavia, through the outskirts of Buffalo and up to Niagara Falls, the countryside still held an element of beauty with snowy hills and rooftops.  I could just imagine the same country side in the green splendor of summer–the barns standing tall and red, each with its accompanying silo or two towering overhead.
As we drew close to the exit for the Falls, I could not believe my eyes. Did that sign say Grand Island?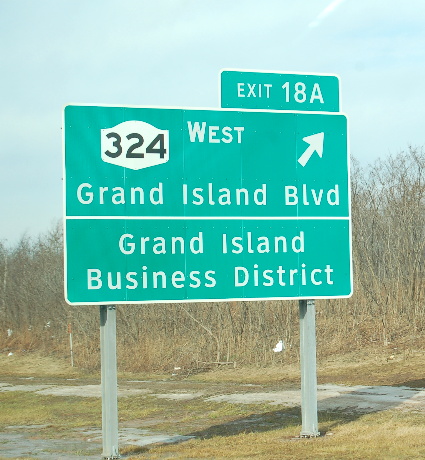 Grand Island?  Are you serious?  Of course I wanted to go there, but that will have to wait for a summer trip.  I did a little homework after I got home and learned this island has a rich history and is pretty big as far as islands go.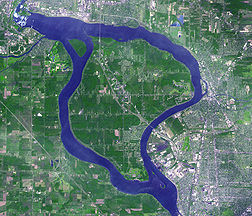 In the upper left-hand corner of this image, are the Falls.  The dark blue are the Niagara Rivers West and East, which flow AROUND Grand Island.  So, all that green in the center is the actual island.  That is pretty cool and way bigger than Grand Isle, LA.  I wonder how much their water-front lots cost?
After we took the proper exit for the Falls and rode along the entrance road, I was amazed at the water flowing to our left.  The white caps and waves were tremendous, and the power of the fast-flowing water was evident.
What in the world would possess someone to think for one second they could float along in some kind of wooden barrel and survive?  Why do humans think they need to or can overcome these powerful elements of nature?  Why can we not just appreciate them for what they are?
The idea of floating down these rapids in anything, least of all a wooden barrel,  just struck me as absurd as I watched the beauty and power of this magnificent water.
I'm not sure what all Heather's thoughts were as she watched the rapids at a location just before they blast over the rocky crag.  I am certain of one thought though, "Man, I need a hat.  My ears are FREEZING!"  Because even though the sun was shining and New Yorkers were calling it a beautiful day, the wind coming across this freezing-cold water was just as freezing cold.  I mean C O L D, people.
And the moment you've all been waiting for:
The beautiful Wonder of the World, Niagara Falls with Canada off in the distance.  At least I think that's Canada.
The second thing that most amazed me was the color of the water.  Would you just look at that color?
I kept calling it blue-green, but it's not.  It's clearly Coke-bottle colored water.  Absolutely stunning.
And down below, the water had frozen in some places, forming what looked like icebergs.
Pretty cool, huh?  Of course, like the boring slide shows "back in the day", I have a zillion images, but I won't bore you with them.  Well, maybe I will bore you with a few more.
When I looked down as far as I could from behind the railing, I could see what looked like boats on dry dock.  With my last battery blinking "LOW", I didn't take the time to switch to my zoom lens to get a better look a them.
Look closely at this photo,  I still can't figure it out and was just too cold and overwhelmed to go inside and ask the folks inside the Welcome Center about them.  If you compare the size of the boats to the building, they appear to be pretty big boats.  But I just can't imagine the river coming up high enough to ever float them off their resting places.
Can anyone from up that way enlighten us as to whether these are "Maid of the Mist" boats and are they on the US side or the Canada side?  And how in the heck do they get them off that dry dock?  And yes, that white is frozen river–solid ice–not just snow on the ground.
We stayed, enjoying the majesty and power of these falls for as long as our body heat and my low camera battery would allow.
On our return trip through small cities, towns, and countryside, we saw lots of these places.
Tim Horton Coffee Centers were located at every rest stop we saw.  That's right.  NY allows free enterprise to set up shop in conjunction with their Rest Area / Welcome Centers.  Isn't that amazing?
We spent the rest of the day browsing NY antiques and resisting the urge to buy things for which we would have to purchase another suitcase.  We left behind some pretty good deals, too.
The number of wine trails on the maps amazed us, too.  We settled for a tasting of wines made from grapes and fruits grown on Becker Farms at their Vizcara Winery who had a little booth set up inside one of the antique shops where we stopped.  The fruit and grape blends were interesting.
That night, back at Genesee Community College, the cross-cultural began with dinner–a NY rendition of  jambalaya.  We visited with other guest speakers and my old friend Diane of Bayou Grace Community Services, who first told Lori (our hostess) about my wetland tours.  It was great seeing and catching up with her again. 
After dinner, we were entertained by Mumbo Gumbo, a band from Buffalo, NY who did a great job of playing some New Orleans favorites.
Eventually, some of us got over our shyness enough to tap our feet and sway to the beats of their great renditions.  As always, there was a shortage of male dance partners willing to dance with us, but we had a good time anyway.
The food, music, and dancing were a great way to end a day of experiencing new scenery, wonders, countryside, and people and a great way to launch the conference.
Glad to be back from freezing winds!
BW
To be continued . . .