Open my kitchen drawer and there, nestled among the hot pads, koozies, and clothes pins, you just might see . . .
three little plastic babies.  And then you would scratch your head like Stan Laurel and do a double take, mentally asking yourself the question, "What in the world are THOSE for?"
Unless, of course, you are from south Louisiana.  And THEN you would understand.  These babies serve a very special purpose.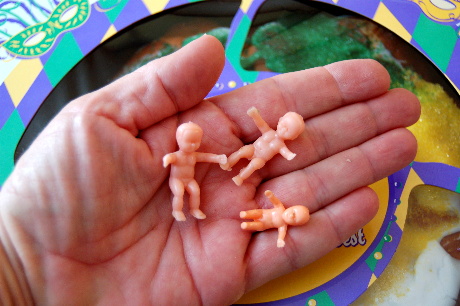 It is the honor of one little naked plastic baby to be inserted secretly somewhere into a delicious cake.
And this is not just any old cake.  This is a very special cake called a . . .
King Cake. This particular King Cake is a plain cinnamon one, sort of like a huge cinnamon roll. In the old days, when people had more sense, the babies were baked right into the cakes, which made for lots of fun to see who would get the piece of cake with the baby inside.
Why? Because the whole point of the "getting the baby" is to signify that you were "king" of the party, and you would host the next party and buy the next King Cake.
But why do I have King Cake babies hiding in my drawer? Because back when there were more mouths to feed than extra money for frivolities like King Cake, I bought a cake and saved the baby to make my own King Cakes. I mean, a King Cake IS NOT a King Cake without the baby.
Why? Because the baby represents Baby Jesus. Why? I have no clue, other than it has something to do with The Epiphany.  King Cakes hit the shelves here on the 12th night, or the 12th day after Christmas, which is January 6th.  I will leave it to my history, culture, tradition buffs to educate us on the rest of that.
But because the cakes display the colors of Mardi Gras–purple, green, and gold, it seems that The Epiphany and Mardi Gras must all be part of the same religious celebration.  Mardi Gras did not originate in New Orleans, and was called "Carnival" at its inception, but we won't go into all that here.
And don't take me for a dummy, I KNOW what Fat Tuesday is all about.  It's the last big blowout before giving something up for lent, which starts the day after Fat Tuesday, called Ash Wednesday.
Every bakery and grocery store in south Louisiana bakes some version, or multiple versions, of the King Cake.  Since our society thrives on bigger and better, there are now cream-filled and fruit-filled King Cakes. I personally still prefer the plain cinnamon . . . because it was treat enough back then, and it's treat enough now.
And since our society seems to have no common sense at all anymore, they stopped baking the babies inside the cakes around the mid 1980's due to the potential of a choking hazard.
So from 12th night until Fat Tuesday, those three colors are prominently displayed everywhere we look, including . . .
Zapp's, Louisiana-made potato chips . . . but not just ANY potato chips . . .
Cajun Crawtators, just one of Zapp's many Louisiana-flavored chips!
So, welcome to Mardi Gras, mon ami.  Folks are lining the streets in town for miles, waiting for the floats to pass by, and the costumed Krewe members to toss them some beads and trinkets to the chants of,
"THROW ME SOMETHING, MISTER!!!!!"
Just don't throw me a King Cake!
BW
PS:  WORDPRESS PUT THIS POST ON THEIR HOME PAGE, AND I'D LIKE TO OFFICIALLY SAY WELCOME TO ALL OUR NEWCOMERS AND ANNOUNCE THAT ALL COMMENTS WILL BE ENTERED IN A RANDOM DRAWING FOR A BAG OF C

A

RN

I

VAL CAK

E flavored coffee from Community Coffee.  So, bring on those comments!  Thank you, WordPress Folks!