He's growing up way too fast . . . or Making family history
When you have many children spread out over a number of years, something happens to the last-born child. Namely, he gets to do more things earlier in the timeline of childhood than the older siblings. The reason? The older siblings.
I don't remember my oldest two sons having their own shotgun at the age of 11. And yes, I will consider the notion that I am losing my mind, because I allowed my oldest son, 22, to give his youngest brother, 11, a shotgun for Christmas.
Actually, Daboo gave Termite his gun the week before Christmas so they could go duck hunting together. (If you are offended by such things, I will understand if you click away from here right now, and we never discuss the matter again.) That moment in my kitchen will be burned in my brain and bosom forever.
When Termite realized the package was a gun, he threw his arms around his big brother, buried his face in his chest and cried–a very unmanly thing to do. Here's the verbal exchange between the two:
Daboo: "Dude, are you crying?"
Termite: "Yes, I'm just so happy."
Daboo: "Now that's the kind of reaction I like to get from a present."
Termite: "This is the best Christmas present EVER! Thank you SO much."
Daboo: "You're welcome, man. I'm glad you like it."
There was more to the gift–a box of clays, boxes of shells, and a "clay thrower" for practice. That means practice in the backyard, where we have nothing but trees and marsh behind us for miles and miles.
Ready . . .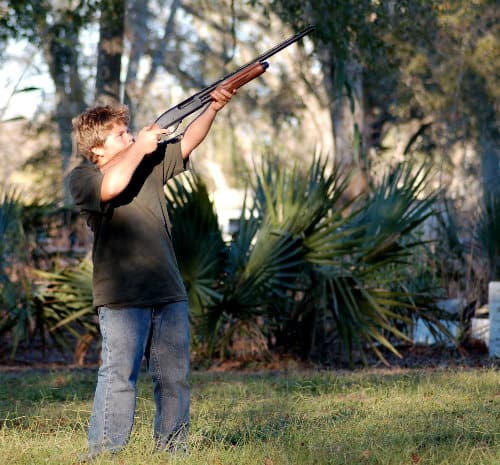 aim . . .
throw the clay into the air . . .
and fire . . . preferably with your eyes open!!! He was quickly an amazingly good shot. (As you can see, the photo is blurry because I jumped every time the gun blasted!!)
THE NEXT DAY . . .
Daboo, Termite, Daboo's girlfriend, and I left the boat landing around 4:45 a.m. We navigated through the dark waters around crab traps out to the lake, where I dropped off the men, a canoe, and all their gear.  We girls fished while the men hunted.
While Daboo was teaching Termite the fine art of duck hunting, I was teaching Ash the fine art of trout fishing. We could hear the shotgun blasts from where we were fishing. Ash caught a monster trout on her third cast, and sometime that morning, Termite shot his first four birds.
I'm sorry I don't have a photo of Termite's first birds. Don't know how I missed that.
Back at the house, Daboo taught Termite how to clean birds, while I taught Ash how to clean trout.
The birds went into the cooking pot, while the boys, I mean men, cleaned their shotguns.
As I watched Daboo teaching his younger brother, I realized family history was being made that day–a hunting legacy was being carried on. My father was a hunter, but he passed away the year Termite was born. Termite's father is not a hunter, so it was Daboo's responsibility and honor, as the oldest son, to bring his baby brother into this man's world of hunting.
Down the bayou, we pride ourselves on only harvesting what we will eat–and eating everything we harvest. We know as long as we have a gun and ammo, a hook and a line, or soil and seeds, we will never go hungry.
These are just a few more of the joys of living in the Louisiana wetlands.