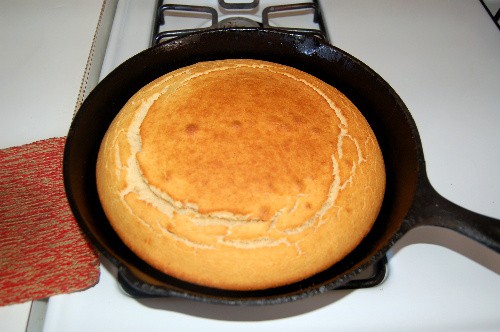 Or how I decided to bake some cornbread from scratch!
While my internet is intermittent, I am forced to do things that otherwise pretty much go undone around here–like laundry, dishes, cooking, and baking. Besides the other things mentioned, here's what I was forced to do today . . .
Good old-fashioned cornbread in the cast iron skillet . . .
cooling on the rack . . . the smell wafting through the house . . .
Quick before all the punks playing Guitar Hero in the den follow their noses to the kitchen. Mmmmmm.
And isn't that the cutest butter dish you've ever seen? It belonged to my paternal great-grandmother and might be an original Pyrex, I'm not sure. But it is a faded red color, and I just LOVE it. I'm not sure, either, what she used it for; but if I cut a stick of butter in half, the 2 halves fit perfectly inside the dish.
If one of my punks breaks this dish, I will cut their fingers off. Truly, I will. Just ask them !!!!