How do you feel about public bathing?
Hey, Blondie, where's all the grub?
Hey, what are YOU looking at? Don't just sit there staring at me! Go get my bathwater ready!
Could you get me a snack while I check out the bathtub?
Hmmmm, it looks clean enough.
Let me ease on in here and check out the water temp.
Ahhhhhh, that's just what my aching wings were needing
Hey, can't a bird get a little privacy?
I thought I told you to go get me a snack! Whatcha waitin' for, huh?
Oh yea, that's it. A little splash here, a big splash there . . .
Oh, ah, now I got it.
No, Red-winged blackbird, it ain't your turn yet! Buzz off!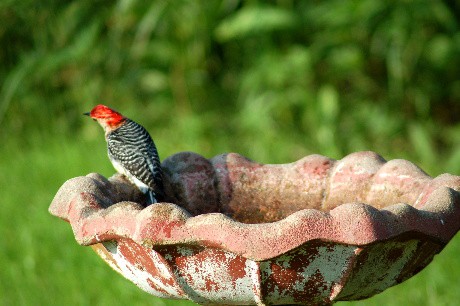 Ok. The line's getting kinda long. I'll just shake off here a little . . .
And finish drying off at the feeding table.
Hey, blondie, thanks for the Bird Stop!
See ya next spring!