This is the site that greeted me when I drove up to the concrete plant today to pay my bill for the concrete tomorrow.  Piles of sand, pea gravel, and limestone.  Then along came this big front end loader and . . .
dumped a load of limstone in the hopper . . .
and then a load of pea gravel . . .
and a load of sand.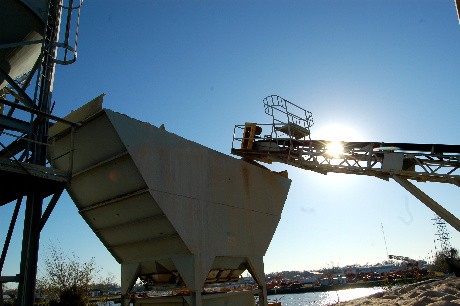 It goes up, up, up the conveyor belt and into the aggregate hopper.  The tractor driver has a cool button that he pushes that makes the ramp slide right and left to make sure the product goes into the right compartment.
Mr. D. has the great responsibility of keying in the type of concrete mix ordered.
The computer then synchronizes the machines to add the right amounts of each aggregate  . . .
and the right amounts of cement powder and ash from the silos,
and then the correct chemicals depending on the type of concrete needed.
See the truck in the background?  It is backed up under the drop site, mixer turning, waiting for the DROP of concrete into the truck.
Control center pushes the button and the aggregate drops from the hopper onto another conveyor belt . . .
where it goes up as seen on this live TV screen and is joined by all the above listed additives to make the perfect concrete for the job.
It is then dropped down into the truck, along with water, where it goes round and round until it is mixed to the correct consistency and viscosity, which is checked one last time before the truck heads to delivery.
Gerald and Mr. D. at Terrebonne Concrete gave me a great lesson today in how concrete is made.  The most important thing I learned is that CEMENT is not what we drive on but rather a powder added to the aggregate to make concrete.  Understand?
And now, how about a pop quiz?  Dyepac?  Sharpen your pencil and spit out that gum!
Here's the new bunk bed in the front room.  I finished putting them together this week.  I cut and installed the 1×6 slats today . . .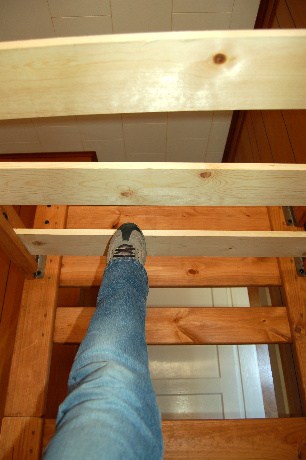 and I had to lie down with my lens, and look up to make sure they were all spaced the exact same distance apart.  I can't have my guests lying on the bottom bunk and obsessing over uneven gaps, now can I?  This one needed a little adjustment.  There, perfect!
The one in the back bedroom looks the same, except it hasn't been adjusted yet.  Once I put the new mattress down (which I bought, hauled, and dragged upstairs BY MYSELF late today) I'll be able to lie down and adjust the upper slats properly!  Things are moving forward quickly now!
Tomorrow is the big pour day!!!
BW