Hurricane Ike-Bayou Dularge, LA-The Animals
Humans aren't the only victims during and after hurricanes.  Often, animals are left behind for various reasons–hotels and shelters don't allow them; some are too big, like cattle, horses, and goats; and some are wild, like the kittens at my house.
Day 2: Our first trip down the road. and water was still flowing across the highway.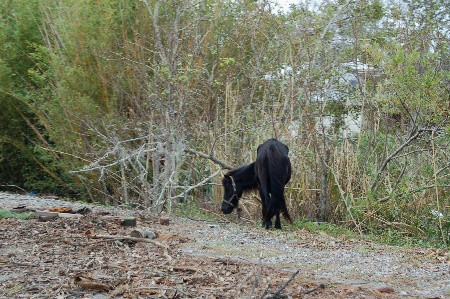 This little guy was trying to graze on the side of the road.  Remember, all the grass was flooded over with saltwater, rendering most of it inedible.  The rope was tangled in something, making it difficult for Mini to reach better grass.
Look at the black puppy someone left behind, taking refuge on a crab box,
while this gator lurked nearby, looking for an easy meal.
Next we experienced a cattle stampede,
followed by a cattle roadblock, with one Boer goat in the background.
Day 3: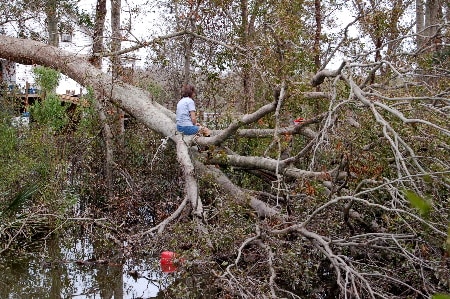 Heather climbed a downed tree to feed and water two wild kittens.  They are hard to spot in this photo.
We watched a young man catch this wild rabbit and put it up on a levee where it could find some fresh grass to eat.  It seemed totally unafraid, which is not normal at all.  Shocked from the high water, no doubt.
These beauties were delighted to have escaped from their pen, but all they have is nasty water to drink.
Day 4: The water was still very high in some places.
Their pasture totally flooded, the road was on the only dry place around; but what would they eat?  No, Heather, we can't take them home with us and feed them.
For two days we fed and watered the mini horse, the rope still tangled in the bushes.  No one seemed to know who owned it.  By the third day, when it allowed me to pet it, we were about to tie it to the back of the truck and take it up to the cypress house to care for it, when the owner showed up.
These two horses swam from their pen to the levee, where the grass was not polluted with saltwater.  However, they had no fresh water to drink.
This cow was with them, so we found a tub and borrowed some water from these folks to give them water to drink.
Hey, Flossie, where ya going?  This is fresh water!
So between all the work, we did our best to tend to God's creatures that could not fend for themselves.
Heather Here saved one of the animals.  Can you guess which one?
If you guessed the puppy, you guessed right.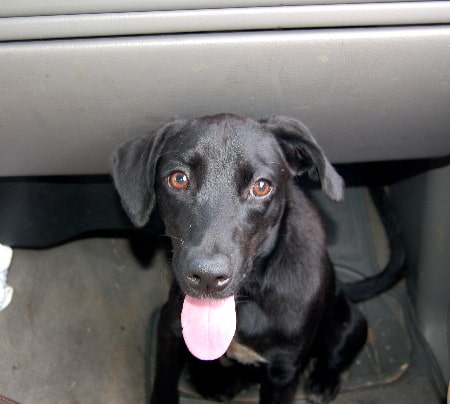 Heather brought her home, gave her a bath and a pink collar.  We've been trying out names on her all week.  And today she got her official name–ISHI.  Can you guess what it stands for?
Getting closer to moving back down the bayou,
BW