Hurricane Ike – The Humans
The Bobcat Story continues.  And this is not a living bobcat, but a handy little frontloader called by same name. 
True to their promise, a shor time later, the chain saw crew returned, but this time they had the Bobcat loaded on that flatbed trailer.  It was backed down by a mystery driver and promptly set to work.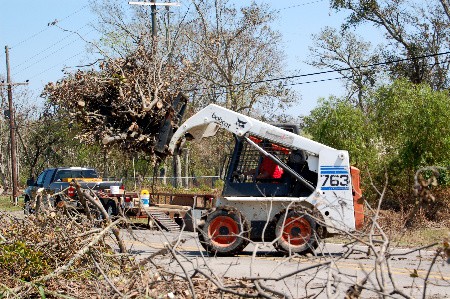 The way these folks worked together was very impressive,
as load after load of branches and logs were hauled to the shoulder of the road.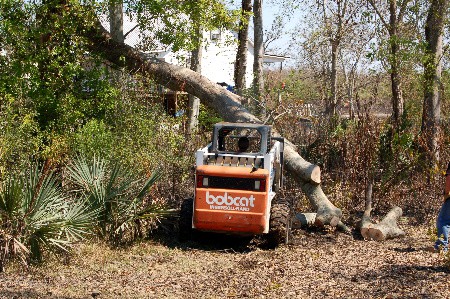 Since the tree did not belong to me, and fell from the lot next door down onto my property, they asked what I would like to do with the rest of the fallen tree.
So I asked if they would mind pushing it back over the property line . . .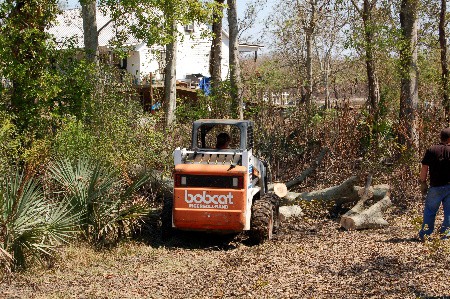 In the blink of an eye, it was done.  And then the over-zealous Bobcat operator decided to move the whole pile of flooded household goods across the highway on top of the branches, so that we would not have a nasty pile of yucky furntiure right at the end of the driveway as a constant reminder.
And then, as fast as they had arrived, they were leaving.  And you still can't see the mystery Bobcat operator.
I would like to take this opportunity of thank that mystery operator for coming down the bayou, working all day long in that little cage, and for helping many of us clean up messes that would otherwise still be sitting undone . . . .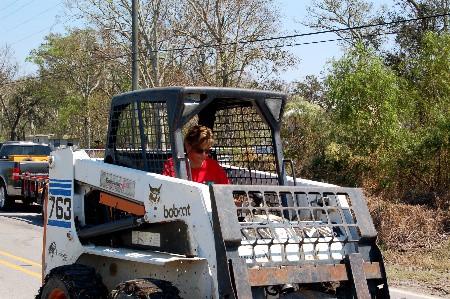 Thank you, Kristie!  You are my new hero!  Really, you are!  Would you like to join WATS (Women Armed with ToolS)?  You can be the president since your tool is bigger than all the ones that Heather, Stephanie of G and I use!!!!!
Well, my time on this borrowed computer is over, because the borrowed washing machine has finished washing my clothes.  Before the sun sets, I need to go back down to the cypress cottage and hang the clothes on my makeshift clothesline!
Until next time, thank you all for checking in and reading.  Writing to you takes me away from all the gloom and doom for a while, and maybe soon I will be more like my old self and have some idea what to do about our home. 
BW