Hybrid means a mixing of unlike parts.  In this case, the mixture is that of wood and metal.  The next few posts about the house will show you how I'm getting that done, with my trusty builder.  And remember, folks, you heard it right here on BW first.
This house has been a long time coming.  The history of this house is going on six years old, including running into detours and dead ends, the details of which you will be spared, unless you dare to ask.  I will share one little part of the history with you, though.
Two months after Hurricane Katrina ripped through southeast Louisiana, I traveled down to the lower parishes of St. Bernard and Plaquemines, which the national news was not mentioning–New Orleans got all the attention.  What you don't know is that a storm surge, estimated at 25 feet high, swept across the southeast tip of these parishes, wiping everything in its path into oblivion.  So, I went to see for myself.
What I found down in Hopedale, a little fishing community that resembled my bayou community, caused me to weep so much that I had to pull over to take it all in.  Where there were once homes and camps on pilings, there were only slabs of concrete or empty lots.  In some places, the pilings were snapped off like toothpicks, with no indication as to what had sat atop them.  As I drove along the roads, only two buildings remained  standing–both of them of metal construction.  Call it steel, call it iron, it matters not–they were some kind of metal.
That discovery further implanted in me the desire to build a house similar to a commercial metal building, that would withstand wind speeds of 140 mph.  Every company I called gave me the same answer, "We don't do residential."
Then, there was the question of the foundation.  The infamous 2005 Katrina-Rita double whammy hurricane season brought about even more stringent building requirements.  One of which was the required drilling of soil samples to be used by engineers to design foundations for the now-required houses on pilings.  Add to that the cost of the now-required stamped and sealed architectural house plans and the new structural codes, and it looked like we would never, ever be able to build a house.
In spite of all that, here we are, building permit in hand, and I have to pinch myself to be sure this is not a dream.
The builders left an extension ladder in place for me so I could climb up into our new house.
Here's the view from the new living room . . .
No, that is not a lovely sky gray ceiling with beams running across.  This is the view as I lie down looking up through the purlins at the sky, and what a lovely view it was.
And then there is the view of the front end of the roof of the house . . .
and the old oak tree.
and the back end of the house, and the top of a tree.
This is the view from the master bedroom, facing northwest.  And if Steffi looks really, really hard, she can see the rigs docked at the edge of Lake Decade.
Oh here, I'll show you a closeup.
Those rigs out there mark the edge of what was once my favorite winter trout fishing lake.  This winter hasn't been so great, but I digress.  Back to the topic at hand.
It all began like this.  10 x 10 pilings cemented deep in the ground, with 4 x 12 beams bolted to them.  The floor joists were nailed to the beams, and further attached with hurricane straps.  Tongue and groove exterior grade plywood was nailed and glued to the joists.  The sky lift, surrounded by red iron rafters and purlins, waits for the workers to arrive.
Seven eager workers arrived before 7 a.m., and quickly set about in a flurry of activity.
How about a photo story?
Iron plate bolted to 4 x 12 beam, through plywood subfloor.
Metal post being cut to length.
Metal post being set to level and welded to plate.
Red iron purlins being cut to length.
Red iron purlins being welded between the posts
Sky lift hoisting red iron rafters into place on top of posts, where they are welded in place.   Purlins are then welded between the rafters, holding them together forming the rough structure.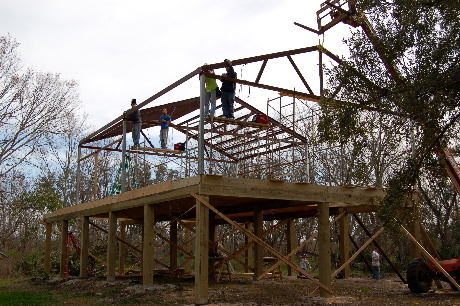 Reality hits as the roof structure begins to take shape.  This is what things looked like at the end of the day.
WANTED:  GOOD PLUMBER WITH REASONABLE RATES WILLING TO LET BW WORK WITH YOU.
To dreams coming true and hybrid houses,
BW
To be continued