Things with the house have slowed way down, because what's to be done now are the technical, tedious, but before we get into that, there are a couple things I forgot to show you.
The men from Trinity Lutheran, Midland, Michigan installed the attic access pull down steps.  In our current home, we have no attic storage and no closets.  I climbed up there yesterday, and once I get some plywood up there, we will have some nice storage.
Forgot to show you the four-foot shower in the family bathroom.  See the little transom window up there? Isn't it cute?  It caused some serious problems earlier.  The installer did not realize the shower would be a one-piece unit, so once the shower arrived, I discovered it overlapped the window by a couple of inches.  I was thinking of ways to custom fit the shower stall around the window (like at Camp Dularge, remember?), but the builder thought it was easier to remove two panels of metal from the exterior, remove the window, cut the iron framework and re-weld it, move the window up, reinstall two new panels of metal, and voila!  It's all done!
In the master bath is a one-piece shower/tub combination.  I'm sadly giving up my clawfoot tub, which was one of my most ambitious projects in years past.  My current bathroom, pictured in the above link, has been my sanctuary for the past ten years, and I will really miss it.  With more planning, maybe I could have duplicated it in the new house?  Oh well . . . . moving on to the new . . .
Just off the end of the back porch, on its own little platform, sits the condensing unit for the cooling part of the HVAC system–the fancy acronym for heating and cooling.  All appliances must be above the flood plain, including water heaters, washers, dryers, frig. and freezers, because flood insurance will not cover any appliances below a certain elevation.
Because we are stretching the dollars, we could not afford the high SEER that we would have liked, so all you Greenies out there, please forgive us.  We're doing the best we can with what we have.  Just remember that I laid out the doors and windows to take advantage of prevailing winds, so that we might not always have to use the A/C.
This is the return air closet, looking up into the . . .
attic unit portion of the heating and cooling . . . you know they call all this the "rough in", right?
So, here's what the air conditioning duct work and register looks like before everything is closed in.
After the HVAC, came the electrical rough-in.  I had no clue there were so many different kinds of wire.  Here are two that went into our house recently.
by this young man, standing on the trusty new attic steps . . .
He may be young, but he definitely knows his stuff, and he's a hard worker, too.
So, we have wires hanging everywhere.  And they are installing the phone lines and the cable wires, also.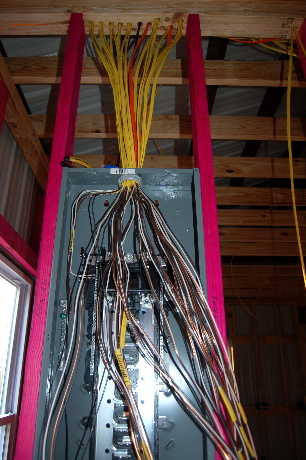 To be continued . . . .
PS  Because of the large number of bloggers reaching out to Community Coffee for prizes, they are changing the way they market through us.  I'm sorry to say that we won't be giving away a product per week as in the past.  I know some of you have been wondering, and that you will now cry yourself to sleep tonight because you will no longer have the chance to win.  Therefore, I guess I'll have to get creative, like I used to do, and come up with some more original BW contests.  What would you like to do first?  Name that photo?  Find that photo?  Name that flower?  And I think your prize will be a BW original photo, which a couple of you have told me you display proudly in your homes or offices.  So, let me have some feedback, okay?