or "The Miracle Workers from Midland, Michigan have arrived!"
You haven't heard from me in a while, because I was unable to escape the ills of winter.  I"m still not 100% but I'm so super-dee-duper excited about this group of wonderful folks from up north that I dragged myself out of my sick bed to go out and take some photos of to share with you.  That included climbing a very tall extension ladder, and uh, don't tell anybody, but I'm afraid of heights!  Well, I'm really more afraid of falling.
Okay, let's get moving here.  Let me bring you up to date. You're  wee bit behind.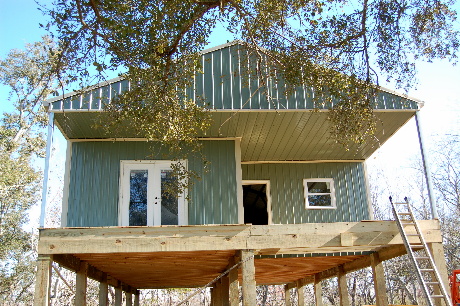 The metal exterior is complete.  You know what I really like?  The metal porch enclosures.  I think that just looks so spiffy!  And see the ladder?  Well, that's not the scary part.  The scary part is stepping from the ladder onto a strip of plywood.  It's like walking a tightrope.  Hopefully, we'll have a set of steps out back soon.
Here's what the house looks like from the front door.  I designed the doors and windows for cross currents of air.  The back door and front doors line up like in an old-style shotgun house.
Some of the volunteers from Midland, Michigan are admiring this hybrid architecture for the first time.  They had lots of questions and really were impressed with the whole idea of mixing metal and wood.  I'm glad they like it!
Here is a meeting of the minds between the volunteer carpenters from Midland and my two builders who have done the work so far—they are the two guys in black T-shirts.  This builder is the greatest guy ever.   Not only did he agree to let me have these volunteers step in and do the inside framework, but he offered to be available to answer questions along the way.  I just don't know if very many builders would be so kind and have so much patience.  Do you?
The tools and materials went up on the Sky Trac.  Yes, you read that right.  My builder is even letting them use the lift. Can you imagine?
And then they got busy as a little hive of bees.
and worked all day long . . . .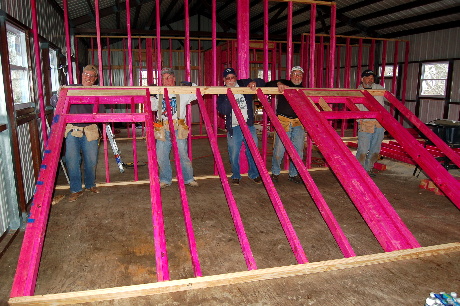 Up, up, up . . .
Okay, hold it men, and let's toe-nail it in place . . .
And up goes the final wall of the day.
Tools were set aside.  Hats, thermoses, and lunch boxes were collected.  And the little house sits and waits snug and tight for the next work day.
So a buncha YAHOOS followed by a ton of YIPPEES for the Lutheran Church Men's Mission Group from Midland, MI.
And to all of you back home holding down the Midland forts:  Thanks so much for sharing your families with us down here in warm, sunny bayou country!
Here's to the Miracle Bayou Tree House!!!!
Happy as a crawfish in mud!
BW
PS:  Autonomouspice?  You won the Carnival Cake Coffee.  Send me your address in the contact form, please!