If you, like me, have lived many decades deprived of the knowledge and enjoyment of Jezebel sauce, then hallelujah this is your day! I'm here to open up your eyes AND your taste buds with this recipe that was recently revealed to me at a cancer-free celebration for a friend.
Now, I suspect some of you are probably shaking your heads and smiling at me right now because I have lived all these years without knowing about this unique southern recipe. And you also know how I am. Once I discover something, I just have to let everybody know about it! So don't make fun of my excitement at the discovery of this (as I have come to find out) very common sauce.
Maybe you know the reason for the name of this sauce? If so, we'd love to hear your story. Regardless, if you've read The Holy Bible, you know something about a woman named Jezebel. She married an Israelite prince named Ahab but continued to worship Baal, which really didn't go over so well. Maybe we could even venture to say she was rather "saucy" in her actions–even unpredictable, shocking, surprising, spicy, and sweet.
If so, then this recipe is aptly named, because Jezebel Sauce is all of the above. The preserves make it sweet, the dry mustard makes it spicy, while the horseradish makes it surprising and shocking, depending on how much you include.
I experienced Jezebel draped over cream cheese, in all her brazen glory, and then smeared across thin crackers. She wooed me with her multi-dimensional attractions, bringing me back for more! And then I knew I just HAD TO HAVE her secrets for myself.
The party hostess shared her version of the recipe with me, plus an internet research revealed several variations of this recipe but minimal history behind it. When I read the amount of horseradish involved, I instantly thought there must be a mistake, so when I made the sauce, I did not use the suggested amount of horseradish but rather tweaked it to suit our tastes. Horseradish can be so overpowering, and now I'm glad I didn't add the entire jar as some recipes suggest. So, below is my version of the recipe, and if you find it too mild, then add horseradish in increments until you get it where you want it.
One more thing. Jezebel sauce isn't just to serve over cream cheese. It's a sauce enjoyed on ham and pork loin and at times is a fun replacement for traditional pepper jellies. The cool thing is, even if you don't know how to make pepper jelly, it doesn't matter because Jezebel is quick and easy!
Jezebel Sauce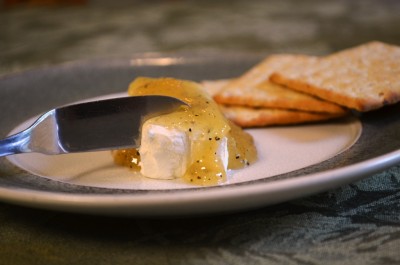 Print Recipe
Sweet and spicy sauce used as an appetizer over cream cheese and a compliment to pork
Ingredients
1

Cup

Apple Jelly

1

Cup

Pineapple Jelly

or Apricot

2

Tbsp

Dry Mustard

1

Tbsp

Prepared Horseradish

or more if you like

1

tsp

. fresh cracked black pepper
Instructions
Dump all ingredients in mixing bowl (or food processor) and mix well. Store overnight on the counter. Second day, spoon into glass jars. Keeps in refrigerator for up to one month. Serve as desired.
Notes
Best served with plain (not flavored) crackers in order to enjoy the full flavors of the sauce.