So, LilSis and RenRed came down and brought something very special for the Miracle Bayou Tree House (which will be another post altogether) but while they were down, RenRed wanted to drive down where he might see some of the oil spill action, it being such an historic disaster and all.
You know from the previous post that Grand Isle is where we went.  We got the inside scoop from my friend who has been down there reporting for Fox News Network that  all the beaches were closed, barricaded, and guarded to keep the likes of us and our curious minds (nosiness) and cameras O U T !
She did say that we could go to one end of the boardwalk down at the State Park, so that is where we headed.   When we got there . . . .
this is what we found.  If you look closely, the rise in the boardwalk goes just over the sand dune, and just on the other side of that dune was all the hustle and bustle of the cleanup activity.  Not wanting to cross the line, because there were "dirty rotten coppers" just on the other side of the dunes, I sort of climbed up on the railing to get a better view.
I mean, golly, we drove all that way, ya know?
And what we observed as we looked up and over the dunes was quite puzzling.  (Isn't the water beautiful?  No sign of oil, thank God!)  Along the shore were piles of sand.  Small groups of "cleanup crews" were stationed at each pile of sand.  One person held a 50 gallon plastic bag open, while a second person shoveled some sand into the bag.   What's so puzzling about that?
Well . . . .
As seen above, the guy on the left is using the prevailing gulf winds to help hold the bag "open", while the guy on the right is scooping up one small shovel of sand.
Next, as in this photo, the second small shovel of sand went into the bag.
And then . . .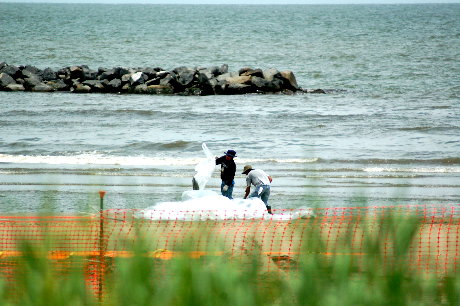 with just a flick of his wrist (no muscle involved) he tossed the bag onto the pile of plastic bags you see there.
We watched other groups doing the EXACT same thing, over and over again.
until the dirty rotten coppers almost caught us taking the photos . . . . that's a big no no.  LilSis said they would take my camera, so I hurried and pulled out my memory card in case I had to swallow the evidence.  (Uh, never mind.  I won't go there.)
Then we rode a little further down to see what was going on at the other two boardwalks, and it was very outlandish.  I can't even describe to you in words the feeling . . . and Steffi would have been thoroughly creeped out since this is her favorite camping spot . . .
The campground was deserted . . . .
And the other end of the State Park had been turned into some kind of staging area.  Look at all those unused barricades?  Wonder who's paying for those?
And what in the world did they need all these portable toilets for?   And there were all these big tents and trailers and people cooking food.  It was kinda weird.  I didn't get all the pics I wanted because official looking vehicles were coming and we had to skeedaddle out of there since we had driven past some red tape to get in there.
Then there were all these "light plants" lined up along the beach, as though they might be working at night???
As we drove back up the beach and crossed another barricade (don't tell anyone, but the guard left his post for a minute . . .) we saw dozens of Tonka Tractors playing around having a good old time doing a bunch of nothing.  (I want that job.)
And then when the clock struck 3:00 p.m., they came herding across every "crossover" from the beach to the main highway.
Some of them even danced across the highway as they made their way to the . . .
school bus that would carry them to "The Pit".  At least that's what the bus driver told me when I asked her where she was taking the workers.  She said she was taking them to "The Pit" (like the Pit Grill I wondered?) where they would eat their meal.  I asked her if she would also take them to their sleeping quarters and at that moment she noticed my camera and the cat got her tongue.  She said she didn't know.  I asked her where they slept at night, and she said she didn't know.  When I pressed in and asked her if they were done for the day, well, she didn't know that either.
There were school buses parked up and down the highway, picking up the cleanup crews to take them to their afternoon meal at "The Pit".  I have no clue whether it was a late lunch or an early supper.  No one seemed to know . . . . but it turns out "The Pit" is the place down at the State Park where all the tents and toilets were.
This was a "crew boss" and she is paid more than everyone else, and her job was to make sure no one got run over while crossing the highway.
Before I could get up the courage to go to the bus and ask the workers some questions, a patrol jeep came over the levee and I jumped in the car.
We went inside the Stafish Cafe to get a bite of grease, and I took the opportunity to talk to a couple of local men.  They said they had no clue what was going on with the cleanup.  No one was allowed to go on the beach to see.  No one was allowed to talk to the cleanup crews.  They said it was all too secretive for their liking, and if I could find out why they were only putting two scoops of sand in those bags, please be sure and come back and let them know.
Lest you think the cleanup crews are mistreated or overworked or under-compensated, let me fill you in.  I'm not sure how much they are paid per hour, but it's rumored to be way over minimum wage due to the hazardous waste factor.  They are all from out of town and out of state.  The buses provide them transportation from where they are staying, usually a hotel, and they are fed three meals a day.  In other words, it's kind of like prison without the bars.  They don't pay for food, transportation or lodging.  When I asked the locals where the workers stay at night, they said some of the workers had been staying at island rental camps and in beach hotels until the crime rate when up.  Somehow, the mayor of Grand Isle banned them from staying on the island.  There was a shooting, two attempted bar room stabbings, and two attempted rapes.  You have to know that Grand Isle is a very small community.  They are accustomed to peak season activity of strangers coming and filling up the island–but it's the beach party mindset, not that of big city crime.
So, my dear readers, you must decide why those cleanup crews were only putting two scoops of sand (sounds like Raisin Bran) in the bags and why were they wearing NO PROTECTIVE GEAR AT ALL?
Now, let's render those decisions.
BW