Congratulations Choupiquer on your winning entry! It's perfect!
Please email me your mailing address for your prize.
Isn't this a great name for this photo? All the entries were super! It was tough making this decision. I really like Wetland Alien submitted by Kim, and also Heather's last attempt, of Voyager I to Voyager II. This is so much fun—at least on my end!
History behind the photo? This was taken from my boat, anchored off an island on the edge of the Gulf of Mexico. The moon was gorgeous, not qutie full with a haze around it. I wanted to photograph it through my mosquito netting, and this is what I got. Can you believe it? And not just once, but 3 times. See?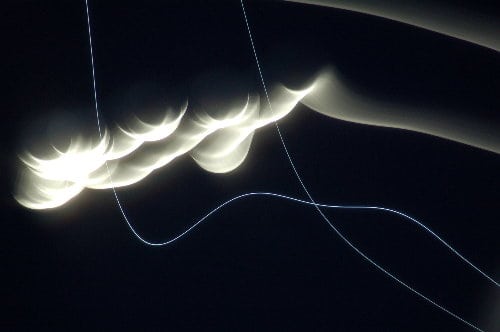 This could be "Voyager I to Voyager II", "Prints on the Horizon", or "Recycled Imagination" (They are ALL SO GOOD!)
This could be "Wetland Alien", "Flex", or "Daylily Nubbins" ( Cool, huh?)
Coming up tomorrow: Cooking with Bayou Woman–Gingerbread Bayou People!!!!