Louisiana Wetland Treasures!
We've heard it a million times before:  One man's trash is another man's treasure.  Right?
In this case, one man's hard work has become one woman's treasures, plural.  While it might not be considered such hard work cleaning a fish, I guarantee you it is very hard work cleaning one type of fish caught and cleaned by the hands of this down-to-earth local fisherman, Bayou Fabio.  Just what does that have to do with trash and treasures?
Bayou Fabio fishes alligator gar fish for a living.  He is well known for his ability to make cleaning a gar look like kid's play.   And if you are recalling a childhood memory of scraping off fish scales with a spoon, think again.  There is not a spoon made that could stand up to the likes of a gar fish scale.  Alligator gar are covered in hard, thick scales–so thick that Native American's used them as arrowheads.
And now my friend, Kim, has given those scales new life.  Let me tell you the story.
Kim came to visit the bayou in May, at which time I gave her some gar scales from my collection (in photo above) to get her creative juices flowing as to what she could create with them.  Having taken  jewelry-making classes in her new hometown of Silver City, NM, and having a passion for jewelry making, Kim was excited about the possibilities.
She was so excited that she created some beautiful pieces right away and then returned to the bayou weeks later to meet the provider of the scales and to learn more about how he harvests them.
Garfish are not pretty, and the catching and cleaning process are not for the faint of heart, which exemplifies such a brilliant dichotomy between the roughness of the raw materials and the smoothness of Kim's finished work.  It is so interesting how something that starts so basal can end up so refined.
This story will take you on the journey from fish in the water to final product.
It all starts with the jug lines that Bayou Fabio makes himself out of 2-liter soda bottles.  He baits them and throws them out in the evening to catch the fish.
The next morning, he brings the catch to his dock,
where he cleans them, casts the skins aside (with scales still attached), and puts the cleaned fish on ice.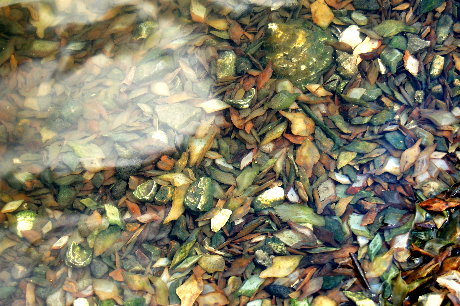 Fabio has been cleaning garfish in the same spot for so many years, that the bayou bottom and bank are covered in scales.  Over the years, they have taken on a patina from algae and other organic matter in the water, which really intrigued Kim.

As the tide drops, the scales become visible, as seen under Kim's feet above.

Later, Bayou Fabio places the skins between layers of a kids' cast-off swimming pool, where maggots do the work of eating all the flesh and skin, leaving behind the enamel-like scales.  What is left does not look like anything that could be used for jewelry making.

Bayou Fabio shared how it took about three weeks to clean the scales to the stage seen in the basket above.  He did these especially for her to use in making her treasures.

Fabio explained how she needed to lay the scales out to dry so the moisture could evaporate and the smell could dissipate.  He also told her that soaking them in a little bleach and water would remove stains and kill any odors left behind.
The gar, with its full-body armor and mouthful of sharp teeth, looks absolutely prehistoric.  Appropriately enough, some folks jokingly call Bayou Fabio by another nickname–The Caveman.  With his long hair, sinewy body, and bare feet as tough as alligator hide, he seems to come straight from the same prehistoric times as the alligator garfish that now sustain his life.
Bayou Fabio, in true Native American fashion, would not take money from my friend for the scales but asked her to make beautiful things from the scales he gave her.  He suggested she make a cross using multiple scales, and maybe try dying them different colors.  That day, Fabio and Kim made a good trade.  She brought him three neck pieces (necklaces) in exchange for a five-gallon-bucketful of freshly-harvested garfish scales.
As I watched the two making the trade, I wondered if Native Americans were always so generous.  I suspect they were.
Kim and the garfish scales traveled west to hot, arid New Mexico, where she bleached them and laid them out to dry, just as she was told.  They couldn't dry fast enough, her hands anxious to give life to the creations forming in her mind. Having already mastered  bead work, she was anxious to see how she could combine the two and what the end result would be.

Above is what I believe to be the first beaded piece she attempted.  The Native American style of this piece is very befitting.
Which brings this story to a close and to the last thing I would like to share with you about this circle of life–from fish to refinery.  Kim now has a site called Louisiana Wetland Treasures where you can read more about the creature and the creations.  Kim has opened her jewelry store at Etsy, where you can see more of her unique designs, and she has chosen to launch her jewelry design here.
So, folks, bring on those comments! Kim and I both would love to hear what you think about the whole process and her designs.