Marsh Grass Planting on TE-44
or . . .
a day in the marsh with the wind, the water, and wild teenagers!
What in the world is a marsh grass planting?  Well, I'm about to tell you. 
When a restoration project is undertaken, there is "new soil" that needs to be planted in order to be kept from washing away.  Sometimes, government agencies pool their resources in order to purchase plants for the project and recruit volunteers to help with the planting.  And that is what happened here.
First off, Mel, the Volunteer Coordinator for The Barataria Terrebonne National Estuary Program (BTNEP) put this together with a few instructors and a dozen or so students from the Bayou Lafourche Marine Institute, an "alternative school".
The local nurseryman who won the bid for these plants (spartina alterniflora) delivered them promptly that morning,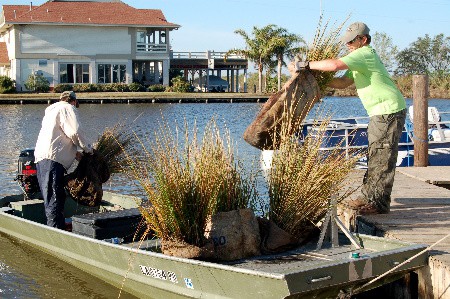 and the plants were quickly transferred from truck to boat for transport out to the site.
The students and 3 instructors arrived a little later than expected, donned the rubber boots, and boarded the two boats, one of which was mine.
Not having checked the wind forecast, I was not prepared for the lake to be quite so rough.  It's about seven miles across that lake, and it seemed to take forever to get across it.  I had to remind my teenaged guests to keep their life jackets on.  Life jackets aren't cool, yo?  (was that a question?)
Once at the planting site, I could not get my boat onto the land, so they had to cross over from my boat to the longer boat to disembark.  Everybody literally had to JUMP off the boats onto the land.  When I say land, I don't really mean land.  It was more like mud and quicksand.
Most of these kids chose to go on a "field trip", but I really don't think they had any idea what they were getting into.  It was a chilly day, with the wind blowing around 20 mph.  Most of them had on short sleeves and brought no jackets.  This girl was definitely not happy she chose this field trip.
She's thinking, "And I gave up a cafeteria lunch for this?"
One instructor and two of the boys were really getting into it.
Now, that's what I call getting down and dirty with the marsh grass planting.  Once they decided that they would have to get muddy, then some of them really began to get into the planting.
And of course the leaders, like Mark here from Lake Charles, really set a good example for the kids to follow.
After Matt, the plant guy from BTNEP, showed them how to walk on the mud without sinking too badly and how to plant on their knees, they got the hang of it pretty quickly.
And then there was Mel, who exemplified every man is an island.  Or every man plants an island, or something like that!
He inspired the kids with his answer to the question, "How many more bundles do we have to plant?"
by saying "One less when you finish planting that one."  Genius!
Yo!  Y'all come pick us up over here, yo!
Yo, I learned a new two-letter word, yo!  Is that acceptable in Scrabble?
This young man never said a word.   He just kept his head down and worked.  I can't imagine what he's done that landed him in an alternative school.  Can you?  I made sure to tell him what a great job he did.
And of course, when I had them captive on my boat, I explained to them how what they were doing was going to make a big difference in helping keep the saltwater from the south from invading the freshwater to the north.  I'm not sure they really cared. 
But that doesn't really matter.  At the end of the afternoon, and 1000 smooth cordgrass plants later, they were covered in wet mud, hungry and cold.  Oh, and they all needed to use the restroom, which did not exist.  The water was so warm compared to the air, that some of the boys actually waded in to wash off the mud.  Soaking their clothes was a big mistake.  I felt badly for them because they had no jackets, no towels, no way to warm up on that cold ride back to the marina.  As the instructors told me, "They were told to bring a jacket or wear long sleeves."  They chose not to.  Tough kids.  Maybe not so tough.
No matter what the reason these kids attend an alternative school, most of them worked really hard putting those plants down into the mud with great care.  I, for one, appreciate their efforts and again, the sacrifice they made in stepping way out of their comfort zone to make a difference.  I'm not sure they intended to do such a noble thing when they stepped on the school bus for this field trip.
But from the bottom of my Bayou Heart and for the Mauvais Bois and freswater parts north, I say thanks to the Planting Crew of BLMI.
And thanks to Chris, Shannon, and Gloria, the instructors.
Epilogue:  This is Chris waving me down to pick him up.  When he boarded my boat, he asked me my name and I saw the light bulb turn on in his brain.  He said, "Hey, you're the lady with the wetland tours that I called a few months back about taking at-risk students out on your boat.  You told me your boat was too small to take us.  And look!  We ended up on your boat anyway!  It's not a wetland tour, but it's even better.  Maybe I could come back this spring with a few kids who are seriously interested in seeing how the plants are doing.  Would you be interested in bringing them back out here to take a look?"
You bet your sweet New Jersey booty I would!
(And in case you're wondering why there are no photos of me in the mud, well, you know.  My camera comes first and slipping waist-deep down into the mud with NikonD50 in hand and no way to pull myself out just would not be cool.  So, I ended up being the captain and the photographer on this trip.  Ok, that's not totally true.  I did wear my black boots.  I did put my camera down on the boat.  I did jump off onto the mud.  I did use a dibbler and make holes and plant a few plants.  Then, they were off to the land of quicksand, and well, my camera really needed me back on the boat, so I had to decline.)
BW