Marsh Grass Plantings, Part 2
We had all types of folks out planting marsh grass.   We had eager teens, middle-aged men and women . . .

. . . and there were even corporate types who could not leave their work for two hours.  Or maybe he's addicted to World of Warcraft or this blog, maybe?
No idea who that is, but somebody had the bright idea to bring the shade for us old fogies!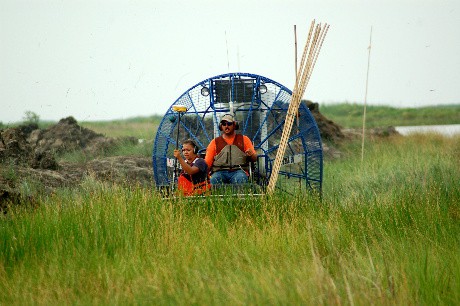 Man, this looks like a cool job, huh?  They showed up out of nowhere.  Have no idea what their job was, though.  Some kind of surveying, I think.
Let's get down to the nitty gritty, shall we?
These kids are from all over the country with a group called Rustic Pathways.
It was neat watching these young ladies tote bags of plants on their backs about 100 yards to the planting site.
Uh, did anyone bring jugs of water for these kids to clean up with before they get back on my boat?
One of the leaders asked me if I thought it would be okay if they got in the water.   Are you kidding me?  They BETTER get in the water before they get back on this boat!!!!
This was the co-ed bathing hole.  Worked pretty well.  At least it got the top layer of marsh mud off.  When they got in the boat, they smelled oh so good!  NOT!
The trip back to the landing was nice and quiet.  They were exhausted.
They missed this cool camp.  Can you read the tank?  No?
How about now?  I don't know where all of you get your water, but we have what are called "Waterworks Districts".   Funny stuff!
So, in three planting trips, there were about 5,000 plants put in the ground.  Diane and I have plans to do many more of these plantings, so make your plans!  Come on down.  You can stay at Camp Dularge, go fishing, take a wetland tour and plant some marsh grass.
Until next time, keep those comments coming!
BW