Mary Land and Pepper Pecans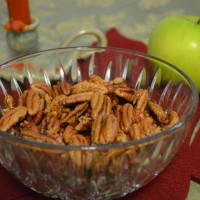 Parties and family gatherings abound this time of year, and we're faced with the same question each time we begin to ponder what we will bring.  That is, whether to rely on an "old reliable" recipe or come up with something new.  The only problem with trying something new is whether or not it will be "fit to eat", as my Great Grandmother Addie liked to say back in the day.
But who has time to test recipes during the busiest holiday season of the year?  Nobody.  That's who, so let me do the hard part for you.  I will be presenting to you a 2016 twist on some very old, yet simple recipes published in 1954 by LSU Press in a book titled, Mary Land's Louisiana Cookery. Lest I be accused of plagiarism, I will slightly tweak each recipe to make it only slightly different, but the heart of these kitchen-proofed recipes of Mary Land's (and other she does not name in her book), remains the same.  
Louisiana Cookery has become a treasure that now takes up permanent residence on my bookcase headboard, where I refer to it whenever I want to remind myself about this amazing woman of days gone by and to be inspired by her writing, her cooking, and her love of the outdoors.
Several years ago, while searching for a book by a Louisiana author about his experiences after Hurricane Katrina, I was drawn to a book titled Louisiana Women, by Karen Leathem, and felt compelled to order it. When the book arrived in the mail, I had forgotten about making the impulse purchase.  Later that night, I crawled into bed with my reading glasses and my new book.
Enthralled by the book, I read chapters about fascinating Louisiana women until my eyelids drooped; but when I came across the chapter about Mary Land, sleep stepped aside while the 1940s and '50s beckoned me to step back in time.  Wide awake, I read on about this woman, who I came to see as a foreshadow of myself (please excuse the narcissism) and a kindred spirit and mentor of whom I wasn't even aware.  How could it be I'd never heard of this woman whose life mine seems to parallel some 60 years later?  
Through the words on those pages, the parallel lines between Mary and me became evident and drew me closer and closer to this woman I would never get to know on this earth. Her first published works were books of poetry in the 1930s, and in 1940 she went to work for the La. Department of Conservation. After a few years, she began writing articles about fish and game for the Louisiana Conservation Review, including fish and game recipes. After getting her feet wet with the Review, Mary wrote articles for other outdoor magazines and eventually, as co-author with Arthur Van Pelt, wrote an outdoor column for the New Orleans Times-Picayune. She was then invited to join the Louisiana Outdoor Writers Association (LOWA), where she was the only female member.
Like Mary, I am a member of LOWA and have been for 11 years and still remain one of only a handful of female members. If, in this new millennium, I am the minority in a predominantly male field of outdoor journalists, how much more so was Mary Land the minority in the 1940s, '50s, and '60s?  It appears the balance in outdoor journalism hasn't changed much in 70 years.  Nonetheless, let's move onto more parallels, shall we?
Unlike Mary, my first book wasn't poetry but a children's picture book that was written and published before any other of my writing.  Next, 50 years after Mary's first article for the Louisiana Conservationist Review, I  had an article published in the same magazine. From there, I've gone on to write outdoor articles and natural history pieces for various magazines, just like Mary did.  Following in her footsteps, just this year my writing has expanded to include an outdoor column for a newspaper. 
As I continued to read Leathem's piece, more similarities appeared.  If you've spent any time browsing this blog, you know that I'm a strong advocate for women in the outdoors.  The next parallel has to do with that desire to teach and empower women.  When I started my fishing charters back in 2008, my hook was "teaching women to fish in a comfortable, non-intimidating setting". According to Leathem, "In 1940, after noting that only five percent of Louisiana fishing licenses went to women, Mary wrote this in the Louisiana Conservationist Review: 
'Women think, for some inane reason, that fishing is a man's sport.  This misconception has been planted in the female mind for generations. . . A man will make a kill, guzzle his bottle of brew, and blindly head homeward; a woman will be satisfied with one small perch and linger in the infinitesimal loveliness of the bloom on the Spanish moss or the haunting song of a rain crow at dusk.'
How right she was.  Mary is also recorded as having instructed women in one of her articles to wait until their husbands went out of town for the weekend before they raided the tackle box or practiced their casting in the backyard.  I regret not much seems to have changed in my lifetime.  Women I teach to fish on my boat, excited to hone their casting skills, still wait for their husbands to leave the house before practicing their casting in the backyard.  It's become a running joke, but it's probably more truth than fiction.
Just as Mary found a mentor in Arthur Van Pelt, I've found a mentor in Don Dubuc of "Outdoors with Don Dubuc" radio network.  Additionally, he writes for newspapers, magazines, the Internet, and produces a TV show called "Paradise Louisiana".  Just like Arthur Van Pelt, Don is a lifelong member of LOWA and a past president of the organization.  Don took me under his wing four years ago, as Arthur took Mary under his wing, which leads me to one thing that Mary accomplished in her career, which I have not yet accomplished.  
She wrote and published her cookbook based on her love of and experience in fishing, hunting, and the outdoors.  Since I publish recipes here on this blog, maybe I don't need to publish a cookbook?  In the age of Google, are cookbooks going out of style?  Why waste the time and paper?  I think Mary would be delighted to stumble across this blog and find revised recipes from her 1954 cookbook, especially if they were posted by an outdoor woman.  Reckon?
The last thing that I want to mention in regard to this remarkable woman, my kindred spirit of days gone by, is that Leathem's article doesn't mention whether or not Mary was ever the president of LOWA. Regardless, after I finished reading the article, I decided right then and there that I would do my best to become the President of LOWA and in so doing, I would honor her memory and her legacy as one of the very first Louisiana female outdoor journalists. 
Meanwhile, I'm going through her Louisiana Cookery for the umpteenth time, picking and choosing recipes to share with you between now and the New Year.  I will test as many of them as I can beforehand and share the favorites here with you.
How about those pecans?  I picked up that half-a-bushel in no time from the one tree at Camp Dularge.  I used them in this recipe, and now I'm going to send a lucky reader a packet of fresh pecan halves.  All you have to do is leave a comment below. (Not on Facebook!!  Right on this page, please!)
Until next recipe . . . .
BW
Pepper Pecans
Print Recipe
Quick and easy holiday snack
Ingredients
2

Cups

pecan halves

1/2

Stick of butter

1

tsp

. Worcestershire Sauce

2-3

dashes of Louisiana hot sauce

any brand

1/8

tsp

. White pepper

1/8

tsp

. Cajun seasoning

1/8

tsp

. Garlic salt
Instructions
Preheat oven to 275 degrees

Melt butter in heavy skillet, add Worcestershire, hot sauce and stir

Add pecans and sauté for 5 minutes, stirring well to coat with sauce

Meanwhile, mix dry ingredients in small bowl

Put pecans on baking sheet and bake for 10 minutes, stir around, bake another 10 min.

Remove from oven and sprinkle pecans with dry seasonings OR

Put them in a zip-lock bag or jar, add seasonings, and shake.

Serve warm.
Notes
This recipe is easily adaptable:
You may substitute Cayenne for white pepper, if you like more spice
You may use any Cajun seasoning you prefer
You may use plain salt rather than garlic salt.
Easily doubled