Mock Strawberry Preserves Made with Figs!
I've been making this recipe for a long time. See the year in the upper right-hand corner of the card?
Now that we have the old recipe, how about a step-by-step pictorial of the recipe? (All you seasoned "canners" out there can just skip all this, because it is intended for those Googlers who are going to start picking figs and doing a search for something different to do with figs this summer.)
Search no more! I am going to teach you how to make the easiest and best tasting fig preserves, and your family and friends will NEVER know they are figs until you tell them. And that is no lie. Any of you on here who've had these may confirm via the comment section that this is true.
ASSEMBLE NECESSARY ITEMS:
The blue pot is for pre-boiling the jars and then also for the "hot water bath" after the jars are filled.
The stainless pot is for boiling the preserves.
There is a potato masher, large jar tongs, small lid tongs, a large jar funnel, and canning jars.
JAR PREPARATION:
Boil the water in the blue pot and place the clean, empty jars in the water. My mother always emphasized that the secret to the lids sealing, is that everything has to be as close to boiling hot as you can get it. Some people run the jars in the dishwasher on a hot rinse and hold cycle, and some people pour boiling water in the jars as they sit in the sink. But I prefer to immerse them in the boiling pot.
In a smaller sauce pan, halfway full of water, bring it to boiling, add the lids and bands and keep on a soft boil. Even the lids and bands have to be boiling hot!
PREPARE THE FIGS:
I wash them in cold water, and Katybug adds a little baking soda to make them squeaky clean. I'm sure she does that to get all the bird poop off, right? Just kidding!
Cut off the stems and the bad spots. For a double batch of preserves, which is what I did here, measure 6 heaping cups of whole figs, or you can measure them accurately after they are mashed.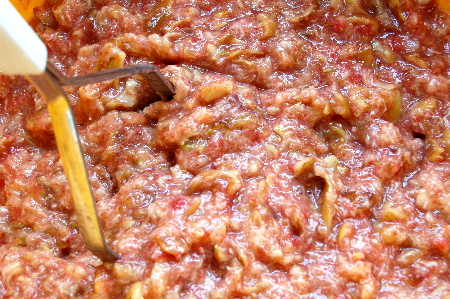 Mash the figs with the potato masher. I'm sorry this looks sort of gross. Mash them as course or as fine as you like. This is six cups of mashed figs. Put them in the cooking pot.
To the mashed figs, add (for a double batch) 6 cups of sugar and two large boxes of strawberry or raspberry Jell-O.
COOKING:
Stir and cook on medium/high heat until boiling.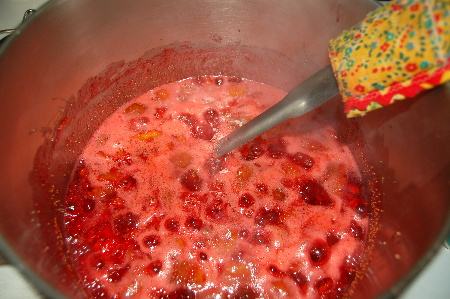 A light foam will form across the top. Just ignore it. It will dissipate soon. No need to skim it off.
Continue stirring and boiling.
Until it looks a deep, gorgeous shade of red like this. The texture changes and the liquid begins to shine. This takes about 20-25 minutes.
It is done when a drop of the liquid hangs off the edge of the spoon. Look closely, and you will see it. I'm sorry. I took this photo six times, and still could not find a background that would make that droplet show up better than this. I know previously I said, "coat the spoon", but it's pretty much the same.
CANNING:
As quickly as you can, remove a few of the jars from the boiling pot with the small tongs and put them on a towel.
Put the canning funnel into the jar. (Can you tell I've been using it for 20+ years? Sad. I need a new, bright, shiny stainless one, which I will NEVER go out and buy. Never.)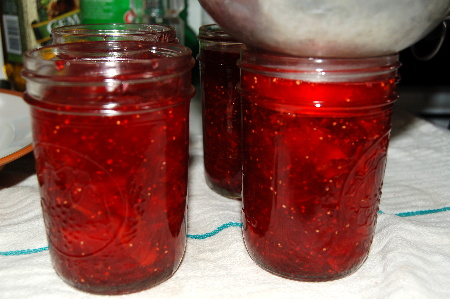 I wear an oven mit on my left hand to hold the jar, while I fill it with the boiling liquid.

Using a clean dish cloth, wipe the rim clean, so that the rubber lid can make a solid seal.
Put the hot lids and bands on the jars, and screw down tightly.
Immerse the jars into the boiling water bath, making sure they are covered.
Boil them for 15 minutes.
Remove from the boiling pot and place on a towel to cool. Some people turn them upside to make sure the boiling liquid makes that final seal. Turn them over after about ten minutes and as they cool, they will seal and you will hear a ping or a pop. That is the lid sealing tightly to the jar rim. It is the wonderful sound of success.
Here's the recipe! Enjoy!
Fig preserves ala Strawberry or Raspberry Jell-O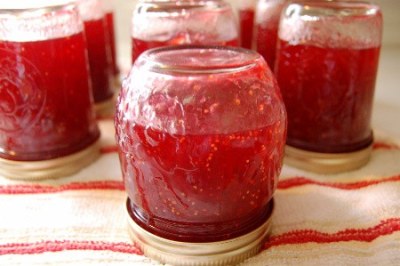 Print Recipe
Ingredients
3

cups

of mashed Figs

3

cups

of sugar

1

large box of Jell-O

any flavor
Instructions
Wash whole figs in sink full of water. Cut off the stems and the bad spots.

Mash the figs with the potato masher and add sugar and Jell-O.

Stir and cook on medium/high heat until boiling. The mixture will turn deep red. This takes about 20-25 minutes. It is done when a drop of the liquid hangs off the edge of the spoon.

Using a funnel, ladle into hot sterile canning jars, top with hot sterile lids, and seal with rings. Process in a boiling water bath for 15 minutes.
Notes
This recipe is great with Strawberry, Raspberry, even Peach Jell-O.
I hope you enjoy making these preserves for your family.
If you've ended up here looking for something kid-friendly to do with figs, please come back and leave a comment letting us know how you like it. And let us know if you used a different flavor of Jello.
Happy preserves!
BW
ORIGINALLY POSTED JUNE 30, 2008
July 27, 2013: Folks have been writing me telling me how much they love this recipe and its ease of use and delicious results, so I figured it was about time to bring it back again so that it will be freshly available for those of you who still have beaucoup figs on your trees and want something different to do with them. IF you like strawberry or raspberry preserves but don't want to purchase said fruits, then just use your FIGS!! Really, if you doubt me, just read some of the older comments below and maybe you will be convinced to give it a whirl. It only takes a couple cups of figs to do a single batch, so you're not losing much if you don't like it. Now, run out, buy some boxes of Jell-O and get your canning groove on! Good luck and be sure to come back and let us know how you liked it. Oh, and one more thing–there is actually a group in Lafayette, LA who got together recently and had a fig-preserve making party and used this recipe! Good for y'all! I hope you had a blast! Sorry I couldn't be there. Maybe next year? BW
August 7, 2014 – Seems like the figs are a little late this year for some of the readers. So, here is a tried and true recipe for something different to do with that bumper crop of figs. As noted in a previous post and comment section, i didn't get any figs this year, but y'all go ahead and know yourselves out and tell me how great these preserves turn out! Happy preserving!