"Mom, feel like cooking some shrimp?"
Did Justin Wilson ever say "Gare – on – tee"?
Did Paul Prudhomme create blackened red fish?
Did Emeril Lagasse say "BAM" enough to make you sick?
Is John Besh cute? Did John Besh write a cookbook?
The short answer to all of the above is Y – E – S !
ME:  "Yes, son, how would you like them cooked?"
SON NO. 2:  "How about I peel them and you fry them and we have poboys?  I can pick up the poboy buns, lettuce, tomato.  What else do you need?"
ME:  "Sounds good to me son. Do you mind if I use a few to make a recipe for my blog friends?"
SON NO. 2:  "Sure, Mom.  No problem.  Whatcha making?"
ME:  "Louisiana Fish Fry's Barbecue Shrimp Mix."
SON NO. 2:  "Okay, sounds good."
On the predetermined day, my second son, Danno, brought in two bags of frozen, but beautiful, nice-sized shrimp.  He peeled them and I cut them down the middle of the back, which we call "butterflying" them.  Working on boats out in the oil field (which encompasses all of southern Louisiana), has its perks.
Just last week, before he got off the boat, they were anchored out near Pass des Isles and he put a hurting on the red fish from the back deck of the tug boat.  Good thing they cleaned them and ate them on the spot, because it is against fisheries regulations to have filleted fish on the boat.  Did you know that?  Well, maybe it doesn't apply to commercial oil industry vessels and maybe it just applies to sport fishing boats (I'll have to find out).
Another perk of working out on the water is fresh seafood.  These shrimp came straight off a shrimp boat.  It is perfectly legal to flag down a commercial fishing vessel and offer to buy shrimp or oysters or crab right off the boat.  That is where these shrimp came from.
Most of the nation fail to realize that there exists a unique symbiotic relationship between the oil industry, which has contributed to wetland loss, and the fishermen, who need those injured wetlands for their livelihoods.
The relationship?
They share the same waters.
Is it a love/hate relationship?
Yes, sometimes it is.
However, when a young man grows up on the bayou as a second, third, or fourth generation fisherman who has been on boats of one kind or another since conception, it is not a big leap from running a shrimp boat to running a boat for the oil industry.
The Captain worked on shrimp boats with his father as a young man.  Back from Viet Nam, fresh out of the army and not sure what was next, he did what came natural–he jumped back on shrimp boats.  However, as the oil boom hit in the seventies, the dollar signs offered by the crew boat companies to locals was hard to resist.
Going to "captain's school" and getting a U.S. Coast Guard Captain's license back then was not quite as rigorous as it is today.  Many a young man made the switch from shrimp boat to supply boat during the seventies and early eighties.  The Captain included.
I'm proud to tell you that Son No. 2 now has his U.S. Coast Guard Captain's license and is several months into his eighteen-month training that will earn him a towing endorsement.  Then he will be a "tugboat captain" in his own right and will stop doing the dangerous work he does now of filling and discharging flammable liquids in the barges they push with the tugs.
And now, on with the recipe.
Louisiana Fish Fry BBQ Shrimp
WARNING:  The bag instructions call for 5 pounds of shrimp and about four sticks of butter.  I divided the mix into fourths, and only did that much.  You will also need water.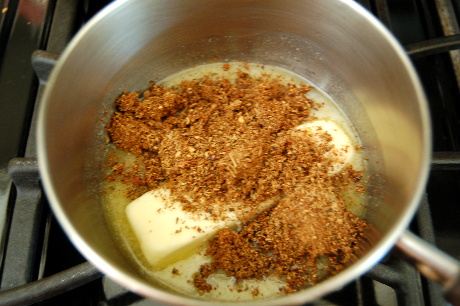 First, follow the directions to make the sauce in a sauce pan with melted butter, mix, and water.
I have made this recipe with great success in the past, using a baking dish as they direct on the package.  However, because I was only doing a small portion this time, I decided to do something different.
I put the shrimp in individual ramekins.  Since they were large, about four per ramekin.  I put them on a tray and into the oven.  Note that the shrimp are not peeled.  More on that later.
Into the 350 degree oven for 20 minutes.
They look appetizing, don't they?
Well, this was a flop.  The shrimp were not completely cooked.  Next time, I will cook them in a baking dish as recommended.  Next time, I will PEEL them, because it is very, very messy trying to peel these hot shrimp and eat them while still hot.   I'm not sure why they suggest leaving them unshelled.  Anyone know?
Again, this is a very good recipe if you make it according to directions.  The sauce has a very delicious flavor–it's just messy!
Bon apetit!
BW