Odd jobs.  It seems to be my way of life.  Neither the wetland tours nor the fishing charters are providing full-time work, so as a freelancer, I'm always open to new assignments.
Truth is, I'm too much of a free spirit to sit behind a desk working for "the man" until retirement.  I thank God I have had the luxury of staying home with my kids, educating them, getting to know them, and most of all, being an aggravation to them.
Those days are coming to a close with the youngest now in high school.  He neither wants nor needs me for much more than buying his groceries and cooking a meal now and then.  Pretty soon, he won't even need me to take him to and from baseball practice.
I've never been one to watch much daytime TV or read a book during the day without feeling guilty–even though I would like to; but somehow it was ingrained in me that I need to be productive.  I need to be making my way–paying my own way, and odd jobs are just fine for that.
One such opportunity came my way a couple months ago.  During the aftermath of the oil spill and the following compensation fiasco, it was discovered that there was no way to put a dollar amount on the losses incurred by folks who are classified as "recreational" fishermen, shrimpers, and crabbers.  When the waters were closed, they could not go out and catch fish, shrimp, and crab to feed their families and stock their freezers.
As a result, a couple of professors from NSU and LSU looked into what kind of research had been done on subsistence fishing in Louisiana's coastal communities.  Guess what?  None had been done, which led them to the idea to do a study of subsistence hunting, fishing, and gathering–starting in the bayou communities.
As Fate would have it, one of those professors teaches a course on "Bayou Studies" and brought her students on my tour last year.  She thought I might be interested in helping with the project.  So, here I am working part-time on the first-of-its-kind study of just how much the bayou folks depend on hunting, fishing, and gathering (gardening) to feed their families.
The hardest part, so far, has been making people understand why the study is being done, convincing them this is not another government scheme to regulate them or take away freedoms, and basically getting them to be involved.  At the end of the second full month, I still have only gathered information from three people/families.
One of those people is an amazing little woman named Mrs. E.  All the subjects I study are anonymous, so I won't use her real name.  Even though it's not required, if someone has a garden or fruit trees, I have gone and photographed those places as part of the study.
When I went to photograph Mrs. E's son's garden, her green thumb was apparent around her house.  You know I love flowers, so before long, my ADD had kicked in, and my camera was drawn to the beauty of her flower beds, and not just the winter garden of greens and broccoli.
Here's the fall-winter garden . . .
Which sort of pales in comparison to her outstanding Bromeliad blooms.
They make me think of an exotic bird of some sort.  They also remind of me a Bird of Paradise, which she also has but not blooming right now.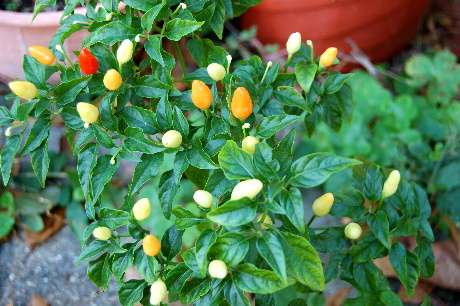 I'm sure she told me, but I don't recall what kind of hot peppers these are.  She makes "pepper sauce" out of them to eat on the field peas she grows in the spring.
This old-fashioned perennial makes me think of my mother, for some reason.  It's a Lantana.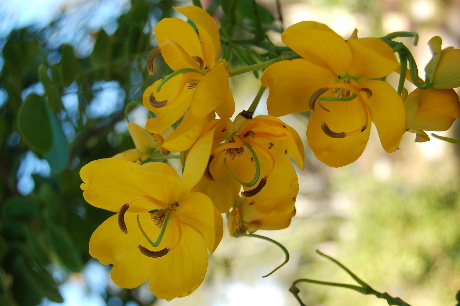 This is a plant that Mrs. E. calls her "Acacia".  She told me the story of how her mother or grandmother said it in French like this:  "uh-CAH-see-uh".  I know this tree as a Partridge Pea.  You might call it something else!!
Every plant in her yard has a story, and I love hearing them all.  The stories, the people, the plants keep us connected and grounded to living things and give living things a history.
Although not the most beautiful subject of the day, this gourd also has a story behind it.  Do you know what this is?
She told me many stories, and in typical me-fashion, I had neither my notepad nor my recorder.  But if memory serves, it seems she said someone gave her one of these all dried out (as in the photo above) and one seed fell out and grew this huge vine.  The flowers were really pretty, so she let it go.  And the gourds grew and grew until she recognized it was the Loofah gourd that scrubbing sponges are made from.  She gave me two to bring home and dry out with the warning to be careful where the seeds go, because they take root easily and grow abundantly anywhere they fall!
How cool is that?  My own Loofah gourds!
Hopefully, as this project goes along, I will have more and more stories to tell and interesting folks to tell you about!
For the wetlands,
BW